Return to Films by Latter-day Saints



Star Child
1999 video tape of the live musical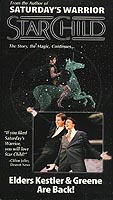 Related page:
Saturday's Warrior
"Star Child":
TEXT from video back cover
Who are these
Children Coming
Down... Coming Down...

Like Saturday's Warrior, Star Child begins in the pre-existence, where Larry learns he is to be born to a non-member in a foreign land. His best friend, Chuck, promises to find him and bring him the gospel. He also pledges to find and marry his sweetheart, Marie, so young Michael and Sarah can have the parents they've always dreamed of. The shy and nervous Mitzi worries that "with a body covering up her sweet spirit," she will never find love in mortality, while the indomitable Betty Lou is determined to catch her man. And waiting on earth, to stir everything up, is that loveable duo, Elders Kestler and Green. Star Child deals with making hard moral choices, and being true to the "Star Child" that's in us. Doug Stewart's script is filled with humor and pathos, and Gaye Beeson's soaring music is unforgettable. Star Child will delight and inpire the whole family.




Omega Productions presents the musical Star Child book & lyrics by Doug Stewart
music by Gaye Beeson starring James Edwards Kim Butterworth Brian McFadyen
Jeff Stevens Robert Lemmon Jennifer Ballif Cristina Hollings
music director Kathryn Little choreographer Kieri Coombs managing producer Davison Cheney
executive producer Doug Stewart directed by Howard Little




Star Child was videotaped by the Creative Media Gropu before a live
audience at the Valentine Theatre in American Fork, Utah, April 21, 1999.
© 1999 by Omega Productions. All Rights Reserved.
Theatrical Productions rights are available. Call (435) 673-1952.
Distributed by Thomson Productions 1-800-226-0155
---
"Star Child" OPENING credits as they appear the film:
STAR CHILD


Performed before
a live audience
April 21, 1999
---
"Star Child" CLOSING credits as they appear in the film:
Book & Lyrics
Doug Stewart

Music
Gaye Beeson

Managing Producer
Davison Cheney

Director
Howard Little

Musical Director
Kathryn Little

Choreographer
Kieri Coombs

Stage Manager
Karin Edwards


CAST
Chuck
James Royce Edwards
Larry
Robbert Lemmon
Marie
Kim Butterworth
Wally Kestler
Brian McFadyen
Harold Green
Jeff Stevens
Mitzi
Cristina Hollings
Betty Lou
Jennifer C. Ballif
Michael
Dustin Harding
Sara
Kathryn Ruzicka
Angelic Trifecta
Jessica Barton
Lori K. Lehman
Kapri Monet Merrill



DANCERS
Kenway Kua
Carlos Encinias
Rance Wright
Brita Bigler
Joy Paulet Price
Shannon Owsley


STAFF
| | |
| --- | --- |
| Lighting designer | Maggie Bailey |
| Sound Designer | Ian Hunter |
| Costume Designer | Liz Smith |
| Stage Designer | Davison Cheney |
| Set Designer | Rodney Elwood |
| Sound Technician | David Swenson |
| Light technician | Liz Ottley |
| Costumer | Christina Buonforte |



VIDEO

The Creative Media Group
CMG


This Video is the sole property of Omega Productions and is protected by copywright [sic] laws. Any Duplication or broadcasting is Strictly prohibited.
Cast
---
"Star Child":
TEXT from video front cover
From the Author of
SATURDAY'S WARRIOR
STAR CHILD
The Story, the Magic, Continues...





"If you liked
Saturday's
Warrior
you will love
Star Child!"
- Clifton Jolley,
Deseret News

Elders Kestler & Greene
Are Back!
---
NOTE: "Star Child" is sometimes spelled as one word, "StarChild," because of the way the title appears on the video cover.
---
Web page created 14 February 2003.