Return to Films by Latter-day Saints



Saturday's Warrior
The pivotal musical and the 1989 video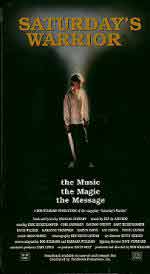 Related link: Saturday's What Now? A brief Introduction to an LDS Phenomenon - by Rachael Sawyer




21 March 2002 - The British epic poem Beowulf. The Babylonian Epic of Gilgamesh. The early Japanese novel Tale of Genji. The Indian Ramayana. Chaucer's Canterbury Tales. Dante's Divine Comedy. Like these, Saturday's Warrior is undeniably important and influential to the culture that produced it.

Like other pivotal works of literature, Saturday's Warrior is important regardless of its quality, artistry or message. It's significance is simply a historical fact. Just as Richard Dutcher's film God's Army played the pivotal role in launching a new era of Latter-day Saint filmmaking, Saturday's Warrior became a juncture in the history of Latter-day Saint theater and music, and Latter-day Saint entertainment in general.

Saturday's Warrior was controversial when it premiered on the California stage in 1973, performed as a college project. Its theology was criticized. Its methodology was questioned. Yet it was hugely popular, and was soon produced in many places throughout Mormondon. It's form and style has been imitated to this day. Yet after over 25 years since its debut, no Latter-day Saint musical has attained the popularity of Douglas Stewart and Lex de Azevedo's peculiar celebration.

Orson Scott Card's 1976 Sunstone essay "Mormon Shakespears [sic]: A Study of Contemporary Mormon Theatre", names five "watershed" plays: Martin Kelly's And They Shall Be Gathered, Carol Lynn Pearson's musical The Order Is Love, Card's Stone Tables, Robert Elliott's Fires of the Mind and Douglas Stewart's Saturday's Warrior. Of these five, most Latter-day Saints (at least in the United States) have heard of Saturday's Warrior, and most would probably be able to recognize some of the music from it. But most have never even heard of any of the other four plays. If asked to name a Mormon musical (or play), the most common answer members will give is Saturday's Warrior.

In 1989 Bob Williams produced and directed a video version of Saturday's Warrior, based on the screenplay adaptation that he and his wife Barbara wrote. This was filmed at the Utah Film & Video studio in Orem, Utah (formerly Osmond Studios). Williams' production is extremely faithful to the staged musical version, even using stage-like scenery. It makes no attempt to present a "naturalistic" presentation. But it is more than simply a filmed version of the musical. The film incorporates some basic special effects, multiple camera angles, and a musical score superbly engineered by Brian Blosil.

Choreography by Kim Smith Lanham (later Kim Smith Yandow) and the high quality rendering of the original Stewart / de Azevedo songs are highlights of the video version. Marvin Payne, as the Dad, is the most recognizable performer in the film, as he is a staple of Utah stage and film. Erik Hickenlooper, who as "Jimmy" had the lead role in the Saturday's Warrior video, has established himself as a songwriter. David Walker ("Elder Green") has continued acting in television, film and on the stage. He mainly works as a voice over artist. He can be heard on the documentary "Lehi's Land of First Inheritance" and on many Books-on-Tape published by Covenant Communications.

The other principal cast members did not move into careers as actors or entertainers, although Mary Greenwood ("Shelly") did star in the "Lorenzo's Songbook" videos, and has had small roles in feature films. Nationally, the best known cast member is probably Kelsi Osborn, who had a relatively minor role in this production of "Saturday's Warrior." Osborn and her two sisters comprise the country singing group SHeDAISY, whose songs have been featured in the hit feature films "Sweet Home Alabama" and "The Santa Clause 2: The Mrs. Clause."

Many of the people behind the scenes were already established in the industry, or have since become even more successful in various roles. Assistant director Michael Schaertl may be best known as the director of "Christmas Mission," the high-quality video from Brimstone Films starring Corbin Allred. Musician Sam Cardon is one of Utah's most successful composers. He has composed for feature films and documentaries (including "Mysteries of Egypt", "Shackleton's Antarctic Adventure" and "Brigham City") which have grossed over $80 million in box office sales worldwide. Videotape operator Rob Sibley has since become a producer and director in his own right. His best known films may be the 1998 PBS documentary "Utah's Blackhawk War: Cultures in Conflict" and the 2002 direct-to-video adventure feature "The Shadow of Light." Steve Olpin worked as a crane operator on Saturday's Warrior. Since then he has directed multiple documentaries, including "Poetic DreamSpace: Sculptor Brower Hatcher and the Creative Process", "The Potter's Meal: A Film About Joseph Bennion" and "In the Presence of Healers." The other crane operator, David Greenlaw Sapp, has had a major behind-the-scenes career, producing local feature films such as Clay Essig's "Fortune Cookie" (1999), Joshua Tai Taeoalii's "Hustlin' a Hustler" (1998) and Kels Goodman's "Handcart" (2002). Sapp was also the Assistant Director and Line Producer of Richard Dutcher's "Brigham City" (2001). Sapp wrote and directed "The Mormon Battalion: Opening The West," a documentary now available bookstores. Production assistant Tahlee Booher has kept busy as a camera operator on many feature films, and as the director of photography on some documentaries and (so far) two feature films (including "The Shadow of Light").

The video brought the Saturday's Warrior experience to the large segment of Church members who had never seen it onstage. For many (perhaps most) viewers, Saturday's Warrior was the first explicitly LDS-themed narrative film they had ever seen that was independently made. (That is, it was made by and about Latter-day Saints, but it was not created directly by the Church of Jesus Christ of Latter-day Saints or by Brigham Young University. Not a drop of correlation.)

In the year 2000, the 1989 movie was released for the first time as a DVD, in a special "Millennium" version. The DVD includes a fascinating documentary by Bob Williams about the making of the 1989 movie. The behind the scenes footage and recent interviews offer a rare glimpse into what went into the production, and how the production has had an effect on its cast, crew, and viewers. The documentary provides some historical context, indicating just how big an event the release of the movie was. It was comparable to the advent of Dutcher's "God's Army" a decade later. Williams opens the documentary by calling Saturday's Warrior the "preeminent cultural phenomenon in the Church," which is an accurate description.

The DVD also includes about 8 songs in karaoke format -- with and without vocal tracks. The "bloopers" collection is small, but it is interesting to see Marie Osmond behind the scenes, as her son Steven is plucked off a skateboard by the Elders in the park scene.

As for the story itself... In Eric Eliason's review of Eugene England's Tending the Garden: Essays on Mormon Literature, he notes that Saturday's Warrior can be classified as "Home Literature":
"Home literature"... Excellence in craft and depth of insight were not ends but handy tools necessary only insofar as they contributed toward the end of encouraging the right behaviors and doctrines for subjects of God's Kingdom on Earth. England identifies Nephi Anderson's Added Upon as the best work of this period. It's influence continues not only because it is the only work from this era still in print, but because its plot structure of following intertwined individual life-stories of moral development and self-discovery through the Pre-Earth Life to Mortal Probation to glorious after-life is recapitulated in the musicals Saturday's Warrior and My Turn on Earth--seminal pop culture landmarks for the North American Mormon generation now in early adulthood.
Of course, the show is not meant to be a primer on Latter-day Saint theology. As Eric D. Snider noted in his Daily Herald review of the show's 1998 Salt Lake City revival, "Pam dies and goes BACK to the pre-existence, where the as-yet unborn Emily still waits? I don't think so." Think of it more as an unvarnished manifestation of folk culture.
Saturday's Warrior is about the spirit world before birth, and about families and abortion and environmental concerns and overpopulation and going on a mission. And its got a dancer in a wheelchair and a musical number about how big Daddy's nose is -- with all the kids wearing elephant trunks on their noses. And there's true love and true friendship. And Elders Kestler and Greene. And mean-looking kids singing "zero population is the answer my friend," and a little girl singing "Jimmy, oh Jimmy..."
A classic in every way.


---
"Saturday's Warrior" credits listed on the video/DVD case
of the "Millennium Edition" published in 2000:
A BOB WILLIAMS PRODUCTION of the stageplay "SATURDAY'S WARRIOR"
book and lyrics by DOUGLAS STEWART music by LEX DE AZEVEDO
starring ERIK HICKENLOOPER CORI JACOBSEN DAVISON CHENEY BART HICKENLOOPER
DAVID WALKER MARIANNE THOMPSON MARVIN PAYNE GAY PARVIS TRAVIS TANNER
music BRIAN BLOSIL choreography KIM SMITH YANDOW art director SEVEN NIELSEN lighting director DAVE STODDARD
creative producer GARY LEWIS producer DAVID WEST produced and directed by BOB WILLIAMS




"Saturday's Warrior" OPENING credits as they appear the film:
FIELDBROOK
ENTERTAINMENT
presents

SATURDAY'S
WARRIOR

based on the stageplay
with story and lyrics by
Doug Stewart

music composed by
Lex de Azevedo

screenplay adaptation
Bob Williams
and
Barbara Williams

music director
Brian Blosil

choreography
Kim Smith Lanham

art director
Seven Nielsen

costume design
Norene Pollei

production manager
Bruce Call

assistant director
Mike Schaertl

lighting director
Dave Stoddard

producer
David West

executive producer
Gary Lewis




"Saturday's Warrior" CLOSING credits as they appear in the film:
Cast
| Actor | Character |
| --- | --- |
| Erik Hickenlooper | Jimmy |
| Cori Jacobsen | Julie |
| Davison Cheney | Tod |
| Bart Hickenlooper | Wally |
| David Walker | Harold Green |
| Marianne Thompson | Pam |
| Marvin Payne | Dad |
| Gay Parvis | Mom |
| Mary Greenwood | Shelly |
| Jared Christensen | Benjy |
| Kelsi Osborn | Alice |
| Matthew Lewis | Ernie |
| Rebecca Tate | Emily |
| Michelle Schaertl | Baby Emily |
| Judy Hibbert | Matron |
| Travis Tanner | Mack |
Mack's Friends
Heather Fisher
Heather Kelson
Jennifer Krater
Janalynn Memmott
Dewayne Hambrick
Ryan Larsen
Dan Thompson


Cast performed own vocals



PARK KIDS & BABIES
Marianne Bentley
Steven Blosil
Joseph Harkis
Jesse Lanham
Jennifer Lewis
Ty Lewis
Christina Williams
Allison Williams
Andrea Poulson
Micah West
Hannah West



MUSICIANS
Sam Cardon
Jeff Dowdle
Nick Hodges
Rob Honey
Brett Raymond
Jerry Williams

production manager
Mike Williams

technical director
David Monsen

video control
Bo Bahoravitch

cameramen
Bruce Bevan
Leroy Collinwood
Jim Sorenson

videotape operator
Rob Sibley

audio engineer
Les Udy

audio boom
Glen Fisk
Scott Hunt

music recording engineer
Jeff Carter

Utah audio guy
Jeff Hall

scenic artists
Lee Johnson
Bill Kirkpatrick
Roy Sherwood

sketch artist
Marilyn Meeks

production secretary
Gloria Schofield

electricians
Laird Roberts
Jesse Billan

crane operators
Steve Olpin
Dave Sapp

grips
Marcus Dean
Kevin Kennedy

continuity
Karen Christoffersen

seamtress
Dixie Crystal

make-up and hair
Greg Moon
Shannon Engermann
Lindey Crow
Kay Toney

videotape editors
Steve Holt
Russ Merrill
Reed Griffiths

production assistants
Tahlee Booher
Chris Goodwin
Cheyenne Hibbert
Jason Jensen
Kirk Jorgensen
David Larsen
Tom MacDonald
John Whittaker
Tom Williams

strike crew
Matt Bulkley
Eric Cowgill
Rod Henson
John Karren




SPECIAL THANKS
Carole Petersen
Murdock Travel
Steve Clifford Motors
Dreamlight Images
Linda Jopson-Sands
KBYU Television
BYU Motion Picture Studio
Diana West


prodution supervision
Utah Film & Video



Copyright 1989 by
BobWilliams Productions
Hollywood, CA 90028
All Rights Reserved.

Intended for Home Video
Use Only


Distributed Exclusively by
Fieldbrook Productions
Santa Ana, CA



FOR THOSE
WHO LOVE




Notes:
Michelle Schaertl, credited in the cast as "Baby Emily," is listed as in the closing credits as "Michelle Scheartl" -- with her last name spelled incorrectly.

"John Whittaker", credited as a production assistant, is quite possibly Johnny Whitaker.

Kim Smith Lanham (choreography) is credited in other films as "Kim Smith Yandow."
---
Web page created 20 March 2002. Last updated 22 September 2003.