Return to Director Profiles




Rocco DeVilliers
Feature Film Director
Links
---
Rocco DeVilliers
Brief Biography
Source: RoccoFilms.com (checked 18 October 2001)

Born in 1970, Rocco DeVilliers' love of film began at an early age. Inspired by George Lucas' Star Wars, Rocco studied filmmaking in hopes of someday directing a major motion picture.

In 1986, Rocco won a local award for best screenplay, and in 1987, P.M. Magazine awarded him Best Director for a short he did while in high school. Rocco amazed his teachers and peers when age at 17 he wrote, produced and directed "Bounding Overwatch," a forty-minute short chronicling the struggles of a marine patrol that must fight its way to an extraction point in enemy territory. Rocco coordinated every aspect of the film, including orchestrating several full-combat action sequences with a Huey Helicopter. He performed many of the film's stunts, several of which required him to undertake "high falls," while other stunts involved explosions which engulfed him in flames.

At age 21 Rocco set out to make his first feature film on a $15,000 shooting budget, using his friends as actors. The result was the action-packed drama Pure Race. Virtually a one-man production, Rocco participated in every facet of the movie. He co-wrote the screenplay; produced and directed the film; did the make-up, lighting and cinematography; supervised and actually performed most of the film's numerous and dangerous stunts; edited the film; and worked extensively on the sound, foley and musical score. Truly, Pure Race is a showcase of Rocco's enormous talent.

Rocco recently directed the high school drama Only Once, which stars Austin O'Brien (The Last Action Hero, Promised Land).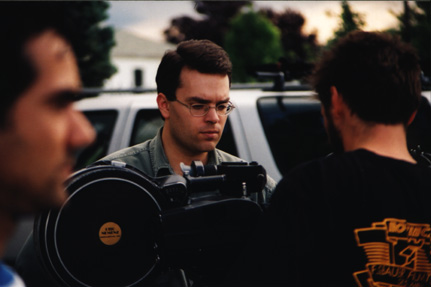 ---
Souce: Artsmarts.Net: The Arts and Theater News and Information Network
URL: http://artsmarts.net/news_1.htm

The Best Film No One has Ever Seen Hits TV
SALT LAKE CITY--Dec. 28, 1999--How far would you go to make your student film?

Before Tarantino and Rodriguez, 21-year-old filmmaker Rocco DeVilliers set out to create a film of epic proportions on only a $15,000 shoestring budget. It took Rocco four years to create the film Pure Race. Unfortunately, he couldn't get anyone in Hollywood to look at it. Now, years later, Pure Race is premiering on national television January 3rd on BET (Black Entertainment Television).

The film is an action-drama about two students, one white and one black, who share a ride home from college. When their car unexpectedly breaks down in Idaho, they stumble onto a white supremacist group and must overcome their own prejudices to survive. The film is a grand adventure from its powerful dramatic themes to its many stunning action sequences.

Rocco was forced to be virtually a one-man crew, use his friends as actors, orchestrate elaborate action sequences, and actually perform most of the film's dangerous stunts himself.

For more information on the film Pure Race, director Rocco DeVilliers, or the 60-minute documentary which chronicles everything from Rocco's mistaken arrest to the innovative post-production process and eventual triumph of self-distribution, send a request by e-mail to purerace@aol.com or log onto this website: www.roccofilm.com.

Phone interviews are available upon request. Call 801/557-5446 between 9:00 a.m. and 5:00 p.m. Mountain Standard Time.

Produced for Cornerstone Films of America

CONTACT:
Cornerstone Films of America
Simon Van Gelder, 801/557-5446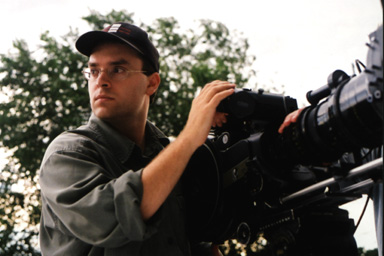 ---
"Only Once"
Directed by Rocco DeVilliers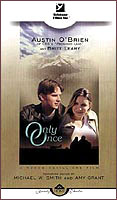 "Only Once" (1998) is a high-quality direct-to-video film produced by Bristone Films, the same company that made "Christmas Mission" (1999), starring Corbin Allred.

"Only Once" was written and produced by Lisa J. Peck, and co-produced by Greggory B. Peck ("Cowboys and Angels", "Christmas Mission"). Rocco DeVilliers was the director, co-producer and film editor.

The film "Only Once" was adapted from the short book Greg & Kellie, written by Douglas and Donlu Thayer. Douglas Thayer, who teaches creative writing at Brigham Young University, received the AML Award for Best Novel in 1993 for his novel Summer Fire. He also received the AML Award for short fiction in 1978 for Under the Cottonwoods.

"Only Once" star Austin O'Brien is known for many high profile roles, including playing "Joshua Greene" in the TV series "Promised Land" (1996-1999), starring as Danny Madigan in "Last Action Hero" (1993), playing opposite Arnold Schwarzenegger.

In "Only Once, the part of Kellie was played by Britt Leary, in her first major film role. She went on to star in such films as "Blue Ridge Fall" (1999), "Twice Today" (2001) and "Absence of the Good" (1999).


>From DeseretBook.com:
Greg and Kellie found the magic early, but their plans didn't work out exactly as they wanted. Romance, personal dreams and moral challenges tugged on the couple's future. Can they find the courage to do what's right? Only once stars Austin O'Brien and Britt Leary. Austin is currently featured in the CBS series "Promised Land." His lead role credits include Last Action Hero and My Girl Two.

"A film every teenager and parent should experience."
--George Durrant
>From Videos With Values website:
Greg (Austin O'Brien of "Promised Land") and Kellie (Britt Leary) are two well-adjusted and highly motivated teenagers, who share a happy home life with their parents. They find they have much in common, including their future college goals, their love of family and the Lord. They fall in love and into temptation "only once." Their love and their faith are put to the test. Can they find the courage and inner strength to do what is right? Based on the book "Greg and Kellie" by Douglas and Donlu Thayer.
(56 min.)
---
The French Connection:
Filmmaker Tests the Waters in Cannes
By: M. V. Moorhead
Source: Phoenix New Times
Date: 25 May 1995
URL: http://www.phoenixnewtimes.com/issues/1995-05-25/film.html

If Rocco DeVilliers hadn't been speeding through Missouri a few years ago, he probably wouldn't be screening his film Pure Race for the European film market at Cannes. The 25-year-old Tempe resident co-scripted, produced, directed and edited the low-budget indie, played a small role in it and did "probably 90 percent of the stunts."

It was to the project's benefit that DeVilliers did not take it upon himself to write the music, as well, in light of the good luck that came with the composer he hired. Over lunch one day recently, DeVilliers tells how he made the acquaintance of Lisle Moore, who wrote the score for Pure Race.

"I was going like 105 miles an hour and got pulled over by some cop in Missouri, got arrested, got hauled in, no ATMs in this town, so I had to call a bail bondsman, 'cause I only had like a hundred bucks on me, and the bail was like 450 bucks. They don't take anybody from out of state typically, but I put up one of my editing machines as collateral.

"Turns out the bail bondsman's son is really into music, and has always wanted to score a film. So I ended up going to the guy's house, meeting his son, and we hit it off. He ended up scoring the whole film. Plus, his father was so excited about the project that he put in some money for postproduction."

But the biggest payoff of this serendipitous brush with the law was yet to come. "Lisle has relatives in Cannes. We'll be staying with his aunt. That's the only reason we're able to go at all--it would have been impossible to get a room there."

Shot mostly in Idaho, but with a few scenes done in Tucson or here in the Valley, Pure Race is a conventional but heartfelt action melodrama about racism. The plot concerns two friends, an easygoing black kid and an uptight white kid, who, while traveling cross-country together, stumble into a camp of white supremacists in Idaho and are taken prisoner (their luck on the road isn't as good as DeVilliers'). What makes the picture notable is the resourcefulness with which DeVilliers, working on a budget of about $60,000, was able to execute extended chase and stunt sequences of entirely professional quality--at least as good as those on episodic TV.

DeVilliers shot and edited Pure Race on digital video, which was then transferred to 16mm. Once the film was completed, he says, "We took it to L.A. and started showing it around, and got a real positive response. Several people offered to fund a big-budget version, on film with stars. We also had a couple of distributors who wanted to take it to Cannes and push it there, and we thought, why not do it ourselves, we've done everything else so far. "So we got on the phone, got a booth and a screening room, and we're gonna take it there and try to cut some deals. It won't be in competition, but it'll have three screenings on the list. Who knows, Roger Ebert might come."

One other timing factor, the saddest imaginable, may boost Pure Race's commercial potential by boosting interest in its grim subject matter. As DeVilliers notes, "We wrapped it up a week before the tragedy in Oklahoma." The director, who is white and grew up in Utah, says he was inspired to explore racism after an LDS mission among poor blacks in North Carolina. While Pure Race is clearly antiracism, the poster art for the film, no doubt unintentionally, comes across more ambiguously at a glance--it's cast in red, and features a prominent swastika. A real Nazi might almost not mind hanging it on his wall.
---
Web page created 18 October 2001. Last modified 24 February 2003.