Return to home page
Only Once
LDSFilm.com Review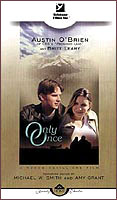 "Only Once" is a real gem. I'm certain it will have a long shelf life and become better known as time goes on. The video (and now DVD) is available from a wide variety of LDS and general Christian bookstores and video outlets, and it is often billed as an instructional film for teens. But make no mistake about it: this is a feature film. "Only Once" may be the best video you can possibly buy about the topic of morality for teens. But it is also a joy to watch purely as a fantastic film experience. Anybody who appreciates fine filmmaking should seek this one out.

"Only Once" has been shown in seminaries and firesides. But this is not a seminary video. It was independently financed and produced by people who wanted to make a film that embodied artistic as well as moral excellence. The production values make it look as good as any Hollywood feature film.

The story, if you don't already know, focuses on two teenagers (Greg and Kellie) who meet, fall in love, and then do something "only once" that causes the girl to become pregnant. The screenplay for the film was adapted by Lisa J. Peck from Douglas and Donlu Thayer's short book Greg and Kellie.

This might strike some as somewhat heavy, very serious subject. But it's a very appropriate topic, and hardly new to anybody who has seen many movies during the last thirty years. Best of all, the material is handled with a refreshing honesty and frankness that you will rarely find in Hollywood films. In "Only Once," serious actions have serious consequences; they aren't simply a punchline.

But the film never feels "preachy". A moral, gospel-oriented viewpoint is evident, simply because most of the characters, who are portrayed realistically, are active Latter-day Saint Christians. But the film does not present "the solution" to Greg and Kellie's problem. There are no lectures about "here is what they did wrong" or "here is what they should do now." The film simply portrays, in a straightforward manner, the events that lead up to and follow the life-changing choice that these two teens make. This is done mainly through episodic flashbacks, which jump between key events. There isn't even a clear resolution. When the film ends, things are not "all better" and the viewer does not know what will happen between Greg and Kellie or how the pregnancy will turn out.

The ambiguity and openness of the film is welcome, and a bit surprising. It also increases the potential usefulness of the video. Because no specific solutions are dictated, the film leaves wide open the possibility of discussion, even within different socioreligious groups. An alternative version of the video, with just a few lines of LDS-specific dialog cut, is available. Because it presents a difficult situation, but does not specify "the solution," it is easy to see how this film could be used by any church or school.

But "Only Once" does not serve up generic (and hence, unrealistic) people and places. After watching it I felt that, although it wasn't released theatrically, "Only Once" might be considered the first "realistic film" about Latter-day Saint teenagers, just as Dutcher's "God's Army" could be considered the first "realistc film" about Latter-day Saint missionaries.

Like "God's Army" and "Brigham City", "Only Once" should be a fascinating viewing experience even for people who are not Latter-day Saints, or even for people who aren't religious at all. The performances are so authentic that people who don't share the same sexual values and ethics held by the film's characters will still empathize with and understand the characters. The culturally-specific details and behaviors (such as Kellie saying they needed to talk to their bishop, and Greg's family going to church) give the film an almost ethnographic feel to it. Even the high school shots have a real feel of "Utah County young people in their native habitat."

But forget for a moment how well "Only Once" accomplishes its mission as a video about sexual morality. This is a well-made, artistically accomplished film!

As a thirty-something married person with no teenaged children I hardly felt like the film's target audience. I watched "Only Once" because I had enjoyed director Rocco DeVilliers' other feature film, "Pure Race." My verdict: "Only Once" is a much better film even than the enjoyable but at times uneven "Pure Race." The production values, acting, cinematography, music are better. This film definitely made me hungry for more from this director.

One of the best things about "Only Once" is the acting. Austin O'Brien stars as the teenaged boy. What a casting coup! O'Brien co-starred with Arnold Schwarzenegger in "The Last Action Hero" (1993), which at that time was the biggest-budget film ever made. He was also a star of the TV series "Promised Land." But forget the "star-gazing" details: O'Brien is simply an incredibly talented actor who inhabits the role of Greg and never seems like anything other than a real teen involved in real situations, reacting with real emotion. There is no over-acting or mugging for the camera. O'Brien and co-star Britt Leary, either alone or together, are in essentially every scene, and they're a big part of what makes this film such a success.

No less talented, but with less screen time, are the parents. David Jensen, Becky Harding, Douglas Caputo, Jan Hanks Jensen are all outstanding. But it is David Jensen, as Greg's father, who really steals the show with such a convincing performance as a father whose son has gotten in trouble. One only needs to think about how many ridiculous caricatures or overwrought portrayals of fathers there have been in films to realize that this was not an easy role. David Jensen's part here was not large, but his performance was literally Oscar-caliber.

And, hey! Half way through the film I was surprised to see Jacque Gray show up as Kellie's older sister. It was a small part, but it was fun to see "Sister Fronk" from "God's Army" in something I hadn't even realized she was in.

[Look carefully and you'll also notice actor/director Gregory C. Haynes in the background in a few shots. (He's black, so he's easy to spot.) Haynes was the 1st assistant director on "Only Once," and is known to Rocco DeVilliers fans for his starring role in "Pure Race." The "Only Once" DVD also has a preview of the Haynes-helmed film "Cowboys and Angels."]

"Only Once" is a great-looking film, and a great-sounding film. Its songs and music blend well with the story and images. Lisle Moore's work on "Pure Race" wasn't bad, but this composer/sound editor did a much better job with "Only Once." Moore isn't John Williams, or even Sam Cardon, but this is really professional quality work.

Admirably, the camera work, sounds and other elements are extremely well done, but restrained. The film is very performance-driven and character oriented, which is appropriate for the subject matter.

While watching "Only Once" I noticed only one shot in which the camera work seemed poorly done, and I was surprised when I listened to the commentary track to hear the director actually point that scene out and explain what went wrong. (The talented cameramen he used during the rest of the film's production had not been available on the day that scene was filmed, and an operator inexperienced with their equipment had stepped in.)

I was also bothered by what I felt was a silly directorial choice in the restaurant scene, when Kellie tells Greg that she is pregnant. With the camera focused on Greg's reaction, there's the old dolly-out, zoom-in effect introduced by Hitchcock in "Vertigo". Simultaneously, the ambient audio track drops down to exclude the sounds in the room, replaced by what sounds like a crash-and-burning airplane engine. Something similar was recently done in the "Charlies Angels" movie, but that was supposed to be funny. Here it is terribly distracting and completely takes the viewer out of the moment. (DeVilliers also identifies this shot as a mistake on the commentary track.)

But these are very minor complaints, and most viewers won't even notice.

My advice: Every parent with teenagers should have this film. Young people will enjoy watching it because it features great music by attractive, talented actors, and focuses on fun and familiar topics such as budding romance, high school dances, motorcycle riding, etc. Nobody will be embarassed by watching "Only Once" -- not by the subject matter, the content, or the artistic quality of the film.

"Only Once" is also well worth watching for parents of teenagers, because they can see things from a young person's perspective, and also think about some of the pitfalls that can contribute to problems. If nothing else, watch this film purely to see the example of some fine, sensitive (yet believable) parents.

And fans of well-made cinema will enjoy this, especially if they're interested in local and independent filmmaking. The director's commentary alone is worth the price of the DVD. And I haven't even mentioned the fact that the "Only Once" DVD includes another Bristone production: the 30-minute Michael L. Schaertl film "Christmas Mission" (1999), starring Corbin Allred.

"Only Once" is an extreme rarity among films in the degree to which it succeeds both artistically and morally. I highly recommend it.

23 November 2001


---
"Only Once" TEXT from front video cover
Bristone
Films, Inc.


Austin O'Brien
of CBS's "Promised Land"
and Britt Leary


Only
Once


A ROCCO DEVILLIERS FILM

Featuring Songs by
Michael W. Smith and Amy Grant


Family HOME Theatre
---
"Only Once" TEXT from back video cover



Greg and Kellie found the magic early, but their plans didn't work out exactly as they wanted. Romance, personal dreams and moral challenges tugged on the couple's future. Can they find the courage to do what's right?

Only Once stars Austin O'Brien and Britt Leary. Austin is currently fetaured in the CBS series "Promised Land." His lead role credits include Last Action Hero and My Girl Two.

Based on the book, "Greg & Kellie" by Douglas & Donlu Thayer.

A film every teenager and parent should experience.
- George Durrant


Running Time: 56 minutes




Greggory B. Peck presents A Rocco DeVilliers Film
Austin O'Brien Britt Leary ONLY ONCE Music by Lisle Moore
Edited by Rocco DeVilliers Production Designer Elaine Dabbas
Director of Photography Michael Grady Executive Producer Greggory B. Peck
Written by Lisa J. Peck Produced and Directed by Rocco DeVilliers




Bristone
Films, Inc.


2241 Larsen Parkway
Provo, UT 84606
801-375-2532
www.bristonefilms.com


©1998 Bristone Films, Inc.
---
"Only Once" CLOSING credits as they appear in the film
Produced and Directed by
Rocco DeVilliers

Written by
Lisa J. Peck

Executive Producer
Greggory B. Peck

Based on the book "Greg and Kellie" by
Douglas and Donlu Thayer

Director of Photography
Michael Grady

Edited by
Rocco DeVilliers
Cast
Actor
Character
Greg Packer
Austin O'Brien
Kellie Timms
Britt Leary
Mr. Packer
David Jensen
Mrs. Packer
Becky Harding
Mr. Timms
Douglas Caputo
Mrs. Timms
Jan Hanks Jensen
(credited as "Jan Jensen")
Jeff
Josh James
Jennifer
Liz Johnson
Kyle Packer
Ben Moore
Tiffany
Jacque Gray
Tiffany's Husband
Dallen Gettling
Little Sister
Jacqueline Peck
Baby
Brooke Peck
Cindy
Alisha Clingo
Jack
Tristan Taylor
Doctor
Steven R. Pack, M.D.
Orderly
Micah Gilmore
Nurse #1
Melissa Pace-Diamond
Nurse #2
Mary Ann Landefeld
Paramedic #1
Rob Martin-Diamond
Paramedic #2
Ann Topham
Paramedic #3
Shirl "Rocky" Stone
Crew
Director
Rocco DeVilliers
Written by
Lisa J. Peck
Executive Producer
Greggory B. Peck
Based on the book
"Greg and Kellie" by
Douglas and Donlu Thayer
Director of Photography
Michael Grady
Edited by
Rocco DeVilliers
Line Producer
Gregory C. Haynes
Unit Production Manager
Audra Cervantes
1st Assistant Director
Gregory C. Haynes
2nd Assistant Director
Jason Rodgers
2nd 2nd Assistant Director
Jason DeVilliers
Script Supervisor
Delphine Slezak
Location Manager
Jason DeVilliers
Production Assistants
Peter McCombs
Michelle Cope
Israel Patterson
Micah Gilmore
Dave Burton
Ben McCombs
Jennifer Jones
Karen Kemp
Jerry Magee
Paula McCombs
Production Designer
Elaine Dabbas
Lead Man
Gus Wood
Set Decorators
Rorie D. Van Klaveren
Mike Brooks
Mike Buckner
Props
Suzet Roylance
2nd Unit Photography
Rocco DeVilliers
Steadican Operator
Don Muirhead
Cam Mate Jib Operators
Glen Fisk
John Reed
1st Assistant Camera
Ulysses Domaloan
2ns Assistant Camera
Terri Griggs
Curtis Burr
Gaffer
Jaime Reynoso
Best Boy
John Slezak
Electric
Terry Mitchell
Josh MacMurray
Thomas D. Watson
Rob Lowe
Steven Hurd
Key Grip
J. Terry Hilton
Best Boy
Gary Cox
Grips
Lori Latham
Alex Lundquist
Basil Katsounis
Sound
Lisle Moore
Scott Sandstrum
Wardrobe
Elaine Dabbas
Make-Up
Kourtnie Christensen
Kathy Varga
Pamela Johnson
Hair
Tyson Daniel
Medics
Brenda Loya
Micah Gilmore
Transportation Coordinator
Michael Russel
Drivers
Gregg Fosse
Tim Erwin
Kyler Carpenter
Jason Moser
Standins
Jeff Johnson
Heidi Burke
Security
Matt Rangi Brown
Catering
Viking Feast Catering
Caterer
Kjell Varissoe
Craft Services
Karen Lundquist
Judy Darby
Post-Production Sound
Lisle Moore
Colorist
Rick Stephenson