Return to Director Profiles



Mitch Davis
feature film director

Filmography: Director
Filmography: Screenwriter
The Other Side of Heaven (2001)
Windrunner (1995; Disney Channel)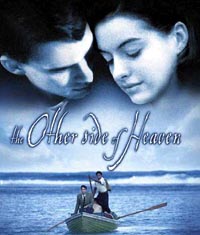 Filmmaker Mitch Davis is best known as the screenwriter and director of "The Other Side of Heaven." This film was produced by Academy Award-winning producer Gerald R. Molen ("Schindler's List", "Jurassic Park") and John Garbett. "Heaven" was based on the memoirs of Elder John H. Groberg of the Seventy and recounted the true story of Groberg's mission to Tonga.

"The Other Side of Heaven" was also notable as the first feature film made by Anne Hathaway, who soon thereafter starred in Disney's "The Princess Diaries," which led to her becoming a major film actress. ("Heaven" was filmed first, but its release was delayed so that it would arrive in theaters after "The Princess Diaries.")

Biography from Press Kit from the official "Other Side of Heaven" website:
First-time writer/director Mitch Davis has a Masters Degree in filmmaking from USC. He got his start as an intern at Disney/Touchstone Studios and worked his way to being a creative executive on films like Rocketeer, White Fang and Newsies...

>From the time writer-director Mitch Davis graduated from Brigham Young University, he was set on a career as a filmmaker. He applied and was accepted at USC Film School where he focused his studies on directing.

After graduating, he was hired by the Walt Disney Company and went to work in feature film development. He was hired away from Disney to become Vice-President of Development at a company run by writing partners Jim Cash and Jack Epps Jr. ("Top Gun," "Dick Tracy") who had an output deal with Columbia Pictures.

Davis, while working his "day job," began writing scripts at night. He eventually sold a script and soon decided to move his growing family to Colorado and devote himself to screenwriting.

Acting on strong recommendations from his producer John Garbett and another friend, Davis read a book called "In the Eye of the Storm," the memoirs of John H. Groberg. The book chronicled Groberg's experiences as a young missionary in Tonga in the 1950's. Davis knew he had found the right story for his first major film and immediately set about securing the film rights to the book.


Extensive information about Mitch Davis, including interviews and biographical information, can be found in the The Other Side of Heaven archives on this site.
---
Web page created 3 January 2002. Last modified 3 January 2002.