From writer/director Mitch Davis, producer John Garbett ("Shrek")
and Academy Award-winning producer Jerry Molen ("Schindler's List", "Jurassic Park")
Starring Anne Hathaway ("The Princess Diaries") and Christopher Gorham ("A Life Less Ordinary")
Based on the true story of Elder John H. Groberg of the Seventy



the Tongan missionary film
"The Other Side of Heaven"
Opens 14 December 2001!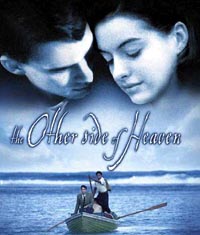 Links:
---
5 April 2001, by LDSFilm.com

"The Other Side of Heaven" is a feature film based on the actual experiences of John H. Groberg, a Latter-day Saint missionary who served in Tonga from 1954 to 1957. The film is based on his memoirs, In the Eye of the Storm (Deseret Book). Groberg would later go on become a General Authority in the Church of Jesus Christ of Latter-day Saints, and currently serves in the First Quorum of the Seventy.

"The Other Side of Heaven" is being produced by 3Mark Entertainment and is currently in post-production. It is scheduled to hit theaters in Fall 2001.

Hollywood Writer/director Mitch Davis is the man behind the film "The Other Side of Heaven." His previous work includes writing and directing Windrunner, for the Disney Channel, and work on Dead Poet's Society; White Fang; Rocketeer; Shipwrecked and Newsies. Davis, who served a mission in Argentina, long considered producing a film based on his own, profoundly life-altering missionary experiences. But when he read In the Eye of the Storm, he decided Groberg's experiences in Tonga would make for an even more visually dramatic and cinematic story.

Perhaps the best-known name behind the film is producer Gerald ("Jerry") Molen. Molen, who received an Academy Award as the producer of Best Picture winner "Schindler's List," also produced such popular blockbusters as Jurassic Park, The Lost World, Hook. He was the executive producer or co-producer of Rain Man, Twister, Casper, Days of Thunder, Flintstones, and other films. Although "Rain Man" (for which Dustin Hoffman won the Best Actor Academy Award) was based on the actual Kim Peek, "The Other Side of Heaven" is the first film Molen has produced with overtly Latter-day Saint characters and themes.

Despite its subject matter, "The Other Side of Heaven" is really no more a "Mormon film" than "Schindler's List" was a strictly "Jewish film." Many non-Latter-day Saint characters are in the film, including the Methodist minister who became a friend of Groberg's while he was on his mission. The film is about universal human themes and should appeal to a broad audience.

If you miss The Other Side of Heaven, and if you miss the opportunity to take your family, friends and everyone you know, you forfeit forever the right to complain about [any] movies.

-- Academy Award-winning director Kieth Merrill
(who did not work on the film, but thought it was "wonderful")

The co-producer of "The Other Side of Heaven" is Hollywood veteren John Garbett. Garbett produced the upcoming computer-animated "Shrek" for Dreamworks SKG and "Pet People" for Amblin. He also worked on "Alive!"; "Three Men and a Little Lady"; "The Frighteners" and "Father of the Bride" (the Steve Martin remake of the successful Spencer Tracy/Liz Taylor/Moroni Olson film).

Brian Breheny (Siam Sunset; etc.) is the director of photography, and Steve Ramirez (Pacific Heights; Dolores Claiborne; Leap of Faith; Driving Miss Daisy; The Running Man; Cocoon: The Return; etc.) is the film editor.

The talented cast is led by Christopher Gorham, who plays the young man from Idaho, Elder John Groberg. Gorham has appeared on television shows such as "Party of Five" and "Buffy the Vampire Slayer," as well as in films such as "A Life Less Ordinary." But he is best known for his starring role as Harrison John on the WB television series "Popular."

Playing the part of Jean Sabine, Groberg's girlfriend in Idaho, is Anne Hathaway, best known as "Meghan Green" on the television series "Get Real." According to IMDb, Hathaway is the "first and only teenager admitted to the acting program at the award-winning The Barrow Group in New York. Three days before being cast in Get Real, she performed in two concerts at Carnegie Hall as member of All-Eastern U.S. High School Honors Chorus." Hathaway will also probably gain considerable exposure from her leading role in Disney's upcoming film The Princess Diaries, in which she plays a California teenager who learns she is the princess of Sweden.

Other stars in the film include Joe Folau as (The Whole of the Moon; "Shortland Street") as "Feki"; Te Paki Cherrington (Angel in Green; Ngati) as the Minister; Miriama Smith ("Young Hercules"; "Xena: Warrior Princess") as Lavania; and Nathaniel Lees (Lord of the Rings) as Kelepi.

Prima Swing Riot, Aukland, New Zealand's hottest show band, performs the opening dance sequence in the movie.

As of April 2001, filming and post-production is essentially complete. Release of the film was originally scheduled for spring of 2001, but was rescheduled for fall. Some individuals have been fortunate enough to attend preliminary screenings, however. Author Margaret Blair Young was one of the members of the Latter-day Saint arts and letters community invited to preview the film. (Young is perhaps best known for her AML-winning novel about black Latter-day Saints during pioneer times, Standing on the Promises, Book 1: One More River to Cross.) Young reported that all three members of the First Presidency, as well as most of the Utah-based Seventies, attended a separate screening, and that they were "universally moved." It should be emphasized that "The Other Side of Heaven" is an independently-produced and funded film and that comments by church leaders do not constitute any sort of official endorsement of the film. John Groberg, the film's main character is currently a Seventy; consequently, his friends, family and peers were invited to a screening as a courtesy.

"The Other Side of Heaven" will hit theaters over one and a half years after the release of "God's Army", Richard Dutcher's breakthrough movie about missionaries. Dutcher's indie triumph cost only $300,000 to make and shattered expectations with its $2.6 million U.S. box office gross, and over $2.5 million in video sales within a year of its release. All that for a film made by actors and filmmakers who, although clearly talented, were relatively unknown at the time, in a genre that had not previously existed. "God's Army" was a critical as well as commercial success, and was loved by its niche audience. It's a tough act to follow, but any film approaching similar subject matter will be compared to it.

Now comes "The Other Side of Heaven," aiming for a broader audience. Backed by big names, widely-known talent, and a real budget, one has to wonder: Will "The Other Side of Heaven" break new box office and artistic ground in an emerging genre previously explored by only one filmmaker?
---
Contact
The email address for the film's production company, 3Mark Entertainment, is threemark1@aol.com.
---
Eye of the Storm - Movie on Tongan Experience
Source: i'Tonga.net - Tonga's Online Magazine
URL: http://www.itonga.net/features/movie.shtml
By: Taina S. Kami
Date: circa 2000

A movie based on a Mormon missionary's experience in Tonga from 1954 - 57, is in the making in the Cook Islands.

In the Eye of the Storm, is a book by Elder John Groberg's life as a missionary to Tonga. Groberg worked in Tongatapu and Ha'apai. He returned to the USA in 1957 and returned as President of the Church of Jesus Christ and the Latter-day Saints.

Movie director, Mitch Davis, a Mormon missionary himself, to Argentina in the 1970's, could relate to these experiences, thus his decision to make the movie.

"My missionary experience was so life changing for me that I thought at the time, before I die I want to make a movie or write a book about the mission. It was a right passage for me. I left as a boy and came back as a man," he says.

As Mitch made his career in the movie world, he kept thinking back to his missionary years. On reading Eye of the Storm, he approached the publisher and bought the rights.

"I read the book and immeditaely realized that his missionary experience was a lot more exciting than mine could ever have been. It was a lot more beautiful and a lot more profound, because of the place he served and the people there."

Mitch feels this movie will capture, the spirit of the Tongan people, which he describes as "pure, faithful and loving." He says the book talks about faith, love and purity of the Tongans.

He also wants to capture the spirit of John Groberg, who Mitch says was a unique character. Groberg is remembered among Tongans for playing his trumpet for the Tongan people and for Queen Salote, now deceased.

And lastly, Mitch would like to capture the spirit of the Lord.

"So this movie will be spiritually oriented. It's not going to be a Mormon movie, a movie just for Mormons at all. The movie explores a lot the relationship between Elder Groberg and some of the other Ministers, specifically a Methodist Minister who becomes his great friend during the course of his missionary experiences," he says.

The Cook Islands has become the shooting location, for convenience. Crew and cast, Mitch says, are either based in New Zealand or are more experienced with shooting in the Cooks. Auckland, N.Z. will also stand in for scenes in the United States.

"We couldn't find people in this area who had made movies in Tonga before. And so the best thing we could do was go to Rarotonga. We're just going to have to find a way to capture the beauty of Tonga and the people of Tonga in another place."

The cast are a mixture of Polynesian people playing Tongans. However Mitch says, they will try and include most Tongans as possible.
---
Elder Groberg's story to hit silver screen this fall
By: Eric Christensen
Source: newsnet.byu.edu
Date: 20 April 2001
URL: http://newsnet.byu.edu/index.cfm?story=31192

Inspired after seeing the film "Chariots of Fire," Mitch Davis wanted to tell the missionary story on the big screen.

"There is something very heroic about what Mormon missionaries do, and it's a kind of heroism our jaded world is in dire need of," Davis said. "I wanted to make a movie specifically for the non-LDS audience first, and the LDS audience second."

Twenty-three years later, the writer/director's completion of the "The Other Side of Heaven" makes the BYU alumnus' dream a reality. "The Other Side of Heaven" is scheduled for a nationwide release in early Fall 2001.

Based on the memoirs of Elder John Groberg's book "In the Eye of the Storm," Davis' film explores a young man's coming of age. More specifically, the movie shows the hard-fought change that comes when a young man faces a new culture, a new language and new traditions.

But Davis' own journey has been "Hollywood-esque" in its own right.

After graduating from BYU in English literature, Davis moved to San Diego where he sold computers for four years. When he had saved enough money, Davis, who had a wife and two children, applied to USC Film School.

Competing against arguably the most prestigious admission standards of any film school in the country, Davis was not only accepted but caught a huge break when landing an internship at Disney Movie Studios at the end of his master's studies.

As a member of Disney's "creative group," Davis was involved in the development of such films as "Newsies," "Rocketeer" and "White Fang." But he also got started down a path he wanted nothing to do with -- corporate Hollywood.

After two years at Disney and two more at Columbia Studios, Davis packed up his family and headed for the seclusion of the Rocky Mountains.

"I moved to Colorado for writer's retreat," he said. "I wanted to get back to writing, which was why I got into movies in the first place."

Once there, another pause was put on the filmmaker's dream. Davis once again changed his name; this time he became bishop Davis.

"I decided that being a bishop was incompatible with the ups and downs of the film making business," he said. "I needed to have more stability in my life for my family's sake, for my ward's sake, and for my sake."

Davis went back to selling electronics.

Later, however, Davis' movie dream floated into vision once again as he started to write a script based on his own experiences in Argentina.

He showed a draft of the script to his producer friend, John Garbett, who suggested he read a book by Elder John Groberg that might make a better missionary movie. Davis ignored Garbett's suggestion until a second friend "pleasantly forced" Elder Groberg's book on him in late 1999.

"Thirty pages into the book, I knew it was what I was looking for," Davis said.

"Elder Groberg is such a keen observer of human character and a great story teller besides," Davis said. "His book had high seas adventure, compelling romance and unforgettable characters."

Now, 23 years after his first missionary epiphany and 15 years after enrolling in USC film school, Davis' dream has come full circle. Having finished shooting in the Cook Islands, he was in Auckland, New Zealand, on the set of his first motion picture.

Doubling as the Maeser Building in 1953, an old museum played host to the movie's opening scene -- a swing dance where BYU freshman John Groberg played his trumpet and watched as his dream woman danced the night away with someone else.

Christopher Gorem of the WB Network's "Popular" did a phenomenal job portraying the character, Davis said.

"We literally looked at hundreds and hundreds of actors," he said. "(Gorem) is kind of a mix between Tom Hanks and Jimmy Stewart -- fun, energetic and enthusiastic."

To understand the role more fully, Gorem spent a full day proselyting with the LDS missionaries stationed on the Cook Island of Rarontonga.

Anne Hathaway plays the role of Groberg's love interest, Jean Sabin.

Like Gorham, Hathaway was moved by the essence of the movie and came to feel close to the Grobergs.

"Elder Groberg came to visit the set one day, and I introduced him to Anne Hathaway," Davis recalled. "Elder Groberg took her hand and said, 'So, you're the lucky girl that gets to play my wife.' Anne was his friend for life after that."

Davis estimates that approximately 600 people worked on the movie, only a few of which were members of The Church of Jesus Christ of Latter-day Saints.

Heavyweight producers Jerry Molen and John Garbett brought their many years of Hollywood experience to the set each day, along with their testimonies of the church, Davis said.

Molen, who won an Academy Award for "Schindler's List" and produced other blockbusters such as "Jurassic Park," "Twister," and "Days of Thunder," said the Groberg film was one of his best experiences in the industry.

"If I had to rank my best film experience, I would probably choose this one," he said. "It was such a tremendous challenge; but at the same time, it was spiritually uplifting."

Garbett, a member of BYU's Film School Advisory Council, started his film career at Disney where he met Davis. Garbett went on to work on such films as "Alive," "Father of the Bride," and the soon-to-be-released, "Shrek."

Davis speaks very highly of the two producers who made his film dream come true.

"The production value Jerry and John put on the screen exceeded my wildest dreams. It is definitely a big screen movie," he said. "Of course, if I'd thought about their previous credits, I wouldn't have expected any less. These guys make big movies. That's just what they do."

Elder Groberg said he thought Davis did an excellent job.

"He was able to tell the story and maintain a wonderful spirit," he said.

Elder Groberg said his involvement in the making of the movie was limited.

"Mitch mostly asked me technical questions about whether we wore ties all the time or slacks," he said. "He was being as accurate as he could. I was immensely impressed."

Elder Groberg said the movie was very moving to watch.

"He did a wonderful job capturing moments," he said. "When watching the hurricane scene in the water, I immediately remembered how I felt and thinking of Jean when almost drowning."

In another gut-wrenching scene, Elder Groberg experiences the pains of rats eating the bottoms of his feet during the night. Elder Groberg said he did not know if he would walk again.

For Davis, perhaps the most important Church of Jesus Christ member on the set was his son, Christian, now a BYU freshman.

"It was great having Christian around, watching the cast and crew interact with him," Davis said. "They didn't cut him any slack for being the director's kid. To the contrary, they were probably harder on him. But I could tell they respected him, and that made me very proud."

For Christian, who appeared on screen as Elder Louis Armstrong, making his first appearance in front of the camera was almost too much to handle.

"I had 30 people staring at me," he said. "It was incredibly nerve racking."

He went on to say that the experience became a great preparation for his mission.

"The lighting guys and some of the actors would ask questions about the church," he said. "They were surprised a 19-year-old would go out to do what we do."

Elder Groberg hopes audiences can see beyond the religious part of the story and see it as faith- and humanity-promoting film.

"I had such deep, deep respect for these people and the other religions on the island," he said. "I could tell they were trying to do good."

"The movie is about God's greatest creation -- His children," he said. "We're all fighting the same battle, I hope people realize this."

For more information, check out the film's Web site at othersidefoheaven.com or eyeofthestormmovie.com.
---
Source: Dark Horizons - Film News & Rumours
URL: http://www.darkhorizons.com/news9/010412.htm
Date: April 12, 2001

The Other Side of Heaven: After the success of indie flick "God's Army", movies about the Church of Jesus Christ of Latter-Day Saints (ie. the Mormons) have funnily enough become a big new thing. Now Christopher Gorham (TV's "Popular") and Jean Sabine (TV's "Get Real") star in this film being adapted from the memoirs of John H. Groberg, a Mormon missionary who served in Tonga from 1954 to 1957. What makes this also stand above the general indie crowd is the people behind the scenes including "Schindler's List" and "Jurassic Park" producer Gerald Molen, "Shrek" producer John Garbett, "The Running Man" and "Driving Miss Daisy" editor Steve Ramirez, and "Siam Sunset" DOP Brian Breheny. The film is just wrapping up post production and is aiming for release in the next few weeks, for more information click here. Thanks to 'Jettboy'
---
Mission Improbable Now a Movie
By: Vince Horiuchi
Date: 4 October 2001
Source: Salt Lake Tribune
URL: http://www.sltrib.com/10042001/utah/137456.htm

Filmmaker Mitch Davis had one dream project: "To make a movie about a Mormon for the world."

At the urging of two friends, Davis read In the Eye of the Storm, and believes he found his universal story. The autobiography of Elder John H. Groberg -- now a member of the First Quorum of the Seventy for The Church of Jesus Christ of Latter-day Saints -- tells of his experiences serving a Mormon mission in the Kingdom of Tonga in the 1950s.

"It was swashbuckling and romantic and epic," the first-time writer-director said Wednesday during an announcement for his film adaptation of Groberg's book, to be called "The Other Side of Heaven." "There wasn't a lot of door-knocking going on."

To help get "The Other Side of Heaven" off the ground, Davis turned to one of the most successful producers in Hollywood -- Gerald Molen, a longtime partner with Steven Spielberg who won an Oscar producing "Schindler's List" and who also produced "Jurassic Park" and its sequel.

"I read it, and I was transported back in time," said Molen, a Mormon filmmaker who has worked in the industry for 44 years. "He [Groberg] helped change people and brought to them -- and they brought to him -- a new meaning on life."

"The Other Side of Heaven," which initially will be released in a few select cities including Salt Lake City around Christmas, is about Groberg's mission in the Tongan islands as he battles cultural barriers and struggles to earn the trust of the native people. Meanwhile, he maintains his spirits through letters from his girlfriend back home (played by Anne Hathaway of "Princess Diaries").

While just about anyone else would jump at the chance to be the subject of a movie, not so Groberg, who will be played by Christopher Gorham ("A Life Less Ordinary").

"It was a shock to have someone who was interested to do a movie. It was also a little bit intimidating. As a family, we tend to be quiet and not make a big splash," Groberg said. "But I felt confidence in these people [the filmmakers]. They have been true and maintained the spirit [of the book]."

And while the movie's $7 million budget is minuscule by Hollywood's standards, these filmmakers still want to reach the widest audience possible. Last year's "God's Army," about Mormon missionaries in Los Angeles, proved such a movie could be a hit with people outside as well as inside the LDS church.

"It's not an LDS movie. The only connection is that it is an adventure in an LDS mission," Groberg said. "It's a story about tolerance . . . and different languages and different cultures. It's not a preachy movie, but about what actually happened."

[Photo caption: A cheerful LDS Elder John H. Groberg discusses a movie about his mission adventures.]
---
Film depicting Elder Groberg's mission to Tonga to open in December
By: Caroline Jensen
Date: 3 October 2001
Source: NewsNet @ BYU / Daily Universe
URL: http://newsnet.byu.edu/index.cfm?story=33505

"The Other Side of Heaven" is not just another movie about missionaries.

At a press conference on Thursday night, key players of the upcoming movie gathered to announce the movie's release date and answer questions.

Gerald Molen, who also produced "Schindler's List" and "Jurassic Park," has taken on the challenge to make a movie based on the memoirs in Elder John H. Groberg's book, "In the Eye of the Storm."

The story is about Elder Groberg's mission experiences in the Tongan islands during the 1950s. The plot revolves around the challenges and blessings he faced as he learned to love this unknown world.

Mitch Davis, writer and director of the movie, said the idea came to him after he watched "Chariots of Fire."

"Chariots of Fire" is about noble young men doing great things for integrity, he said. He thought he could bring out the same themes in a Polynesian version of "Chariots of Fire."

After filming began, Elder Groberg played a little part in the making of the movie.

"The main part I played was in writing the book," he said.

Elder Groberg said he wants the movie to reach beyond the church's audience.

It is about the connection between heaven and earth, and the fact that there really is a God out there who cares about His people, he said.

Elder Groberg said he will be happy if people can catch this concept.

He said other church officials seemed pleased at having his experience made into a movie and have made efforts to see the film.

Davis said the success of "God's Army" did not influence him to make this movie.

"I actually saw 'God's Army' a few days before I was to begin filming for this movie," he said.

Anne Hathaway, star of "Princess Diaries," plays the wife of Groberg in the movie.

"When I first saw her I said so you're the lucky lady who gets to play my wife and I really feel that way," said Elder Groberg, a member of the Quorum of the Seventy.

Davis said the budget for the movie was only $7 million, but it looks like a $30 million film.

This is in part due to the amount of experience put into this movie, Davis said. Molen has more than 40 years of experience and John Garbett, the producer, has more than 20 years of experience.

Excel Entertainment Group, Inc., who also worked with "God's Army," will handle the theatrical distribution of the movie that is expected to be released at Christmas time.

"We hope it will go all around the world," said Jeff Simpson, president of Excel Entertainment. "We will release it in selected cities at first, but the details have not been worked out yet."

The movie will be rated PG and will be released in December.
---
'Other Side' tells of LDS mission to Tonga
By: Jeff Vice
Date: 5 October 2001
Source: Deseret News
URL: http://deseretnews.com/dn/view/0,1249,325007683,00.html?

An LDS Church general authority's harrowing adventures as an LDS missionary in the Kingdom of Tonga are coming to the big screen.

Excel Theatrical Distribution, which released the Richard Dutcher films "God's Army" and "Brigham City," has announced that it is picking up the rights for "The Other Side of Heaven," a drama based on the real-life experiences of Elder John H. Groberg of the First Quorum of the Seventy.

During a news conference held Wednesday afternoon to announce the distribution deal, writer/director Mitch Davis said he hopes he did Groberg's experiences justice, referring to them as "swashbuckling, romantic and epic . . . it was an odyssey."

Elder Groberg described the film as "a story about a connection between Heaven and earth.

"There really is a God out there and he really does know what's going on here . . . he really will help us," said Elder Groberg, whose autobiographical novel "In the Eye of the Storm" serves as the film's source material.

Davis, whose previous film was a 1995 feature for the Disney Channel, "Windrunners," initially thought about making a film about his own missionary experience when a friend suggested that he adapt the novel instead.

And when Davis turned in his draft for the film, he attracted the attention of producer Gerald Molen. Though he has an Oscar (for producing "Schindler's List") and has worked on such blockbusters as "Jurassic Park," Molen called the film "a highlight of my career."

The movie stars TV actor Christopher Gorham ("Popular") as Groberg, who suffered through several trying experiences while serving his first mission from 1954-57, including surviving a tropical storm. Anne Hathaway ("The Princess Diaries") co-stars as Groberg's girlfriend (now wife), Jean Sabin.

"The Other Side of Heaven" was shot in New Zealand last year and cost $7 million to make, though the filmmakers promise it will "look like a $30 million film."

No firm release date has been announced, though Excel is trying to get it into select theaters around the country in time for the Christmas season.

For more information on "The Other Side of Heaven," browse the official Web site www.othersideofheaven.com
---
The Other Side of Heaven: A Dream Realized
By: Jonathan S. Walker
Date: 8 October 2001
Source: Meridian Magazine
URL: http://www.meridianmagazine.com/arts/011005other.html

As the press wandered into the plush Bombay room of the Hotel Monaco in downtown Salt Lake, the powerhouse players of the new movie The Other Side of Heaven sat quietly-and uneasily. Hard as it is to believe, the five people on the panel actually looked apprehensive, as though they were awaiting the verdict from an unfriendly jury.

The judgement won't come for another two months.

In December, The Other Side of Heaven will begin it's platform release. The film will be released in two or three cities and expand slowly until it has penetrated even the smallest markets. Only then will the five at the table know the fate of the film that has taken so much of their sleep in recent years. The five included the producers, Gerald R. Molen and John Garbett; the writer-director Mitch Davis; Elder John H. Groberg of the Seventy from whose memoir came the story; and, Jeff Simpson from the Salt Lake-based Excel Entertainment, the film's distributor.

The Other Side of Heaven is based on Elder Groberg's missionary experience in Tonga in the 1950s. He admits that the story is much more about what he learned from them than his preaching to them. It is a coming of age story, an "odyssey" as many of the panelists describe it-and definitely an adventure.

Writer-director Mitch Davis exudes hope. The Other Side of Heaven is the realization of a "personal and outrageous dream" he had back in the early 1980s. Returning from his mission to Argentina, he enjoyed watching Chariots of Fire and decided he wanted to make a film "about a Mormon for the world." He wanted it to be bold and adventure-filled. He found that story in Elder Groberg's memoir.

"It's one thing to have a dream," Davis says. "It's [another] thing to have people put their arms around you and make it possible." He refers to the veteran Hollywood producers Gerald R. Molen and John Garbett.

Molen is best known for producing many of Steven Spielberg's films including Schindler's List and Jurassic Park. He does admit that it is the lowest budgeted film he has been a part of in years. In fact, Davis recounts Molen giving him a tour of the set of Spielberg's next film. Molen pointed to some lights, "See that lighting apparatus? That cost more than your movie." Humbling himself to produce the $7 million Heaven may seem to be a letdown for Molen, but he feels just the opposite. After 44 years in the film industry, this is his highlight, the "exclamation point" on his career.

Davis, Molen and Garbett all are quick to point out that the film is "purely a commercial venture," and that the LDS church had no part in it whatever. In fact, Davis points out that during the audience previews they intentionally excluded members of the church and tailored the film's final edit to comments made by non-members.

Although Elder John H. Groberg tows that party line, it's also apparent that he sees things a bit differently. His great desire for the film is that it will help people see "that there really is a God out there" A God who knows us and is involved in our lives.

Elder Groberg wasn't always convinced that a movie was the best medium for his story. He only agreed to allow the film rights to be purchased and the movie to be made when he felt confident Davis, Molen, and Garbett would do the story justice. "This is for real," he said. They are "real people who have done real things." He feels that they have maintained the spirit and essence of the book. "I trusted them, and they responded well to that trust."

That trust now moves to Jeff Simpson of Excel Entertainment. While Excel distributed God's Army and Brigham City, Simpson admits that it is "graduation time" for his staff. Their previous forays into film distribution was directed to members of the church and consequently was much less ambitious than The Other Side of Heaven. They must reach a much wider audience on a much wider scale.

Evidently, there were larger companies willing to distribute the film, but the producers decided that Excel was the best option. When dealing with the "league of the big boys," Molen warned. They make "demands, creatively." None of them wanted to pay that price.

Now they must sit back and hope that others will be as taken in by the Elder Groberg's mission story as they were.
---
Full-Page Ad in "BYU Magazine"
24 October 2001 - The latest issue of BYU Magazine, which we received today, contains a full-page advertisement for "The Other Side of Heaven."

The ad features a single photo or still from the film, showing actor Christopher Gorham, as a young John H. Groberg, walking along a dirt road, wearing missionary attire (sans nametag), while carrying a suitcase, coat, and trumpet.

The ad copy reads as follows:

FINDING YOURSELF CAN BE
THE LONGEST JOURNEY OF ALL

3 Mark Entertainment presents
A Molen/Garbett Production
A Mitch Davis Film

Christopher Gorham
Anne Hathaway Joe Folau

Casting by Gretchen Rennell Court
& Christina Asher
Visual Effects by John Gajdecki
Music by Kevin Kiner
Based on the Memoirs of John H. Groberg
In the Eye of the Storm
Editor & Associate Producer Steven Ramirez
Executive Producer Mitch Davis
Produced by Gerald Molen & John Garbett
Written & Directed by Mitch Davis
DIGITAL SURROUND

COME SEE THE PREVIEW ON
WWW.OTHERSIDEOFHEAVEN.COM
The Other Side of Heaven
Based on the memoirs of John H. Groberg

COMING SOON!
---
The Other Side of Heaven - An Upcoming Mitch Davis Film
By: Jennifer Foust, BellaOnline's LATTER-DAY SAINTS Host
Date: 29 October 2001
URL: http://register.bellaonline.com/society_and_culture/religion_and_spirituality/latterday_saints/articles/art1001602591324.htm

Jennifer Foust, the opinionated and insightful host of the popular Latter-day Saints forum at BellaOnline, has posted a brief article about the upcoming film "The Other Side of Heaven."

Foust's article opens with a quote from President Spencer W. Kimball's famous 1997 First Presidency Message titled "The Gospel Vision of the Arts." Foust, an acknowledged movie buff, states: "We are currently witnessing the fruition of his [Pres. Kimball's] dream as talented LDS filmmakers combine their extraordinary abilities to bring quality Latter-day Saint material to silver screens across the nation and the world. The Other Side of Heaven is one of these eagerly anticipated films."

Foust briefly describes the plot, mentioning that Elder John H. Groberg was from Idaho Falls, and that his mission to Tonga lasted for 3 years.

About the film's lead actress Foust adds:
Who better to portray Groberg's future wife, Jean Sabin, than Anne Hathawaywho stole the hearts of audiences young and old, in this summer's surprise G rated hit, The Princess Diaries.Hathaway has a bearing on screen that I have seldom witnessed from current, young actresses. Garry Marshall(Runaway Bride), her director in The Princess Diaries, has rightly describedher as"a combination Julia Roberts, Audrey Hepburn, and Judy Garland."
The article also mentions accomplished producer Jerry Molen, the film's $7 million budget, and first-time director Mitch Davis.
---
Go to "The Other Side of Heaven" page 2


Web page created 5 April 2001.

This website has no official connection to the film.