Excel Entertainment Group, Inc.
Corporate Bio
Related Links
The following document was provided by the Excel Entertainment Group, 5 June 2002: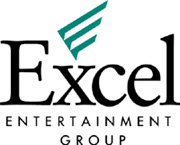 Excel Entertainment Group came into being in 1995 when Jeff Simpson left his position as an Executive at Disney Studios to become President and CEO of a new entertainment company. Simpson and his partners acquired Embryo Music, Joyspring Records, Lightwave Records and the independent wholesale distributor Excel Distribution. Since 1995, Excel Entertainment Group, Inc. has grown dramatically to become a complete entertainment company.

Embryo Records continues today to be a leader in producing sacred recordings. In 2002 Lumen Records was created as the label for inspirational music. Leading the way on Embryo and Lumen is acclaimed composer and songwriter Kenneth Cope. Joyspring Records also continues its fine tradition of producing outstanding instrumental albums, with the award-winning folk ensemble Enoch Train anchoring the label.

In 1996, Highway Records was created to replace Lightwave Records as a label for contemporary faith-centered artists and recordings. Representing such popular artists as Julie de Azevedo and Greg Simpson, Highway recently picked up nationally renowned folk artist Shane Jackman, and co-released new artist Maren Ord's debut album, "Waiting," with Capitol Records. Highway Records has also produced the soundtracks to the hit independent films, God's Army, Brigham City and The Other Side of Heaven. The label was awarded with the FCMA PEARL Award for Record Label of the Year in 2000 and 2001.

The record label family grew once again in 2000 with the addition of Little Stream Records. The label produces children's recordings, and has taken over production of the very popular Primary Program Series, an annual recording of music for children.

While the record labels were developing and growing, Excel Distribution became a leading distributor of entertainment to the Intermountain Region and to LDS bookstores all over the world. Excel Distribution not only distributed product from it's sister divisions (the four record labels), but it also distributed products from top-selling regional artists and national artists like Amy Grant and Jars of Clay. With the successful AutoOrder and Auto MEK (merchandising event kit) programs, Excel Distribution earned a reputation for lightening fast fulfillment, outstanding customer service and high quality products. Excel Distribution also maintains an online retail presence through the web site ClickTo BuyOnline.com. Customers who make purchases from ClickToBuyOnline.com are given a 100% satisfaction guarantee -- if they don't like an item they have purchased, they may return it for 100% of the purchase price, regardless of whether or not the item has been opened.

In March 2000, Excel Distribution ventured into the world of theatrical film distribution with the release of the independent film God's Army. The film went on to become one of the top-grossing independent films of 2000. Subsequently, in January 2001, Excel Distribution split into two sister divisions. Excel Retail Distribution continues to be a leader in the wholesale distribution of high quality music and video while Excel Motion Picture Distribution handles the theatrical release of independent film. The Motion Picture division has grown rapidly, successfully releasing and marketing films in nearly every market in the United States and grossing over $8 million over three films. In May 2002, AC Nielsen EDI ranked Excel among the top ten of limited release film distributors nationally.

In addition to producing award-winning recordings and distributing all kinds of best-selling entertainment, Excel Entertainment Group has begun producing music-based television programs for broadcast. In December 2000, Excel produced an hour-long Christmas special called "Christmas from Studio B". The program featured eleven of the most popular performing artists from the Intermountain West in an intimate concert setting, and was broadcast three times on KJZZ-TV (with additional rebroadcasts in December 2001).

Most recently, Excel has branched into the world of publishing. Excel Publishing released two books in November 2001, including the novelization of the film God's Army.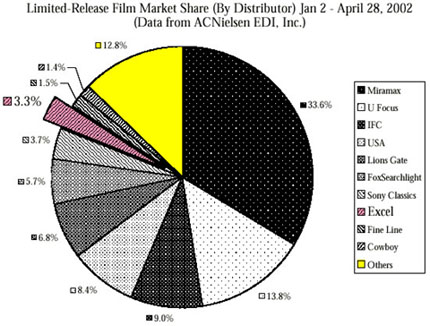 ---
Distributing Utah-based Films and Music is a No-brainer
By: Glen Warchol
Date: 23 July 2002
Source: Salt Lake Tribune
URL: http://www.sltrib.com/09232002/monday/monday.htm

Jeff Simpson, president of the small but flourishing film and music distributor Excel, knows the best way to cross over to a broad audience is to first serve -- extremely well -- a niche audience.

Excel, which began its foray into film distribution in 2000, found broad audience appeal for its independent films Brigham City and God's Army that were about, and targeted to a Church of Jesus Christ of Latter-day Saints audience.

"There's a misconception that to cross over with a niche film, you have to gener-ify it," says Simpson, speaking from his offices in the International Center a few miles west of downtown Salt Lake City. "The truth is, a story has to go even deeper into a culture to make in universal."

It's a philosophy that seems to be working for Excel.

The entertainment weekly Variety recently rated Excel among the nation's top 10 limited-release -- or "niche" -- film distributors. Niche distributors deal in films playing in less than 600 markets nationwide.

Miramax topped the list with nearly 34 percent of the niche market. But eighth on the list -- just behind Sony Classics and ahead of Fine Line -- was Simpson's Excel, which had grossed $8 million on its films.

The company entered the market two years ago with the God's Army, which followed the lives of a group of LDS missionaries. Excel followed with an even bigger crossover success in the murder mystery Brigham City.

Excel also found a nationwide audience for The Other Side of Heaven which has grossed over $4.4 million.

Excel's newest crossover bid is a love story, Charly, opening this month in Utah and southeastern Idaho. Based on the novel by Jack Weyland, non-Mormon free spirit Charly collides with Sam, a self-satisfied, goal-setting believer. Cultural differences and family attitudes threatened to destroy their love.

It's definitely an LDS niche film, but if you take the word "Mormon" out of a script like Charly, replace it with "Jewish," "Catholic," "Italian" or even "Greek" -- you've got standard Hollywood fare -- not a limited-release cultural-ethnic film. Moonstruck (Italian Catholics), Crossing Delancy (New York Jews), or My Big Fat Greek Wedding were never considered niche films.

But it is only recently that the human condition has been examined through the eyes of Mormon filmmakers.

"LDS people see our films as a mirror," Simpson says of his products. "But they are also a window into the LDS culture."

Perhaps another sign of crossover success is criticism from the originating niche group itself. Excel has gotten complaints for opening the LDS window a little too wide. For instance, some Mormons squirmed at scenes of the church's sacraments being shown in Brigham City.

"The LDS culture is still nervous about how it is portrayed to the outside world," Simpson says. "There have been so many unfair caricatures over the years."

But he says the artists at Excel understand their market and as for crossover, "The best is yet to come."

"The real limitation is: How good are we at making movies and writing stories?" Simpson says. "They can have all the attributes of the religion, but they have to be stories well told. The passion of the story is where your limits lie."
---
NOTE: Excel Entertainment Group has no connection to LDSFilm.com. This information is provided on this website for research purposes only.