The Wrong Brother
a short film by Chris Bowman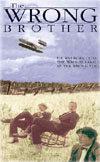 "The Wrong Brother" is a short comedy film made by Chris Bowman while a film student at Brigham Young University. It is a period piece, set near the turn of the century. It tells the fictional story of Hector Wright, the less famous brother of Orville and Wilber Wright, the inventors of the airplane.

"The Wrong Brother" can currently be viewed online in QuickTime format.
Click here.

Links




Review
As far as I can tell, the purpose of "The Wrong Brother" is simply to be fun and entertaining. This is fine, because it is very fun and entertaining. In fact, it is hilarious. I found myself frequently laughing out loud at this historically preposterous but ostensibly earnest telling of the story of "Hector Wright," the lesser known, not-at-all-famous younger brother of Orville and Wilbur Wright, the inventors of the airplane.

"The Wrong Brother" is a short film written and directed by BYU film student Chris Bowman. The film's producers are Bowman, along with Ryan Little (director of the feature film "Out of Step" and the award-winning short film "The Last Good War"; director of photography for "The Singles Ward") and Carter Durham. These are some talented young filmmakers.

"The Wrong Brother" looks fantastic: it appears professional throughout. It is set in Dayton, Ohio circa 1903. Inserts of actual footage of the Wright Brothers' demonstrating their flying machine and Ivan Crosland's solemn narration increase the air of mockumentary-like realism. The costuming and sets all look authentic, which make the intentional anachronisms (particularly with regards to dialogue) all the more comical. (At one point one of the successful Wright brothers addresses an attractive woman among a crowd of admirers: he pantomimes dialing an old-style telephone and mouths the words "call me.")

Much of the comic relief in the film comes from Orville and Wilbur (Chris Kendrick and Joel Wallin), who occasionally exhibit some decent brotherliness, but usually mock their little brother mercilessly. They are particularly bemused by Hector's intentions to invent something himself. "He wouldn't know an invention if it was right in front of him, wearing a sign that says 'invention,'" says one. "And bit him," finishes the other. This is followed by the two brothers using their hands to mimic mouths, making biting and growling sounds.

It may sound slightly mean, but it's all in fun, and the film has a great heart. Bryan Summers plays the part of Hector as, well, a bit of a loser, but a very sympathetic one. Hector is redeemed by his optimism and determination to emerge from the shadow of his older brothers. Hector eventually announces his own invention before the excited townspeople: a portable drinking fountain, consisting of at least 50 pound of equipment carried on one's back and dragged by a harness attached to one's ankle. The invention is intended to deliver people from thirst.

Of courrse, the whole thing is patently absurd. What is even more funny is the way the hecklers in the crowd are eventually drowned out by the sentiment that what really matters is whether or not it works. Alas, Hector isn't even entirely successful on that front. The hose from the back-mounted drinking fountain produces, at first, a beautifully photographed trickle of water, only to turn into a disastrous torrent that knocks hats off onlookers and leaves Hector drenched.

Seemingly washed up, Hector drives home with his not-so-successful invention. But on his way home he passes a burning school building. Children are trapped inside, and nobody is around to help them. Does Hector save the day? Does his invention turn out to be useful after all? Well, I won't give away the ending, except to say the film ends on an upbeat, but hilarious note.

Watching "The Wrong Brother," it is easy to see why it won first place (as well as an audience choice award) in last year's International Young LDS Film Festival (2001). The solid filmmaking, top notch comic acting, and thoroughly enjoyable story combine to make a commendable film. I normally have no interest in writing "reviews" of short films, but my thrill at seeing this compelled me to do so.

"The Wrong Brother" can be puchased on video (in LDS video stores, or from www.candlelightmedia.com), or (if you've got the bandwidth) downloaded for free from: http://yfilms.byu.edu/finalcut/drinkingfountain.mov
---
"The Wrong Brother" opening credits as they appear in the film
Three Coin Productions


The Wrong
Brother
---
"The Wrong Brother" closing credits as they appear in the film
Written and Directed
by
Chris Bowman

Produced
by
Carter Durham
Ryan Little
Chris Bowman

Director of
Photography
Doug Chamberlain

Editor
Garrett Batty

Original Music Composed
by
Scott L. Reinwand

Costume Design/Make-up
Ruth Geilman

Art Director
Yvonne Carpenter

Post Production Sound
Charlotte Manning
Dan LePrey



UPM
Carter Durham
1st AD
Clint Carpenter
2nd AD
Garrett Batty
2nd 2nd
Sunny Darly
1st AC
Katie Bogner
2nd AC
Gary Wilson
Aaron Ruell
Locations Manager
Allan Staker
Script Supervisor
Kelly Fisher
Gaffer
Tim Skousen
Best Boy
Manju Varghese
Key Grip
Kris Stout
Marty Patch
Dan Heder
Jon Heder
Chris Kendrick
Costume/Make-up Assistant
Mamarine Clark
Set Decorator
Alex Ray
Prop Master
Kenneth Ray
Foley Artist
Ryan Arvay
Temporary Scoring
Garrett Batty
Thomas Durham
Sound Effects Technician
Bob Sibley
Special Effects Fire
Jason Faller
Graphic Design
Adam Palmer
Micah Beals
Graphic Consultant
Bryan Lefler
Production Sound Mixers
Maria Perez
Carrie Tippets
Travis Eberhard
Louise Stapky
Boom
Kevin Slater
Sammie Markham
Casting
Jjana Morrill
Extras Casting
Christy Gleave
Key PA
Ryan Honaker
Craft Service
Mariana Bowman
Kelly Rose
Faculty Advisor
Stan Ferguson
Post Production Manager
Curt Price
MTS Student Account (?)
Amy Langlois
MTS Security
Bud Gilman
Film Processing
Dave Nauta
Film Transfer
Gene Bradford
CAST
Hector
Bryan Summers
Orville
Chris Kendrick
Wilbur
Joel Wallin
Milton
Rodger Sorensen
Grizzled Man
Mark Bennett
Telegram Clerk
Graham Northrup
Painter
Bob Nelson
Schoolteacher
Susan Whitenight
Young Ladies
Emmelyn Thayer
Jjana Morrill
Jessica Mockett
Flirt
Melissa Summers
Newsie
Neal Gage
Mayor
Dan Hess
Audience Members
Kenneth Ray
Peter Biggs
Mamarine Clark
Travis Eberhard
Dan Heder
Jon Heder
Trapped Kids
Kaylee Larsen
Jordan Hightower
Trapped Boy
McCade Larsen
School Children
Danny Gleave
Laura Gleave
Rosie Little



Narrated by
Ivan Crosland


"Come Josephine in My Flying Machine"
Words by Alfred Bryan
Music by Fred Fisher (1910)


"The Wrong Brother" contains a few subtle historical
inaccuracies. For example, we spelled the main
character's name H-E-C-T-O-R, while in real life they
didn't spell it at all because he didn't exist.


The Filmmakers Wish to Thank

Final Cut Grant Committee
LDS Motion Picture Studio
Mark Christopher Productions
KBYU Television
Doug Cooley, Shawna and Danielle
Leatherby's Family Creamery
Pastor Lee Whitworth
Payson Bible Church
The Hollywood Edge
BYU Faculty
Payson Fire Department
BYU Grounds Crew
Debi Rawlings and the Provo Public Works Department
Mark and Gayle Bowman
Kelly Peterson
Sherrie Batty
The Gleave Family
Dr. Thomas Durham
Tom Lefler
Carolyn Hansen
Carl Pope
Dave Card
Rob Sibley
Alex Ray
Jenny Curtis
Ross Booth
Glenn Anderson
Mark Poulos
Nathan Rose
Bryan Lefler
Wendy Weiler
Jay Jensen, Clarissa, Kitsa, Dacy, Kristy, and Carrie
Michael Gleave, Jacob Lauret, and Whitney Halford
All of the patient extras at our various locations


© 2000 Three Coin Productions
All Rights Reserved
---
"The Wrong Brother":
TEXT from back video cover
A
HEARTWARMING
COMEDY!
Hector has always felt that his brothers were above him -- two thousand feet above him. His older brothers, Orville and Wilbur, have invented a miraculous, world-changing flying machine, while Hector's greatest featis getting a part in the school play. One day Hector decides to create his own invention, desperate to prove to his brothers (and himself) that genius runs in the family.
This warm-hearted comedy will bring a smile to anyone who has ever felt overshadowed. Come join Hector as he tries to find his own place in the sun!



Candlelight
Media Inc.

www.candlelightmedia.com
© Copyright 2001 Candlelight Media Inc.
---
Web page created 29 April 2002. Last updated 14 February 2003