Roots & Wings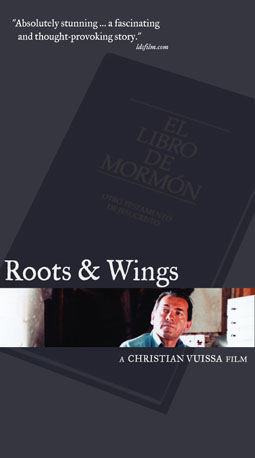 Related Links "Roots & Wings" is a short dramatic film directed by Christian Vuissa, an Austrian Latter-day Saint studying film at Brigham Young University (BYU). He made the film while he was completing his film degree at BYU. The screenplay was written by Maria Perez, a Latter-day Saint of Mexican descent and fellow BYU student.

"Roots & Wings" was completed in 2002 and competed in the 2002 Final Cut film festival at BYU. It won the awards for Best Actor (for lead actor German Contreras, who plays the father), Best Screenplay, and Audience Choice Award (Best Film). "Roots & Wings" has also received a Gold Aurora Award (2002) for Best Foreign Language Film and was the Winner of the Performing Art Showcase Award of the Golden Key International Honour Society.

LDSFilm.com comments: Look for Christian Vuissa's absolutely stunning short film "Roots and Wings," which is supposed to go on sale in LDS bookstores in August. I HAVE seen "Roots & Wings", and it is amazing. The extremely realistic and beautifully shot story of a Mexican Catholic immigrant who finds his wife and children becoming distant as they assimilate American ways and Latter-day Saint faith, "Roots and Wings" is the work of a filmmaker who is obviously destined for great things. Every shot is thoughtfully and meaningfully framed. The acting is so natural and the emotions so raw that the film often seems like a beautifully shot documentary. Vuissa serves up no easy answers or platitudes, he simply serves up a glimpse into a fascinating and though-provoking story. At only about 25 minutes long, "Roots and Wings" is more of a film than most anything you'll find in the multiplex this summer.





"Roots & Wings" opening credits as they appear in the film
WingSpan Pictures
presents


Roots & Wings


Gérman Contreras

Maria Carr

Ivan Hernandez
Missy Carr

Mosiah Gonzalez
Carlos Tirado


Production Designer
David Graham

Costume Designer
Brittney Rodee

Director of Photography
Brandon Christensen

Edited by
Ludwig Einklang

Orchestral Music by
Dominic Moore
Colin Moore

Story by
Christian Vuissa

Screenplay by
Agustina Perez

Produced by
Agustina Perez
Christian Vuissa

Directed by
Christian Vuissa
---
"Roots & Wings" closing credits as they appear in the film
| | |
| --- | --- |
| Executive Producer | Stan Ferguson |
| Unit Production Manager | Julie VanDenBerghe |
| First Assistant Director | Jason Conforto |
| Second Assistant Director | Tawnya Cazier |
CAST
| | |
| --- | --- |
| Ruben | Gérman Contreras |
| Antonia | Maria Carr |
| Fifomeno | Ivan Hernandez |
| Elena | Missy Carr |
| Pedro | Mosiah Gonzalez |
| Salvador | Carlos Tirado |
(in order of appearance)
Catholic Priest
Owen Wheeler
First Communion Children
Johana Hernandez
Jason Carr
Catalina Bella
Skyler Carr
Mariachia Players
Mario Escobar
Arturo Gonzalez
Manuel Bueno
Marcel Bowman
Kelly Arvizu
Lara Pastor
Women in kitchen
Ana Lyla Thomas
Nora Zelaya
Julia Ramirez
Melba Becerril
Soccer Players
Alfonso Velasco
Manuel Mendoza
Hector Garcia
Gilberto Huerta
Missionary #1
Jenner Brown
Missionary #2
Christian Rodeo
Visiting Teachers
Margaret Rodeo
Michelle Hyde
Missionary #3
David Payne
Missionary #4
Sean Nobmann
Qincinera Godparents
Aldo Sanchez
Monica Sanchez
EXTRAS
Martha Barrera
Joe Broderick
Jamison Conforto
Kerilyn Conforto
Natalie Conforto
Denise Cope
Todd Cope
Linda Coray
Lynn Coray
Rocio Crespo
Omar Culin
Olivia Dayton
Jason Edwards
Mindy Edwards
Guadalupe Flores
Jareli Flores
Carla Hernandez
Maria Hernandez
Olga Hernandez
Carol Huntington
Kirt Huntington
Kent Jex
Marry Jex
Darrell Nield
Denae Paspuel
Dolores Paspuel
Enrique Paspuel
LeEarl Peck
Yeisha Rangel
Guadalupe Valdez
Carlos Valdez
Luis Valdez
Nancy Valdez



Sound Design
Rick McFarland
Set Decorators
Ryan Arvay
Noelani Sanchez
First Assistant Camera
Jarom Ellsworth
Travis Cline
Second Assistant Camera
Christy Mustard
Colby Drewery
Charlie Bird
Ty Arnold
Still Photographer
Milma Kemppainen
Kari Jorgensen
Documentarian
Susan Teh
Script Supervisors
Randy Astle
Marta Becerril
Dialogue Supervisor
Omar Culin
Chief Lighting Technician
Marty Patch
Key Grip
Chizoma Olumba
Grips
Chris Kendrick
Jason Hatfield
Mike Evans
Special Effects
Jason Faller
Clark Edmunds
John Rim
Kelly Peterson
Digital Transfer Engineer
Dave Nauta
Avid Editor
Tom Judd
On-Line Editor
Rob Morton
Credits
Tom Judd
Subtitles
Rob Morton
Jerry Stayner
Production Sound Mixers
Mark Noakes
Clark Edmunds
Boom Operator
Kelly Arvizu
Music Scoring Mixer
Rick McFarland
Music Recorded at
LDS Motion Picture Studio
Make-Up Artists/Hairstylists
Anna K. Brown
McKinley Brown
Spencer Barnes
Casting Associate
Alisa Angelsey [Alisa Anglesey]
Production Assistants
David Payne
Taylor Hellwell
Kynan Griffan
Erin Bennett
Taylor Cline
Craft Service
Kirsten Vuissa



THE PRODUCERS WISH TO THANK

LDS Motion Picture Studio
BYU Broadcasting
BYU Theatrical and Media Arts Department
ldsbox.com
Kirsten Beautiful
Ira and Mary Lou Fulton
The Children of Ole & Grace Anderson
Andrew Howlett
Clyde Swenson
San Andres Catholic Church
St. Francis of Assisi Catholic Church
Mario Escobar & Dance Alliance
Stan Ferguson
Eric Samuelsen
Tom Lefler
Dari Larsen
Tom Russell
Merrill Dimick
Paul Miller
Bruce Sundstrom
Sharon Beaty
Bo Bahoravitch
Robert Chabot
Kelly Peterson
Travis Allen
Amy Langlois
David Card
Duane Roberts
John Reim
Diena Simmons
Marcy Brown
Art Isquierdo
Chic-Fil-A
Chinatown Restaurant
Deseret Industries
Diego's Taco Shop
Einstein Bagels
El Azteca
KFC
La Ranchera Market
Marriott Provo Fairfield Inn
Olive Garden
Pizza Hut
Sensuous Sandwich
The Quilted Bear
The Carr Family
The Hernandez Family
President Coray
Lorenzo & Josefina Avelar
Wallace & Allice Johnson
Katie Bogner
Ryan and Amy Rowan
Dan & Karen Garby
Josh Keliiheleua


Clip from "Copa Americana 2001"
Courtesy of Univision © 2001


MUSIC

Son del Jabali
Performed by Mariachi America

Marcha de Zacatocas
Performed by Mariachi America

Les Charrerias
Performed by Mariachi America

Popuri Mexican
Performed by Mariachi America

Avo Maria
Performed by Ryan Murphy

Praise God From Whom All Blessings Flow
Performed by Ryan Murphy

Come, Come Ye Saints
Performed by BYU 82nd Ward Choir

Grosser Gott, Wir Loben Dich
Performed by Ryan Murphy

Original Score Arranged/Performed by
Guitars: Dominic Moore
Colin Moore
Cello: Angelyn Richards
Trumpet: Dale Richards


The events and characters depicted in this motion
picture are fictitious. Any similarity to actual persons,
living or dead, is purely coincidental.

This film is protected under the laws of the United
States and other countries. Unauthorized duplication,
distribution, or exhibition may result in civil liability and
criminal prosecution.


Dedicated to our parents:
Ruben & Maria Antonia Pérez
Hermann & Elisabeth Vuisa



WingSpan Pictures Copyrighted © 2002
---
Web page created 7 October 2002. Last modified 28 March 2003.