In Time of Need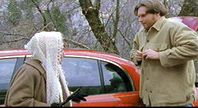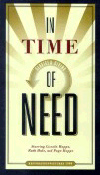 "In Time of Need" is a short film written and produced by Brian A. Brough and directed by filmmaker Alisa Anglesey. Brough is also known as the producer of Ryan Little's acclaimed World War II short "The Last Good War" (1999), as well as the assistant director on Richard Dutcher's feature film "Brigham City" (2001). Anglesey's other directorial credits include two award-winning Biblical shorts, "Elijah and the Widow of Zarephath" and "The Good Samaritan."
"In Time of Need" opens with a scene in which the "Joe" (played by Lincoln Hoppe) is laid off from his job as a construction worker by an apparently apologetic boss. Driving home, Joe encounters a vehicle on the side of the road. An old woman (played by Ruth Hale) has been stranded with a flat tire for an hour, unable to change the tire. Joe matter-of-factly changes the tire for her, and sends her on her way, refusing to accept any form of payment.
The old woman, who told Joe that her name is Margaret, stops at a diner where she is waited on by an extremely pregnant young waitress ("Lisa", played by Page Hoppe). Lisa is clearly pained by doing such strenuous work so far along in her pregnancy, yet she is unflappably kind and attentive. Margaret is so impressed by Lisa's service, she pays for her inexpensive meal with a $100 bill, and then sneaks away before Lisa can return the change. Lisa finds a note that Margaret left: "For the baby."
When Lisa returns home in the evening, her husband is waiting silently for her. What Margaret did not know is that Lisa's husband is Joe -- the very man who selflessly changed Margaret's tire.
The production values seen in "In Time of Need" are not as impressive as in Anglesey's other Biblical-era short films. But this is a well-made, poignant film.
"In Time of Need" star Ruth Hale is the famed matriarch of the Hale theatrical family that founded the Hale Center Theaters in California and Utah. Hale's other major roles include "Sarah's Child" (1994), numerous videos, television movies such as "Don't Look Under the Bed" (1999), "Before He Wakes" (1998) and "Whose Daughter Is She?" (1995), as well as countless stage performances at her family's theaters, often in productions she wrote herself.
The film was edited by Brough, as well as Wynn Hougaard, who had previously edited "Elijah and the Widow of Zarephath" for Anglesey, and was later the editor of impressive feature films including "Singles Ward" (2002) and "Out of Step" (2002).
"In Time of Need" is sold individually as a video, and is also part of the 3-film compilation video "Treasured Stories of the Golden Rule", from Candlelight Media. Along with "In Time of Need", this video also includes Anglesey's "Elijah and the Widow of Zarephath" (starring Carrie Morgan and Robert Nelson), and Ryan Little's award-winning "The Last Good War" (set in World War II, starring Lincoln Hoppe and Christian Bell).


---
"In Time of Need" credits as they appear in the film
Cast
| | |
| --- | --- |
| Joe | Lincoln Hoppe |
| Margaret | Ruth Hale |
| Lisa | Page Hoppe |
Cafe
Haven Andrus
Don Andrus
Ben Anglesey
Fran Anglesey
Brian Brough
Garrett "Junior" Case
Phil Dickson
Gary Merritt
G. Eve Speer
Anthony Straga
Matt Stumphy



Produced & Written by
Brian A. Brough
Directed by
Alisa Anglesey
Director of Photography
Brandon Christensen
Unit Production Manager
Brian A. Brough
1st Assistant Director
R. Adam Abel
2nd Assistant Director
Georgiana Deming
Location Manager
Kristine Brown
Casting Coordinator
Anthony Straga
Script Supervisor
Courtney Bridgers
Kristine Brown
Continuity Assistant
Kristin Church
Art Director
Christopher Watt
Storyboard Artist
Keith Westover
Videographer
Phillip Dickson
1st Assistant Camera
Doug Chamberlain
2nd Assistant Camera
Garrett "Junior" Case
Sound Mixer
Phillip Dickson
A. Tad Chamberlain
Boom Operator
Matt Stumphy
Phillip Dickson
Key Grip
Scott Hurst
Grip / Electric
Loli Johnson
Micah Young
Jonathan Groberg
Matt Stumphy
Swing Everything
Anthony Straga
Make-up / Hair
Hillary Straga
Wardrobe
Christopher West
Hillary Straga
Production Assistants
David Bunnel
Ryan McClain
Composer
Vaughn Armstrong
Music Mixer
Vaughn Armstrong
Troy Sales
Foley Assist
Brittany Brough
Avid Editor
Brian A. Brough
On-line Editor
Wynn Hougaard
Special Thanks to
Don Andrus
Allan Staker
Nate's Diner
Silver Stage Cafe
Fran Anglesey
Brad Richardson
Film Student Support Services
Stan Ferguson



Copyright © 1999 Restoration Pictures
All Rights Reserved