Return to home page
Hoops (2004)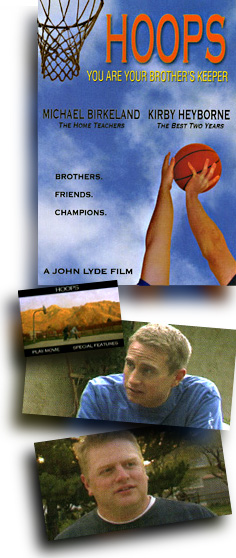 Related Links
LDSFilm.com comments about "Hoops"
Approx. 22 minutes long. Color

"Hoops" is the latest film released by prolific low-budget filmmaker John Lyde. "Hoops" is particularly noteworthy because it stars two megastars of the LDS Cinema world: Michael Birkeland and Kirby Heyborne. Birkeland and Heyborne play two brothers who are also best friends, although they have grown distant since one (Heyborne) went on a mission and the other (Birkeland) didn't. Now off his mission, Heyborne's character "Ethan" restarts the pair's tradition of playing basketball every Saturday. Birkeland's character "Michael" has drifted from activity in the Church. As only a brother can do, Ethan spends his time on the court with his older brother trying to challenge him to read the scriptures and consider serving a mission.

Most of the film takes place on the same outdoor basketball court: a beautiful spot set in front of towering Utah County mountain peaks. Some serious brotherly discussion about important topics is interspersed with a variety of two-person games that can be played on a basketball court. A highlight of the film is the game of "HORSE" played by the two brothers, in which Ethan sinks a string of difficult trick shots. He only half-jokingly attributes his success to divine assistance.

Ethan and Michael make a few "bets" on the outcome of their games, bets which lead to such things as Michael promising to read the scriptural verses marked by his enthusiastic recently returned missionary brother. One impressive scene that takes place off the court featuers Ethan recounting how he himself wanted to leave his mission after one day in the MTC, and what happened to make him change his mind. It is a tribute to John Lyde's writing and Kirby Heyborne's performance that such this potentially disastrous scene succeeds so well. Like most of the film, the scene feels natural and real, accomplishing its inspirational message without coming across as a sermon or a propaganda piece.

But while Hoops does not really feel like propaganda, it is not quite what you might expect from a purely artistic dramatic film. This is a Church video: it's simply one that was made by independent filmmakers instead of by the institutional Church.

Lyde's stated purpose in making "Hoops" (listen to the commentary track) was to make a film that can be shown in Church meetings, such as in Elder's Quorum to prospective elders or (more likely) in a Priest's Quorum class or youth Sunday School class, or perhaps at a fireside. Anybody considering using this film in such a setting should of course watch it first, but I doubt anybody would object to it based on its content. As an entertaining dramatic film that engages its intended audience and conveys a message, "Hoops" is a great success. "Hoops" should effectively inspire young people to look forward to a mission, and to overcome some of the fears they may have about doing so. This film can inspire all young people, particularly those who have postponed a decision about missionary work past the traditional time. "Hoops" also provides a valuable lesson about compassion and respect. Part of Michael's bitterness after he originally failed to serve a mission arose from how he was treated by people who should have known better and done better.

"Hoops" is more realistic and drama-driven than an official Church video or seminary film, but it is still message-oriented to the point that it would probably be soundly rejected from the festival circuit. In this regard, it occupies an unusual "middle ground" occupied by Lyde's previous video/DVD releases "The Field is White" and "In the Service of God."

Still, although "Hoops" might not be considered "art" in the sometimes worthwhile but often inappropriate "Sundance" sense, I found it well worth watching just for its well told story and excellent performances. The short film covers some worthwhile topics that have probably never been seen on film before. One of these topics is how to deal with a loved one who has left a mission early, or chosen not to serve a mission. This is not handled in a heavy-handed way, but is approached realistically. Ethan makes some mistakes that cause Michael resentment at his younger brother's attempts to meddle in his life.

"Hoops" is short -- 22 minutes long -- and ultimately it may simply be too simple for some viewers looking purely for drama rather than a message. The same dramatic setup could have provided ample ground for a deeper, more probing, perhaps even "more honest," film. But that would have been a different film: perhaps not a short film, and certainly not a "Church video" perfect for use in an official classroom/fireside/etc. Whether or not John Lyde himself is capable of making such a film at this point is impossible to say. I suspect that Lyde simply knows too few people who have actually not served missions for him to make a realistic feature-length film about the subject.

Another interesting and unusual topic tackled by the film is the relative importance of feelings versus intellect in appreciating and accepting the Gospel. It's a big topic, and may be one that "Hoops" can only broach incompletely. I would agree that ultimately the truthfullness of the Gospel cannot be proven through mathematically replicable standard scientific tests, that one must find confirmation through the Spirit. The explanation that Ethan (Heyborne) provides may be one that was important and satisfying to that character, but it gives short shrift to those who find the Gospel intellectually satisfying as well. "Hoops" ignores the significant degree to which the teachings of the Church have come to us from prophets who were both rationalists and people who relied on the Spirit. Once again, this is just a short film, and even this brief discussion of this theme goes beyond the much simpler conversations in the film itself.

John Lyde's work is well known to any frequent shopper of Latter-day Saint bookstores or videos stores during the last few years. Lyde's first first commercial release was the 50-min. video/DVD "The Field is White," in which a now-lukewarm returned missionary finds his faith and enthusiasm rekindled as he recalls his two years of missionary service. Lyde followed this up with the warm-hearted romantic comedy "In the Service of God," which followed the adventures of a young home teacher attempting to fulfill his calling on the last day of the month after the woman he was about to propose to declared that she could never marry anybody who was not a 100% home teacher.

Lyde then departed from these overtly religous themes and returned to the action roots of his earlier non-distributed films when he made the $10,000 action adventure science fiction martial arts family film "The Collectors." Even though "The Collectors" features wall-to-wall martial arts action, it too can be found in LDS bookstores, because at its heart it is a family film with an uplifting message.

"The Collectors" displayed Lyde's love of action, which was in evidence in his unreleased works, including his martial arts missionary film "Missionary: Impossible", his family-friendly horror thriller set in a middle school "Shadowman", and his Utah County Lord of the Rings pastiche "My One True Love." (I'm probably one of the few people outside Lyde's immediate circle of friends and family who has had the opportunity to see all of these.)

Audiences should enjoy watching the film's two talented and familiar stars. Michael Birkeland is the hefty comic actor who received 3rd billing as the lead character's friend in "The Singles Ward," played Maren Ord's goofy fiance "Dewey" (the title character's soon-to-be brother-in-law) in "The R.M.", was featured in the comedy concert film "It's Latter-day Night!", and most recently received top billing in "The Home Teachers." Heyborne is literally the biggest star in LDS Cinema, having starred to co-starred in The Singles Ward; The R.M., The Best Two Years; The Book of Mormon Movie, Vol. 1; The Work and the Story; Saints and Soldiers and the soon-to-be-released Sons of Provo.

Heyborne's son Maxwell and director John Lyde's son Ethan even appear briefly in the beginning of the film as the Heyborne and Birkeland characters when they were toddlers. (It's interesting that Lyde named the film's always-faithful character after his own son. Talk about stacking the deck... When Ethan Lyde is a teenager his filmmaker dad can tell him that the young man's onscreen persona has already served a mission.)

The casting of two bonafide movie stars is just one of the elements that elevates "Hoops" beyond Lyde's previous work. Another impressive advancement is in the cinematography. Lyde's previous films looked and sounded good enough for video/DVD release, but there were still obviously low-budget productions. "Hoops," on the other hand, looks fantastic!

Lyde tapped into the talent of Paul Green as director of photography. Green was previously the director of photography for the low-budget Shinebox science fiction thriller "Missy," but most of his work has been in lower-ranking crew positions on feature films (such as "Handcart" and "The Collectors") or as cinematographer on unreleased short amateur films. Yet for anybody who sees "Hoops," it is clear that Green is clearly somebody to watch for. "Hoops" has a polished, professional look is a match for any network television program, and looks better than a number of LDS Cinema feature films. It is also evident that Lyde is using better equipment than he used with his previous films (and he confirms this in the commentary track).

"Hoops" also has a professional sound to it. Executive producer Wes Higbee provided Lyde with more money than he has typically worked with: $2,500 for a film just 22 minutes long. With his access to better equipment and a hired crew (for what was mostly a one-day shoot), Lyde has brought in a film that looks far more professional than anything he has done before, including his feature-length release "The Collectors."

So is this the best John Lyde film ever? "Hoops" lacks the scope and near-ethnographic quality of "The Field is White". It lacks the humor and quirkiness of "In the Service of God." It lacks the action of "The Collectors." These are not criticisms, as these elements were not the aims of "Hoops." Those elements helped save what otherwise might be dismissed as overly low-budget amateur films.

"Hoops" is simply professional-quality filmmaking, and stands on its own. Those who particularly enjoyed the quirks and distinctiveness of Lyde's past work may find that "Hoops" is too much like a high-quality Church video, although "Hoops" has slightly more edge and depth. "Hoops" is Lyde's most focused, best-acted, best-looking and best written film yet released. Most people will also think it is his best film yet, the work of a filmmaker with significant untapped potential.

I have come to know John Lyde purely through my role as a reviewer and film researcher. I have no loyalties to him beyond anybody else. But "Hoops" simply reinforces the way that this young filmmaker stands out in my mind among the hundreds of filmmakers I am familiar with. Many would-be filmmakers have more experience on professional film crews, and most have a film school education that looks better on paper. But while so many people talk and talk and talk, John Lyde gets it done. Nobody makes a dollar go farther in making a film than John Lyde. His tenacity and love for filmmmaking have driven him to actually make worthwhile films, and get them onto shelves in front of paying audiences.

With "Hoops," Lyde has risen to an entirely new level of quality filmmaking. He continues to impress, and I continue to look forward to seeing his next film.
---
"Hoops"
TEXT from DVD Front Cover
HOOPS
YOU ARE YOUR BROTHER'S KEEPER



MICHAEL BIRKELAND
THE HOME TEACHERS

KIRBY HEYBORNE
THE BEST TWO YEARS



BROTHERS.

FRIENDS.

CHAMPIONS.



A JOHN LYDE FILM
---
"Hoops"
TEXT from DVD Back Cover
From director John Lyde (The Field is White) comes the inspiring short film Hoops.

Michael (Michael Birkeland, The Singles Ward) and Ethan (Kirby Heyborne, The RM) are not only brothers, they're also best friends. Every Saturday Michael and Ethan play a game of basketball. Shooting hoops has always been their way of bonding. Through numerous games, both Michael and Ethan discover what it means to be a friend, the importance of the Gospel, and the blessing of serving a mission.

Hoops is a great tool to motivate those contemplating missionary service.



SPECIAL FEATURES:
- OUTTAKES
- COMMENTARY
- BEHIND THE SCENES





JKL Entertainment presents
A John Lyde Film
HOOPS
Michael Birkeland Kirby Heyborne
Director of Photography Paul Green
Music by Adam Abram Executive Producer Wes Higbee
Written, Edited & Directed by John Lyde

©2004 / Approx. 22 minutes / Color

Distributed by
Thomson Productions, Inc.
(800) 226-0155
---
"Hoops"
OPENING Credits as they appear in the film
JKL

ENTERTAINMENT


HOOPS


JKL ENTERTAINMENT
PRESENTS


A JOHN LYDE FILM


Michael Birkeland


Kirby Heyborne


Director of Photography
Paul Green


Music by
Adam Abram


Written, Edited & Directed by
John Lyde
---
"Hoops"
CLOSING Credits as they appear in the film
Written, Edited & Directed by
John Lyde


Starring
Michael Birkeland


and
Kirby Heyborne


with
Maxwell Heyborne
and Ethan Lyde


Music by
Adam Abram


Executive Producer
Wes Higbee


Director of Photography
Paul Green


Sound
Joel Petrie
Hair/Make-Up
Lisa Ann Thomas
Key Grip
Adam Abram
Production Assistant
Stacy Sobieski


Special Thanks to
The Higbee Family
Norman Lyde
Lorien Lyde
---
Web page created 18 July 2004. Last modified 18 July 2004.