Elijah and the Widow of Zarephath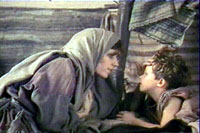 "Elijah and the Widow of Zarephath" is a short student film made by director Alisa Anglesey in 1996. It is just 12 minutes long, but is an impressive, gorgeous-looking work.
The story is taken directly from 1 Kings, chapter 17 in the Old Testament: The prophet Elijah meets a poor widow and asks her to bring him some water and prepare him some bread. Despite the fact that she thinks she and her son are about to starve to death for lack of food or money, she does as Elijah asks. After feeding Elijah, she finds that, miraculously, her containers of oil and grain do not run out, and she can feed her son and herself.
Anglesey wrote the screenplay, produced, and directed "Elijah and the Widow of Zarephath" while a film student at Brigham Young University. She clearly had access to adequate funding, costuming, soundstages, etc., because everything about the sound or look of the film is professional-quality. Every scene looks like it could have come from a Hollywood-funded feature film made by an accomplished director.
In 1998 Anglesey won a national CINE Award for "Elijah and the Widow of Zarephath." She also won a CINE Award for her film "The Good Samaritan." CINE recognizes the highest quality non-theatrical film and video productions throughout the country, awarding Golden Eagles to select films chosen from over one thousand entrants annually.
Starring as "the widow" is Carrie Morgan. Moviegoers will recognize Ms. Morgan as the female lead from Richard Dutcher's critically acclaimed feature film "Brigham City" (2001). Morgan played "Peg," Sheriff Clayton's sleuthing secretary. Morgan's talent as an actress is evident after seeing her as the widow of Zarephath: her part here as the downtrodden Israelite could hardly be more different from the gregarious role she played in "Brigham City."
Robert Nelson co-stars as the prophet Elijah. Nelson also had a starring role in Bruce Neibaur's Feature Films for Families production "In Your Wildest Dreams" (1991).
"Elijah and the Widow of Zarephath" ably recreates a busy market scene from Old Testament times, even using Hebrew-language dialog. After scenes which set up the widow's desperate plight, she finally meets Elijah. They converse, not in Hebrew, however, but in English. The switch in languages is unexpected and jarring, but is the only major flaw in the film. It actually is nice to understand the English language conversation, with dialogue from the King James Bible. But the film should have been consistent: using English in the opening scenes, or using sub-titles with Hebrew dialogue throughout the film.
Despite this minor complaint, "Elijah and the Widow of Zarephath" is an impressively produced and directed work of filmmaking. The beautiful cinematography and carefully considered lighting help to show off the superbly designed sets and authentic-seeming costuming. The acting is restrained and seems perfect for the story. The whole film is an impressive accomplishment, especially given what must have been a limited budget. One can only hope that Anglesey will helm full-length feature films in the future.
"Elijah and the Widow of Zarephath" has been available by itself on videotape, and is currently included on at least two compilation videotapes available online, as well as in Latter-day Saint and general Christian bookstores. The 1999 BYU-produced video "No Greater Faith: Stories From the Bible" includes "Elijah" as well as three other short films: Anglesey's "The Good Samaritan", Karl Bowman's "Akedah: The Binding" (about Abraham), and Adam Anderegg's "The Touch."
Two Anglesey films can also be found on "Treasured Stories of the Golden Rule", a compilation video from Candlelight Media. Along with "Elijah and the Widow of Zarephath", this video also includes Anglesey's 1999 contemporary short "In Time of Need" (starring Ruth Hale, Lincoln Hoppe and Page Hoppe), and Ryan Little's award-winning "The Last Good War" (set in World War II, starring Lincoln Hoppe and Christian Bell).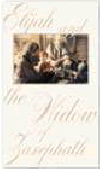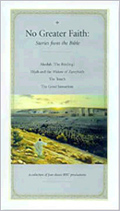 ---
"Elijah and the Widow of Zarephath" credits as they appear in the film
Cast
Carrie Morgan
as the
Widow of Zarephath

Bob Nelson
as
Elijah



| | |
| --- | --- |
| Jensen Morgan | Widow's Son |
| Walter Wright | Gate Merchant |
| Shane Seggar | Rich Young Man |



Merchants at the Gate
Larry Blancett
Josh Brady
Marc Chapuis
Krista Isaacson
Travis Isaacson


Customers at the Gate
Vilma Bird
Clarence Forsberg
Patsy Forsberg
Wendy McCabe
Charlotte Nelson
America Peterson
Michelle Smith
Steven Smith, Jr.


Travelers
Dallin Bird
Andre Hicken
Valerie Huntsman



Company
Alisa Anglesey
Producer
Director
Screenplay
Munn Powell
Director of Photography
- Interiors
Kelly Mecham
Director of Photography
- Exteriors
Brandon Christensen
1st Assistant Camera
Christina Cardenas
1st Assistant Camera
Nathan Phillips
2nd Assistant Camera
Boom Operator
Grip
Ricky Acker
2nd Assistant Camera
Grip
Scott Elder
Mixer
Mike Hutchinson
Mixer
Boom Operator
Chris Hatch
Videographer
Swing Gang
Cristy Powell
Photographer
Al Williams
Gaffer
Jason Hatfield
Gaffer
Grip
Spencer Filichia
Key Grip
Larry Blancett
Grip
Russ Kendall
1st Assistant Director
Marc Chapuis
1st Assistant Director
2nd Assistant Director
Carpenter
Jeremy Williams
2nd Assistant Director
Alice Blancett
Script Supervisor
Becky deMilk
Continuity Assistant
Production Assistant
Carol Ann Anglesey
Production Assistant
Miriam Loewy
Translator
Hebrew Dialogue Coach
Kendall Wilcox
Art Director
Set Decorator
Ruth Ann Beardall
Set Decorator
2nd Assistant Camera
Daryl Bolander
Propmaster
Rhett Bautista
Swing Gang
Shane Seggar
Swing Gang
John Uibel
Storyboard Artist
Eli Despain
Pre-storyboard Artist
Curtis Despain
Cover Design
Shari Ohman
Wardrobe Coordinator
Effects Makeup
Esther Allen
On-set Wardrobe
Mary Alison Davis
Makeup/Hair
Fran Anglesey
Craft Service
Ben Anglesey
Craft Service
Natalie Tinney
Craft Service
Alisa Anglesey
Composer
Jim Anglesey
Arranger
Michael Bailey
MIDI Lab Technician
Pete Czerny
Student Advisor
Sharon Beaty
Production Scheduling
Bruce Sundstrom
Construction Advisor
Randy Champion
Construction Advisor
Geoffrey Neyman
Set Construction
Dave Card
Properties
Dave Shaw
Accounting
Susan Carter
Accounting
John Taylor
Post Production Manager
David Nauta
Film Lab
Chuck Hale
Film Lab
Hal Farrer
Film Lab
Bo Bahoravitch
Transfer/Colorist
Wynn Hougaard
Avid Off-line Editor
Kelly Peterson
Special Effects
Rob Morton
On-line Editor
Michael Chadbourne
Post Production Audio




Many Sincere Thanks
to all those who made this film possible.



Adapted from the account as found in
1 Kings, chapter 17
The Holy Bible
King James Version



Elijah and the Widow of Zarephath
Copyright © 1997, Triangle-C Productions
ALL RIGHTS RESERVED
---
Web page created 27 December 2001. Last modified 28 December 2001.