The Snell Show
an award-winning short film by Andrew Black
based on the short story by Darl Larsen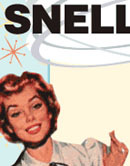 "The Snell Show" is a short comedy film written by Andrew Black while he was a film student at Brigham Young University. It is an adaptation of the same-titled short story written by BYU professor Darl Larsen.
The story is about an annual gathering at the rural home of the Snell family, where folks gather with their families and picnic baskets to watch a nuclear explosion.
"The Snell Show" won the prestigious Grand Jury Award for Best Short Film at the Slamdance Film Festival held in Park City, Utah in January 2003. Before that, "The Snell Show" won awards at BYU's Final Cut Film Festival and at the LDS Film Festival held in Provo, Utah in 2002.



---
"The Snell Show" credits as they appear in the film
Directed by
Andrew Black

Produced by
Anne Black
Kynan Griffin
Jennifer Kirkham

Photographed by
Travis Cline

Based on a story by
Darl Larsen

Production Design by
Anne Black

The Snell Show Cast
Arvin Snell
Jason McCloney
Maureen Snell
Joanna Major
The Knudsens
Amy Paystrup
Kelly Paystrup
The Hunsakers
Jason Conforto
Natalie Conforto
MaryAnne Morrow
Rachel Huntington
The Snow Shell Extras
Dorothy Ball
Julia A. Banks
Helen Breckenridge
Carl Breckenridge
Brittney Bright
Joye Cannell
Alex Cannell
Sarah Cannell
Nicholas Cannell
Michael Cannell
Justin Cline
Tomek Dembowski
Shealyn Farr
Joel Fifield
Christy Freeman
Kynan Griffin
Ryan Holman
Alisa Kirkham
Christopher Kirkham
Nicholas Kirkham
Jennifer K. Lee
Joseph Lee
Jason Loftus
Michael Loftus
Jane M. Loftus
Jessica Muset
Lara Pastor
Alan Peterson
Jenna Philpott
Matt Pierce
Joseph L. Puente
Joseph Ramahro
Gene Rigby
Ryan Kent Sager
Katherine Swigert
Emma Thornock
Kareen Thornock
James Thornock
Carl Thornock
Angela Thornock
Carolynn Thornock
Janalee Willmore
Haylee Willmore
Jessica Willmore
Carina Wytiaz


The Snell Show Crew
Directed by
Andrew Black
Based on a short story by
Darl Larsen
Adapted for the screen by
Andrew Black
Produced by
Anne Black, Kynan Griffen & Jennifer Kirkham
Photographed by
Travis Cline
Production Design by
Anne Black
Edited by
Alexander Vance
Costume Design by
Anne Black & Emily Kawasaki
Executive Producer
Thomas Russell
1st Assistant Director
Jason Conforto
2nd Assistant Director
Carol-Lyn Jardine
Script Supervisor
Marta Becerril
Camera P.A.
Justin Cline
Gaffer
Jason Faller
Best Boy
Ty Arnold
Dolly Grip
Will Boaz
Grip/Electric
Matt Pierce
Joel Fifield
Meredith Bak
Todd Hamilton
Set Dresser
Lara Pastor
Assistant Art Director
Alisa Kirkham
Benji Harry
Costume Assistant
Laura Whitmore
Mary Kirkham
Make-Up Artist
Danielle Donahue
Assistant Hair/Make-Up
Lisa Allen
Katherine Swigert
Elizabeth Faller
Tara Evans
Lara Pastor
Sound Mixer
Emily Yu
Boom Operator
Benji Harry
Foley Assistant
Travis Cline
Visual Effects/Titles
Alexander Vance
Production Assistant
Adam Sanders
Transport Coordinator
Thomas Kirkham
Transportation
Tomek Dembowski
Driver
Wyatt Woolley
Videographer
Benji Harry
Catering
Will Boaz
David Payne
Mark Madsen
Charles Hurdle
---
Web page created 27 January 2003. Webpage modified 18 May 2004.