< Return to Latter-day Saint Characters in Movies
Latter-day Saint (Mormon) Main Character
in the movie
Somewhere In Time (1980)
"Somewhere in Time" movie poster: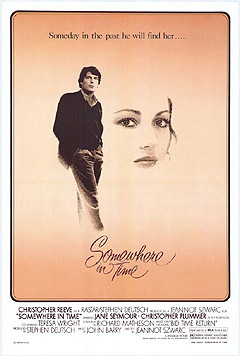 Bid Time Return, the novel
that was adapted into the movie
"Somewhere in Time":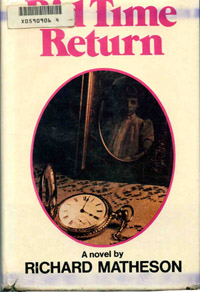 "Somewhere In Time" (1980)
Directed by Jeannot Szwarc
Screenplay by Richard Matheson
Based on the novel Bid Time Return, written by Richard Matheson

Starring: Christopher Reeve, Jane Seymour, Christopher Plummer, Teresa Wright, Bill Erwin, George Voskovec, Susan French, William H. Macy

MPAA Rating: PG
U.S. Box Office: $9,070,000
Production budget: $5.1 million

Related pages:
- Maude Adams: An Intimate Portrait - excerpts from 1956 biography written by Phyllis Robbins
- Maude Adams: A Biography - 1907 biography written by Ada Patterson (complete text)
- Maude Adams: A Biography - complete 1907 biography by Patterson (images of every page, including 24 photographs)

"Somewhere In Time" is an immensely popular romantic film about a contemporary playwright named Richard Collier (played by actor Christopher Reeves), who falls in love with an actress who was young during the early 1900s, a woman he knows only through her photograph. Collier learns of a technique through which he can use hypnosis to actually travel backwards in time. He travels seventy years into the past to be with her.

The actress from the photograph is named Elise McKenna in the film. But the character was actually based entirely on real-life Mormon actress Maude Adams.

Maude Adams was born in Salt Lake City in 1872. Her mother, a Latter-day Saint, was a leading player in Brigham Young's Deseret Stock Company, which performed at the old Salt Lake Theatre. Maude's father was a Presbyterian businessman.

In the Richard Matheson novel that the movie was adapted from, Bid Time Return, there are two chapters focusing on the main character (Richard Collier) reading about "Elise McKenna" in a biography about her as well as in historical books about American theater. Much of the material Matheson describes in this section was taken almost directly from actual historical books and biographies written about Adams. The book's main character reads a biography titled Elise McKenna: A Intimate Biography written by an author who was a friend of the actress: "Gladys Roberts." Of course, this was based on the actual book Maude Adams: An Intimate Portrait, written by Phyllis Robbins.

The novel Bid Time Return attributes to "Elise McKenna" the same career, playing the same roles in the same plays, as the actual Maude Adams. The novel even gives "Elise" the same birthday and place of birth, stating that she was born in Salt Lake City on November 11, 1867. The only change is the year of birth. Maude Adams was born in 1872, not 1867. Matheson has moved the birth of "Elise" back in time by 5 years.

Although the novel identifies Utah as the birthplace of "Elise," it never points out that "Elise" (Maude Adams) was a Mormon. It is interesting to note that the book does include one passage in which the narrator describes seeing the Book of Mormon. On page 12 (first edition) the narrator (Richard Collier, played by Christopher Reeve in the movie) is aboard the Queen Mary (anchored off the coast of San Diego). He describes things he sees in the museum on board the ship:
More memorabilia. Dominoes. Dice in a leather cup. A mechanical pencil. Books for religious services; Protestant, Catholic, Jewish, Mormon, Christian Scientist--that old, familiar book. I feel as though I were an achaeologist excavating in a temple. More photographs. Mr. and Mrs. Don Ameche. Harpo Marx. Eddie Cantor. Sir Cedric Hardwicke. Robert Montgomery. Bob Hope. Laurel and Hardy. Churchill. All suspended in time, forever smiling.
Transcriptions of complete cast lists from the 1907 Maude Adams biography written by Ada Patterson can be read here. The cast lists included in the biography, all from New York City productions, are for: A Midnight Bell; All the Comforts of Home; Men and Women; The Lost Paradise; The Masked Ball; The Butterflies; The Bauble Shop; The Imprudent Young Couple; Christopher, Jr.; Rosemary and The Little Minister. Note the last cast list shown, in which Maude Adams was cast as the lead actress in The Little Minister, written by J. M. Barrie. (Barrie also wrote Peter Pan, crafting the title role specifically for Adams.)
The Little Minister is the play that Maude Adams ("Elise McKenna") performs in the movie "Somewhere in Time." In the book from which the movie was adapted (Bid Time Return), Richard Collier (Christopher Reeve's character) goes back and sees Maude Adams ("Elise") perform in The Little Minister when it premiers at the Hotel Coronado outside of San Diego, California on the night of November 20, 1896. This is ten months before the actual opening of the New York City production of the play, which opened on September 27, 1897. Author/screenwriter Richard Matheson used as inspiration for his novel the actual pattern of Adams' smaller roles followed by her starring role in The Little Minister, as seen in the Ada Patterson biography. The novel also specifically uses the New York opening of the play as a key plot point. See page 33:
What do I know about her [Maude Adams/Elise McKenna] so far? Beyond the fact that I'm in love with her, I mean?

That, up until 1897, she was outgoing, successful, proficient at acting, and fought with her manager.

That, after 1897, she became: one, a recluse; two, a total star; and, three, her manager's conception of a total star.

The transition play, if it can be called that, was The Little Minister, the play she tried out in this hotel approximately a year before it opened in New York.

What happened during that year?
After reading the Ada Patterson biography of Maude Adams and seeing these books' cast lists for himself, author/screenwriter Richard Matheson pondered these same questions. Staying at the Hotel Coronado, he essentially cast himself in the lead role in his novel (note that his protagonist shares his first name), and he wrote Bid Time Return to provide a fanciful, entertaining answer. What happened during that year was that a contemporary television writer (such as himself) was so captivated by the image of Maude Adams ("Elise") that he willed himself backwards in time to be with her.
Although the J. M. Barrie play The Little Minister is of paramount importance in Bid Time Return and "Somewhere in Time", the playwright himself is not in the book or movie. Barrie lived in London and did not accompany the many American productions of his works. The 2004 feature film "Finding Neverland" is a semi-biographical film about J. M. Barrie, starring Johnny Depp as the famous author and playwright. The movie focuses on Barrie's creation of the Peter Pan character and the play which immortalized his creation. Unfortunately, despite the fact that Barrie wrote this play specifically for Maude Adams ("Elise"), Adams is not a character in "Finding Neverland"; she is not even mentioned. The only character that "Finding Neverland" and "Somewhere in Time" has in common is the famed stage manager/play producer Charles Frohman. Dustin Hoffman (who played the Latter-day Saint-based title role in "Rain Man") plays the part of Charles Frohman in "Finding Neveland." In "Somewhere in Time" the character (renamed "William Fawcett Robinson") is played by Christopher Plummer.
Bid Time Return also specifically mentions the performances of Maude Adams ("Elise") in The Masked Ball, The Butterflies (page 38) and Christopher, Jr.. The other roles and plays mentioned in the novel are also taken from actual Maude Adams' actual history, but are not among the relatively limited number of cast lists printed in the Patterson biography.
Page 132:
"Your daughter and I met in New York City," I lied; how successfully I have no idea. A sudden inspiration hit me. "After a performance of Christopher, Junior," I added.



Actress Jane Seymour played the part of "Elise McKenna." Seymour went on to receive multiple Emmy and Golden Globe nominations (including some wins) for her work in TV miniseries and for playing the title role in the 1990s TV series "Dr. Quinn, Medicine Woman." Before starring in "Somewhere in Time" Seymour's major roles included playing "Serina," the lead character's wife in the movie-length premiere of the Latter-day Saint theology-based science fiction series "Battlestar Galactica." She also starred in "Oh, Heavenly Dog!" opposite Chevy Chase and Benji.

Interestingly enough, the two-hour premiere episode of "Battlestar Galactica" (which was also released theatrically as a feature film) featured a scene in which Jane Seymour (as "Serina") is married for time and all eternity to Apollo at an altar in a temple sealing ceremony based directly on Latter-day Saint temple weddings. (These episodes were written by series creator Glen Larson, a Latter-day Saint television producer.) Essentially, both Seymour roles -- "Serina" and "Elise McKenna" -- were based on Latter-day Saints.

Christopher Reeve was best known for his title role in four "Superman" movies. Aside from these movies, "Somewhere in Time" was Reeve's best-known and best-loved role.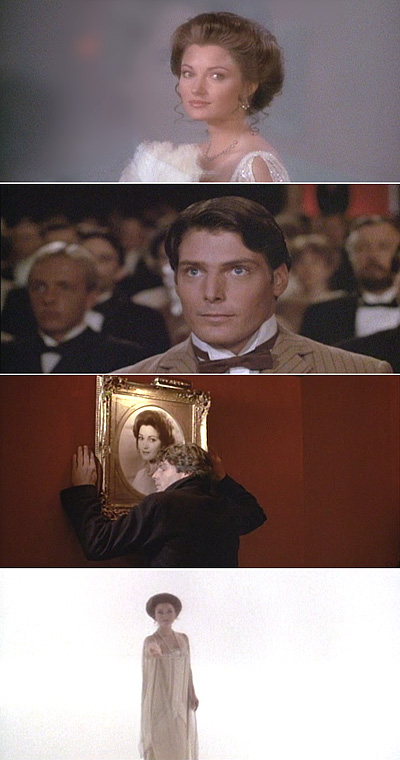 Above: Scenes from the movie Somewhere in Time:
Christopher Reeve falls in love with a turn-of-the-century Mormon actress.
The DVD release of "Somewhere in Time" features as one of its principle "extra features" an excellent, in depth documentary about the movie and its production, titled "Back to Somewhere in Time."
The documentary begins with narration by "Somewhere in Time" author and screenwriter Richard Matheson. Beginning with the very start of the documentary, Matheson recounts:
Well, at the time I wrote Somewhere in Time... Actually, it wasn't called Somewhere in Time. The original title was Bid Time Return, from a Shakespearean quote... My wife and children were on a camping trip and we stopped in Virginia City. In the opera house there I saw a photograph of Maude Adams, a famous American actress, and it was such a great photograph that creatively I fell in love with her. And I thought, well, what if, uh, some guy did the same thing and could go back in time to see her.

And then we were down in San Diego at the Coronado Hotel, and so I decided I would set the book there. I actually stayed at the Coronado Hotel while I wrote Part 1, and viewed myself that I was the main character.

I sold it right away. It didn't do that well. Stephen Simon now, Stephen Deutsch at that time, fell in love with it.
During Richard Matheson's opening narrative, the documentary shows the following images:
1. Close-up of the black and white version of the official movie poster, which features Jane Seymour's face and Christopher Reeve, shown from the ankles up, wearing a contemporary suite.

2. Richard Matheson, speaking the words currently being heard as narrative. The caption appears on the screen: "RICHARD MATHESON" on the first line, followed by "Author / Screenwriter" below that.

3. A playbill from about the year 1900, with credits for J.M. Barrie's comedy What Every Woman Knows, starring the prominently-billed actress Maude Adams.

3. A black and white photograph of Maude Adams, a lovely young woman who appears to be in her twenties.

4. Exterior shots of the Coronado Hotel in San Diego, California, a resort hotel on the beach.

5. Close-up on the first edition hardcover novel Bid Time Return.

6. Close-up of some text of pages from Bid Time Return.


Above: Stills from the documentary featurette "Back to Somewhere in Time."
The screenwriter describes the basis for the story: real-life Mormon actress Maude Adams.
After Richard Matheson's opening words, producer Stephen Simon (formerly Stephen Deutsch) continues the narrative:
I went into a bookstore, and picked up a copy of this wonderful book called Bid Time Return, written by this man that I'd heard of, Richard Matheson, who'd written The Incredible Shrinking Man and other things. And I read this book and I was just enchanted. And something clicked inside of me and said, okay, I've gotta make this book. So Richard and I had our first meeting in February or March of 1976, and we made a pact that we would make the movie together. It took three years from that point forward until the point that we could actually do it.

And then in 1978, my boss Ray Stark called me and said, "There's this director named Jeannot Szwarc who just did "Jaws 2" for Universal. We should figure out something to do with him.
According to this documentary, "Somewhere in Time" began production with a $4 million production budget, a slim budget even for that time.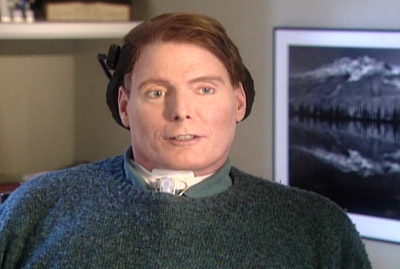 Above: Actor Christopher Reeve recounts a real-life out-of-body experience
similar to the one his character ("Richard Collier") had in the movie Somewhere in Time.
Near the end of the documentary, the movie's final scene is described. This final scene takes place after Christopher Reeve's character has successfully gone back in time, after he has found Elise (the Maude Adams character), and after beginning what he thinks is a lifetime with her. Unfortunately, Reeve pulls a 1979 penny from his pocket, which causes him to lose his mentally-triggered grip on the past. Forced back to his own time, he soon dies of a broken heart. In the film's final scene, the spirit of Reeve's character leaves his body and is reunited with Elise in the afterlife.
After the documentary partially describes this scene and describes how the scene was filmed, Christopher Reeve recounts how he had a similar experience in real life (beginning 49 minutes, 31 seconds after the start of the documentary):
But what is very curious is that... Again, I thought an out-of-body experience, uh... We're taking another big risk, here. But, in July of 1995, about two months after my accident, I had a very severe reaction to a drug, and it almost killed me. And, in fact, I flat-lined for fifty seconds. And I actually left my body. And the very same thing happened to me. I was up on the ceiling looking down at all the people working on me, trying to bring me back. I'd been struggling and struggling for air. My lungs had completely shut down with something called anaphylactic shock. So I was on a hundred percent oxygen, but I couldn't breathe. And I remember, and this is very corny unfortunately, but I remember saying, very faintly that, I'm sorry, but I have to go now. And then I was up on the ceiling looking down at my body. And fortunately they tried a different approach and shot me with a massive dose of epinephron. And suddenly I was back in my body and, uh, all the noise and chaos returned. And I never thought that I would experience something like that, ever. But, it just made me think of the scene in "Somewhere in Time," and we're not so far off.
---
Excerpts from the novel Bid Time Return (adapted to the movie "Somewhere in Time") recounting biographical details of "Elise McKenna" which parallel that of the real-life actress Maude Adams
Source: Bid Time Return, by Richard Matheson. First published in 1975 by The Viking Press, Inc., 625 Madison Avenue, New York, NY. 10022.

Page 24-25:
[In this passage Collier describes the moment he first saw a photograph of "Elise McKenna"/Maude Adams.]
Let me recount the moment: eleven twenty-six a.m.

Returning across the patio, en route to my room, I saw a sign announcing a Hall of History in the baement.

Intriguing place. Photographs as in the Arcade. A sample bedroom from the 1890s or the early 1900s. Display cases of historic objects from the hotel--a dish, a menu, a napkin ring, an iron, a telephone, a hotel register.

And in one of the cases is a program for a play performed in the hotel theater (wherever that was) on November 20, 1896; The Little Minister by J. M. Barrie, starring an actress named Elise McKenna. Next to the program is a photograph of her face; the most gloriously lovely face I've ever seen in my life.

I've fallen in love with her.

Typical of me. Thirty-six years old, a crush here and a crush there, a random scattering of affairs that mimicked love. But nothing real, nothing that endured.

Then, having reached a terminal condition, I proceed to lose my heart, at long last, to a woman who's been dead for at least twenty years.

Good show, Collier.



* * * *



That face is haunting me.

I went back again to stare at it; stood in front of the display case for such a long time that a man who was, periodically, walking in and out of a nearby employee's entrance started looking at me as though he was wondering if I'd taken root there.

Elise McKenna. Lovely name. Exquisite face.

How I would have loved to sit in the theater (it was in the Ballroom, I discovered from a museum photograph) watching her perform. She must have been superb.

How do I know? Maybe she was rotten. No, I don't believe that.

Seems to me I've heard her name before. Didn't she do Peter Pan? If she's the one I think she is, she was a splendid actress.

She certainly was a beautiful one.

No, it's more than beauty. It's the expression on her face that haunts and conquers me. That gentle, honest, sweet expression. I wish I could have met her.
Page 26-27:
Hey! An idea! Something I can do about it... I'll drive to a local bookstore or, more likely, one in San Diego and locate some books about her. I'm sure there must be one or two at least. That program down there refers to her as "the famous American actress."

I'll do it! Find out everything I can about my long-lost love. Lost? All right, all right. About my love who never knew she was my love because she didn't become my love until after she was dead.

I wonder where she's buried.
Page 29-33:
To the books, though.

The first one is by John Fraser, called Luminaries of the American Theatre. I'm looking at a two-page entry on her.

There is a row of photos at the top of the left-hand page which shows her from childhood to old age. Already I'm disturbed to see that loely face grow old from left to right.

In the second row are three photographs: one of her quite old, one quite young; and one that's similar to the photograph in the Hall of History -- that frank, exquisite face, the long hair falling to her shoulders; the way she appeared in The Little Minister.

In the third row of photographs, she is wearing a lovely costume, her hands folded delicately on her lap; this from a play called Quality Street. Next to that is a shot of her as Peter Pan (she did play it, then), wearing what looks like an army camouflage suit and a feathered hat, blowing those same pipes that are being blown by Pan on that wooden chair downstairs.

In the bottom row are photographs of her as other characters she played: L'Aiglon, Portia, Juliet; my God, a rooster yet in Chanticleer.

On the opposite page, a full-page photograph of her face in profile. I don't like it. For that matter, I don't care for any of these photographs. None of them possesses the quality in the photograph I first saw. Which evokes a strange sensation. If that photograph had been like one of these, I would have passed by, feeling nothing.

I might be on my way to Denver now.

Forget it. Read.

A brief account states that she was one of the most revered actresses on the American stage, for many years the theater's greatest box-office draw. (How come no book about her, then?) Born in Salt Lake City on November 11, 1867, she left school when she was fourteen to become a full-time actress, coming to New York with her mother in 1888 to make an appearance in The Paymaster. She appeared with E. H. Southern, was John Drew's leading lady for five years before she became a star. She was extremely shy and avoided social life. While delicate of frame, she was said to never have missed a performance in her entire career. She never married and she died in 1953.

I wonder why she never married?



* * * *



Second book. Martin Ellsworth: Photographic History of the American Stage. More photographs, not on several pages though; spread out through the book, taking her in chronological order from her first role to her last--The Wandering Boy in 1878 to The Merchant of Venice in 1931. A long career.

Here's a photograph of her playing Juliet with William Faversham. I bet she was good.



* * * *



The Little Minister again. Since it opened in New York City in September 1896, it must have been a tryout here.

My God, what a torrent of hair! It looks light in color, not blonde but not auburn either. She has a robe across her shoulders and she's looking at the camera; at me.

Those eyes.



* * * *



Third book: Paul O'Neil: Broadway.

It speaks about her manager, William Fawcett Robinson. She fit his standards perfectly, it says; his conception (and the era's) of what an actress should, ideally, be. Preceding the adulation of movie stars by decades, she was the first actress to create a mystique in the public's eye -- never seen in public, never quoted by the press, apparently without an off-stage life, the absolute quintessence of seclusion.

Robinson approved of that, says O'Neil. They'd had friction up till 1897 but, from that year on, she was devoted to her work, sublimating every aspect of her life to stagecraft.

O'Neil says she had a magic quality as an actress. Even in her late thirties, she could play a girl or elfin boy. Her charm, said the critics, was "ethereal, lambent, lucent." O'Neil adds, "These qualities do not always reveal themselves in her photographs."

Amen to that.

"Beneath this ingenuous surface, however, was a disciplined performer, especially after 1897 when she first began to dedicate herself exclusively to her work."

...Barrie adapted his novel The Little Minister for her. Later, he wrote Quality Street for her, then Peter Pan, then What Every Woman Knows, then A Kiss for Cinderella. Peter Pan was her greatest triumph (though not her favorite; that was The Little Minister). "I never witnessed such emotional adulation in the theatre," one critic wrote. "It was hysterical. Her devotees pelted the stage with flowers." In response to which, O'Neil adds, she made the same brief, breathless curtain speech she was always known to speak. "I thank you. I thank you--for us all. Goodnight."

Despite her great success, her private life remained a mystery. Her few intimate friends were people outside the profession...

Another quote; the actor Nat Goodwin. "Elise McKenna is a household word. She stands for all that represents true and virtuous womanhood. At the zenith of her fame, she has woven her own mantle and placed it above the pedestal on which she stands alone...' "

...A brief selection from the final book: volume two of The Story of American Theatre by V. A. Bentley.

"Her rise to critical acclaim, after 1896, was rapid, almost phenomenal. Although before that she had, despite her success and adulation, manifested no truly outstanding thespic gift, there was not a role she essayed after that that was not done magnificently."

Mention is made that her portrayal of Juliet represents a symbol of this change. She performed it to minor critical reception in 1893. When she did it again in 1899, it was to general acclaim.

A few words are expended on her manager. "A man of overly forceful nature, William Fawcett Robinson was disliked by most who knew him. Never having had the advantage of a good education, he, nonetheless, displayed daring and boldness in his many enterprises."

Good God. He died on the Lusitania.

I wonder if he loved her. He must have. I can almost sense his feeling toward her. Uneducated, crude, perhaps, he probably never told her of his feelings in their entire relationship, regarding her as too high above himself, and devoting all his efforts to keeping her elevated, thus making certain she was unavailable to anyone else as well.

That's the last of the books.
Pages 38-46:
There is a book about her entitled Elise McKenna: A Intimate Biography by Gladys Roberts. I'm going to save it for last because, despite the feeling of anticipation I feel right now, I know that, once I've finished the biography, it'll all be gone and I want to savor this excitement for as long a possible.

...The first book is by John Drew, called My Years On Stage.

He wrote that his first impression of Elise McKenna was tha she was too fragile. Big women in the theater were the vogue in those days, I gather from the photographs I've seen. Yet he repeats what I've already read, that she never missed a performance.

Her mother appeared in plays with her at first--playing Mme. Bergomat to her daughter's Susan Blondet in The Masked Ball; Mrs. Ossian to her daughter's Miriam in Butterflies. It say they went to California with this latter play. I guess acting companies toured the West Coast regularly, explaining the tryout here.

Even though I've written almost everything down, I still feel a| though I've rushed through this book too rapidly en route to the biography--like a starving man who cannot derive satisfaction from hors d'oeuvres but craves to reach the main course. I'll force myself to slow down.

The next book is Well-known Actors and Actresses, published in 1903. The section opens "Elise McKenna sells wood, pigs and poultry" and goes on to state that she cares more for her f nn at Ronkonkoma, Long Island, than for anything else but the stage. If she weren't an actress, the section continues, she would be a farmer. Every moment she can spare from the theater is spent in retreat at her two-hundred-acre farm, her private railroad car carrying her there whenever she has time. "There she can roam around at will, away from curiosity seekers."

Always that seclusion.

More on that. "Less is known of her personally than any other prominent person on the stage. To the majority of people, their knowledge of her stops at the footlights. To preserve this privacy, she has placed everything pertaining to publication about her in the hands of her manager. If a writer applies for an interview, she refers him to Mr. Robinson, who straightway says 'No,' this partly from regard for her own desire for privacy, partly from a well-defined policy which he adopted as soon as he became her manager about ten years ago."

Which seems to verify my view of him.

Here's a contradiction. Research always turns them up, I guess. "She has never missed a performance because of illness and never has failed to appear as billed save on one occasion, in 1896, when the train in which she and her company were traveling from San Diego to Denver was stalled in a blizzard." 1896 again.

Here is a lovely photograph of her. She's wearing a black coat and black gloves and what seems to be a black bow tie. Her long hair is pinned up with combs and she's resting her clasped hands on a column top. She looks exquisite and I'm falling in love with her all over again, experiencing the same sensation I had when I first saw that photograph in the Hall of History. Caught up in research, one begins to lose emotional involvement. Now I see this photograph and the emotion has returned. Insane or not, unrealistic though it be, I'm in love with Elise McKenna.

...I want to concentrate entirely on this book, her biography.

A frontispiece photograph of her, taken in 1909. It looks like a picture taken at a seance; that of a young woman looking at the camera from another world. She seems, at first glance, to be smiling. Then you see that it could, also, be a look of pain.

Again, Nat Goodwin's observation comes to mind.

"Never," writes the author in the first lines of her book, "was there an actress whose personality was more elusive than Elise McKenna's."

Agreed.

Here's the first description of her in any detail: "A graceful figure with gold-brown hair, deep-set eyes of greyish green and delicate high cheekbones."

A quotation from her first, notable review in 1890. "Elise McKenna is as pretty a soubrette as one can see in an afternoon promenade--a sweet and tender blossom on the dramatic tree."

...An unexpected bonus section--pages of photographs. I've been looking at a particular one for fifteen minutes now.

It conveys, to me, more of her than any photograph I've seen. It was taken in January of 1897. She's sitting in a great, dark hair wearing a high-necked white blouse with a ruffled front and a jacket with a twill effect. Her hair is held up by combs or pins, her hands are folded on her lap. She is looking straight at the camera. Her expression is a haunted one.

...More photographs of her. In plays she did: Twelfth Night, Joan of Arc, The Legend of Leonora. Accepting an honorary master of arts degree at Union College. In Hollywood in 1908.

Sometimes I think the only real satisfaction in life is failure in your endeavor to do your best." Not the words of a happy woman.

Her generosity. Box-office receipts of her plays sent to San Francisco after the earthquake; to Dayton, Ohio, after the flood in 1913. Her free matinees to servicemen during World War One; her performances and hostess work in army camps and hospitals.

...I'd better go back to those reviews.

...The Little Minister: "There is a new vitality, a new warmth, a vivid emotional life in Miss McKenna's acting."

L'Aiglon: "Surpasses that of Sarah Bernhardt as the stars surpass the moon."

Quality Street: "Played with infinite grace and a pathos for which there was no gainsay."

Peter Pan: "Her acting is an expression of the life force in the simplest, most beautiful way."

'Op o' Me Thumb: "The Actress portrays every pang of despair, of utter wretchedness and of absolute desolation that the unloved, unlovable woman feels tearing at her heart. The acme of genuine pathos."

Romeo and Juliet: "How different from her first performance of this role. Finely emotional and intensely appealing on its tragic side. Total poignancy. Sense of emotional loss conveyed with brilliant conviction and authority. The most sympathetic, the most human and the most convincing Juliet we have ever seen."

What Every Woman Knows: "Her best work was noticed in "scenes of suppressed agony of spirit and the philosophic tone of her gentle martyrdom."

The Legend of Leonora: "Exquisitely appealing acting by Miss McKenna, who has never played with finer touches or her glimpses of real womanliness and tenderness."

A Kiss for Cinderella: "Miss McKenna is so dauntless and gently pathetic that she almost breaks your heart." (From no less than Alexander Woollcott himself.)

Joan of Arc: "The triumph of her career. A completely formed and finished jewel of characterization."
---
Webpage created 5 November 2004. Last modified 20 November 2004.