< Return to Latter-day Saint Characters in Movies
The Book of Mormon Eulogy,
the Bates Motel, and
Other Trivia from
Alfred Hitchcock's
"Family Plot"
Hitchcock's last film.
Features a eulogy from the Book of Mormon.
Only Hitchcock film scored by the legendary composer John Williams.
Stars Bruce Dern, grandson of a governor of Utah, and father of actress Laura Dern.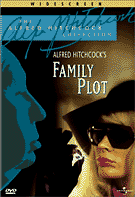 "Family Plot" (1976)
Directed by Alfred Hitchcock
Screenplay by Ernest Lehman
Based on the novel by Victor Canning

Starring: Karen Black, Bruce Dern, Barbara Harris, William Devane

MPAA Rating: PG
U.S. Box Office: $13,200,000
Production budget: $3,000,000
Alfred Hitchcock is widely regarded as the great filmmaker in history. He grew up in a devoutly Catholic home in England, where he began his film career. He was already an accomplished director when he moved to Hollywood, where he would remain until the end of his career. Among his best known films are four that the American Film Institute included on their year 2000 list of "100 Greatest Films" ever made in this country: Psycho; The Birds; Rear Window and North by Northwest.
Family Plot (1976) was Hitchcock's last film. Oddly enough, it is also his most overtly Mormon film. One of the four main characters was apparently raised by Mormon parents. And in the graveside scene, the clergyman delivering the eulogy quotes eight consecutive verses from the Book of Mormon.
Although Hitchcock's reasons for including references to the Church of Jesus Christ of Latter-day Saints may never be known, it is possible that part of the inspiration for the material came from the film's star Bruce Dern. The eulogy and Church reference may have been "inside jokes" derived from Dern's Utah heritage: Bruce Dern was the grandson of Utah governor George Dern.
Hitchcock was fond of dropping subtle and meaningful details into his films. For example, if you look closely, you may notice that the character Blanche Tyler lives on the corner of Castle Heights and Bates. The street sign is a fake one, placed there by the film's art director, and is an obvious allusion to the Bates Motel, the site of Hitcock's famous film Psycho. (The sign can be seen as Karen Black is walking toward by Tyler's home on the sidewalk, toward the car where awaits William Devane, when they first go to Tyler's house to see who is investigating Eddie Shoebridge.)
Family Plot features other subtle, and not-so-subtle, allusions to previous Hitchcock films. For example, the frantic drive down the mountain in a car with no brakes is strongly reminscent of Cary Grant's inebriated drive in North by Northwest.
The memorable and beautifully shot cemetary scene, in which George Lumley (played by Bruce Dern) confronts Joe Maloney's widow (Katherine Helmond), opens up with a group of about twenty-five people listening to a clergyman's graveside eulogy. He says some words specifically about the deceased (Joe Maloney, who was played by Ed Lauter). Maloney's widow sees George, and George starts to walk away, toward the Shoebridge grave. Mrs. Maloney quietly leaves the service and follows George, on a different, parallel path. Hitchcock had been very specific about the layout for this scene, and insisted that it be shot with an overhead camera. The entire time that George and Mrs. Maloney are walking toward the Shoebridge grave, the clergyman can be heard quoting from the Book of Mormon. Specifically, he is quoting 2 Nephi 9:20-27. Of course, the passage is very appropriate for the film. Hitchcock paid meticulous attention to details on all his films:
20 O how great the holiness of our God! For he knoweth all things, and there is not anything save he knows it.

21 And he cometh into the world that he may save all men if they will hearken unto his voice; for behold, he suffereth the pains of all men, yea, the pains of every living creature, both men, women, and children, who belong to the family of Adam.

22 And he suffereth this that the resurrection might pass upon all men, that all might stand before him at the great and judgment day.

23 And he commandeth all men that they must repent, and be baptized in his name, having perfect faith in the Holy One of Israel, or they cannot be saved in the kingdom of God.

24 And if they will not repent and believe in his name, and be baptized in his name, and endure to the end, they must be damned; for the Lord God, the Holy One of Israel, has spoken it.

25 Wherefore, he has given a law; and where there is no law given there is no punishment; and where there is no punishment there is no condemnation; and where there is no condemnation the mercies of the Holy One of Israel have claim upon them, because of the atonement; for they are delivered by the power of him.

26 For the atonement satisfieth the demands of his justice upon all those who have not the law given to them, that they are delivered from that awful monster, death and hell, and the devil, and the lake of fire and brimstone, which is endless torment; and they are restored to that God who gave them breath, which is the Holy One of Israel.

27 But wo unto him that has the law given, yea, that has all the commandments of God, like unto us, and that transgresseth them, and that wasteth the days of his probation, for awful is his state!
These verses from the Book of Mormon provide the primary accompaniment to the action of this scene, as the musical score is very faint or non-existent at this point. (Family Plot was scored by John Williams, who is today Hollywood's most famous composer, as he has worked on many major Lucas and Spielberg pictures such as the Star Wars and Jurassic Park films. At the time he scored Family Plot he was less well known, but Hitchcock had been impressed by his work on Jaws. Hitchcock was known for his close collaborations with composers--few directors entrusted so much importance to the score. Family Plot was the first film Williams scored for Hitchcock. It was also the last, as this was Hitchcock's last picture. It's unfortunate that there were no other collaborations between the two of them, because Williams' score for this film is delightful. It is also quite unlike anything else he has done.)
All of the gravestones seen in the cemetary scene are fake, by the way. The filmmakers did not want to risk claims by surviving relatives of actual deceased people. Having fun with the press, many of the names on the gravestones are actually names of entertainment reporters invited by Hitchcock to a press conference to the cemetary filming location for a press conference.
George Lumley is also the character involved in the earlier scene that alludes to Latter-day Saints. George is searching for Edward Shoebridge who, by the time the film takes place, has changed his name to Arthur Adamson. Adamson, one of the film's four leads, was played by William Devane. (An interesting aside: Devane was originally unavailable for the project, and so Roy Thinnes was cast in the role. But when Devane unexpectedly became available, Hitchcock fired Thinnes, and reshot scenes that included the character. Thinnes was very unhappy about this, and, in one embarrasing incident, confronted Hitchcock about it in a crowded restaurant.)
The adoptive parents of Edward Shoebridge/Arthur Adamson died in a house fire when he as a teenager -- a fire set by Maloney. (Edward/Arthur was adopted while a baby, and it appears that at the time of his adoptive parents' death he did not know he was adopted. As an infant, Edward was baptized by an Episcopalian parson, before being given over for adoption to the Shoebridges.) The Latter-day Saint reference occurs while George is talking to the stonecarver who created the headstones for the Shoebridges:
stonecarver: What year did you say the family died?

George: Uhh... 1950.

stonecarver: What month?

George: Ah, I can't help you there.

stonecarver: Shoebridge... Shoebri--

George: Mind if I sit down?

stonecarver: Sure, go ahead... Shoebridge... Shoebridge... Uh, here it is. Shoebridge. Harry and Sadie. Large marble. Model twenty-eight. Paid in full. Check number ninety-three. First Church of Latter-day Saints. Barlow Creek.

George: What about the son? Edward Shoebridge. He's their son.

stonecarver: Edward?... Ah, here it is... Nope. Nothing.

George: What d'you mean nothing? There's gotta be something. Maybe it came later.

stonecarver: Wait a minute, you're talking about Eddie Shoebridge. His headstone. Yeah, that did come later. I recollect in, uh, '65.



One could assume that if a congregation of the Church of Jesus Christ of Latter-day Saints paid for the Shoebridge funeral, the Shoebridges themselves were members of the congregation. But Edward Shoebridge's parents do not appear in the film, and Edward/Arthur has, at the time of the film, embarked on a career as a kidnapper, extorting large diamonds as ransom for high-profile abductees. So, obviously, he is not a practicing church member, regardless of his background.

The other leads were Karen Black, as Arthur's wife Fran, and Barbara Harris, in one of her best performances ever as George's quirky Spiritualist girlfriend Blanche Tyler.

It is not absolutely clear how the Mormon elements made it into the film. When including religious imagery, plot elements and characters, Hitchcock usually relied on his own religious background: Catholic and Anglican. Hitchcock was not known to add Mormon touches to his films.

Hitchcock had worked with Latter-day Saint actors before, such as Moroni Olson in Notorious and of course Robert Walker, star of Strangers on a Train. But none of the cast of Family Plot were known to be Latter-day Saints.

Hitchcock worked closely with screenwriters in preparing screenplays, so the Mormon touches could have been introduced by either Hitchcock or screenwriter Ernest Lehman. But Lehman was Jewish, not Mormon. It's true that the previous Hitchcock-Lehman collaboration, North by Northwest ends with the memorable chase scene across the face of Mount Rushmore, which was carved by Mormon sculptor Gutzon Borglum. But the idea for that scene originated with Hitchcock, who was probably not even aware of the sculptor's ethnicity.

While this is simply speculation, the most likely source for the Mormon elements in Family Plot may be lead actor Bruce Dern, the grandson of a former governor of Utah. Character actor Bruce Dern had been a friend of Hitchcock's for over ten years and had made yearly guest appearances on Hitchcock's television anthology series. Al Pacino had been the first choice for the George Lumley character, but his asking price (so soon after the success of films such as The Godfather) was more than Hitchcock wanted to pay. Hitchcock personally invited Dern to fill the role, citing Dern's unpredictable and entertaining spontaneity as the main reason.

Bruce Dern was born in Illinois, but he was aware, and perhaps his associates were also aware, that he was the grandson of George Dern, a two-term Democratic governor of Utah. George Dern was born in 1872 in Nebraska. He didn't move to Utah until 1900, when he joined his father's thriving mining company. George Dern established himself as a well-liked business and community leader, and was twice elected to the office of governor, serving from 1925 to 1933.

President Roosevelt appointed Dern to be his Secretary of War, a position he filled from 1933 until he died in 1936. (Dern was the first Utahn to on the U.S. Cabinet.) George Dern was known as a personable and empathetic leader, and was well liked by the Latter-day Saint majority in the state, although he himself was neither a Latter-day Saint nor a native Utahn (he was a Protestant).

Although not members themselves, the Dern family was very familiar with the Church of Jesus Christ of Latter-day, due to their residence in the state and integration into the community. Thus, Bruce Dern's Utah background may be the source of the Mormon elements in Family Plot.

Another strange political tidbit: As mentioned already, Bruce Dern's grandfather was the first Utahn to serve on the presidential Cabinet. Another Utahn who served in a Cabinet-level position, and one of the Latter-day Saints to do so, was Ivy Baker Priest, who served as the U.S. Treasurer from 1953 to 1961. (For a long time her signature appeared on all U.S. paper currency.) Why is this interesting? Well, Ivy Baker Priest's daughter was none other than actress Pat Priest. Pat Priest may be best known for her role as Marilyn Munster on the TV show The Munsters, but she also had a few film roles. One of her only starring roles was in Incredible 2-Headed Transplant. Her co-star: Bruce Dern.

(It may not be an artistically great film, but how many movies can you think of that star multiple children/grandchildren of U.S. Cabinet members from the same state? And hey! The movie also stars Casey Kasem, who counts down the hits on national radio and is best known to kids everywhere as Scooby-Doo's friend "Shaggy." This is one of Kasem's only film roles in which he isn't playing either himself or Shaggy.)

Alternatively, Hitchcock may have been inspired to include Mormon elements in "Family Plot" by his association with Samuel W. Taylor. Taylor was one of the most successful screenwriters in Utah and Latter-day Saint history, as well as an important novelist and history writer. Taylor's most successful films were Disney's "Absent-Minded Professor", its direct sequel and the Robin Williams remake "Flubber." But Taylor also wrote for television, including episodes of Alfred Hitchcock Presents. Samuel Taylor was also the son of a Latter-day Saint apostle, and the grandson of President John Taylor. If Hitchcock had worked closely with Taylor on his television series, he would have been aware of Taylor's church membership, and this could have been a possible source of Latter-day Saint references in "Family Plot."

But, back to Family Plot...

Of all of Hitchcock's films, Family Plot may be the lightest in tone. It is more a comedy than a thriller. Although it alludes to long-past murders, and features a death by automobile accident, the film depicts no actual murders. The Mormon elements do not seem to have any serious or thematically significant purpose in the film. They seem to be included as jokes, but "inside jokes," because they are not really humorous in the context of the film. In fact, few people but Latter-day Saints could be expected to pick up on them.

Interestingly enough, Bruce Dern is the father of actress Laura Dern. She has had a truly stellar career, but her most widely-seen role was as the star of Jurassic Park, which is the highest-grossing film ever made by a Latter-day Saint producer (Jerry Molen, the producer of many of Spielberg's films).

Perhaps Hitchcock and/or Lehman simply chose the Church of Jesus Christ of Latter-day Saints as the Shoebridge's church because the scene in which the church is mentioned is one in which George was attempting to look for somebody's long-lost relative (Edward Shoebridge). Latter-day Saint emphasis on genealogy was well-known by the 1970s, and the choice may have been intended as a typical Hitchcockian meaningful detail. Alternatively, Mormon elements may have simply seemed amusing and appropriate in a film named "Family Plot," given the emphasis Mormons place on families.