Return to Films by Latter-day Saint Filmmakers home page

Top 10 Non-American Latter-day Saint Film Legends
---

Lino Brocka - Philippines

Lino Brocka's story is so unusual that if it was pitched to a movie studio it would be rejected -- for being too unbelievable. Yet ask most any Filipino Latter-day Saint, and they know the story: the man who is widely considered the greatest filmmaker in his country, was also a Latter-day Saint. Beyond that, he could be called the "first convert" to the church, earning him forever a place in Latter-day Saint history and film history. Before Richard Dutcher was old enough to hold a camera, Lino Brocka was making a film that drew on his missionary experiences -- in a leper colony.

Brocka was not an active churchgoer later in life, but never held animosity toward the Church. It appears that Filipino church members eventually rejected Brocka's films because of "R-rated" content and GLBT themes. Yet when one considers Brocka's themes, it is clear that his critically acclaimed films were deeply influenced by many Latter-day Saint values, even while portraying--at times accepting--some non-LDS values.

From "Filipino Film and Video Artists":
Filmmaker, actor, social activist, Mr. Brocka is widely considered as the most prominent Filipino filmmaker who broke grounds for Philippine cinema internationally when his films Insiang (1976), Jaguar (1979) and Bona (1980) were shown at Cannes Film Festival, both in Director's fortnight and the Main Competition. He had a colorful career until his untimely death in a car accident in Quezon City in 1991. Known for the social and political causes he espoused like anti-censorship and human rights, he carried on these causes to his films notably, Miguelito, Ang Batang Rebelde / The young rebel (1986), Orapronobis / Fight for us (1989) and Gumapang ka sa Lusak / Dirty affair (1990).
From "Philippine and Church History" and Church History in the Philippines:
The first missionaries [to the Philippines], Elders Ray Goodson, Harry Murray, Kent Lowe and Nestor Ledesma, arrived in Manila on June 5, 1961. The first two to be baptized by the missionaries were Jose Gutierez Sr. and Lino Brocka.
From University of the Philippines Diliman film festival notes:
The best known and most highly regarded contemporary Philippine filmmaker. The son of a fisherman and a schoolteacher, he converted to the Mormon religion after graduating from college and served briefly as a missionary in a leper colony on the Hawaiian island of Molokai. Returning to Manila, he began acting, directing and writing for the stage and TV. He directed his first film in 1970, but it was in 1978 that he first attracted international attention at the Cannes Festival, with Insiang (1976). Brocka's films often carry a social message and are typically sympathetic to the poor and the working class. They are frequently politically controversial. His French co-production L'Insoumis (1989) mercilessly depicts the lawlessness and terror in the post-Marcos Philippines.
From "Mission Impossible 1: Filipino Filmmaking 1896-1986":
Lino Brocka (1940-1991), like Gerardo de Leon, was the spokesman and master filmmaker of his generation. Raised poor and rural, Brocka studied to be a Mormon missionary, worked with homeless in San Francisco, and taught in Hawaii before returning to the Philippines in his late-Twenties. An aspiring actor, he also wrote and directed for the Philippine Educational Theater Association (PETA) both on stage and for its television show. In 1970, Brocka made his first film Wanted: Perfect Mother. It combined the current hit The Sound of Music with a Filipine comic serial (a governess struggles with her brood of orphans), and achieved box office success. Brocka's career was built on the fact that, in three weeks, he could write and direct a film which could make as much money as an American import. Over the next four years he made nine films.

Brocka was a controversial figure, the subject of both praise and criticism. But he was certainly a prolific filmmaker. Among the best of the more than 70 films he made are Maynila: In the Claws of Neon (1975) and Jaguar (1979) which depict the Philippines in a gritty, realistic style. He has was criticised for Bona (1980), which uses well-known movie stars to make a film that, he claimed, attacked the star system; Kontrobersyal (1980), a film condemning pornography, but which was itself deemed pornographic... and Ang Bayan Ko (My Country; Clinging to a Knife Edge, 1984), a Filipine entry in the 1984 Cannes Film Festival which was disowned by the Filipine government. Brocka was a trenchant critic of the Marcos government, and despite being censored (during the latter period of martial law, his films were smuggled out of the country for screenings) and imprisonment, he continued to fight censorship and agitate against the Marcos regime in both his life and his films.

This vigilance continued with the films he made after the fall of Marcos. Brocka, along with other filmmakers, was disappointed with the policies of the new president, Corazon Aquino. Consequently, he continued to make films critical of the Filipine government. Brocka, without a doubt, brought international attention to both the quality and value of the Filipine cinema as well as the transgressions and repression of the Marcos regime.
More.
---

Yuki Saito - Japan

Yuki Saito (her name is also transliterated frequently as "Saitou Yuki") is one of Japan's most popular actresses, and one of the nation's best known Latter-day Saints. Saito's own life has had its own rather "dramatic" ups and downs, but her Christian commitment is well known. She was even featured in a Church-produced video used by missionaries to introduce people to the Church. In it she discusses her life and simply invites people to listen to the gospel message, to see if it is something that can help them as it helped her.

One of Saito's most memorable acting roles was in "Sukeban Deka", a 1985 live-action television series featuring her in the title role. (In English, the title translates as "High School Superheroine".) With her high-tech yo-yo, Saito went up against mobsters and various villains for 25 episodes. There have been two other series (featuring other stars) and an animated film in the franchise, which was based on a popular manga (comic book) series.

Saito went on to star in other television series including "Dousoukai", "Matta nashi!" and "Tachibana Keiko: Onna jiken kisha."

Saito is also a popular singer. The sang "Shiroi Honno", the theme song to "Sukeban Deka." She also had a top 10 hit with her version of "Yume no Naka e". Saito also sang "Kanashimi yo Konnichiwa" ("Hello Sadness"), the theme song for "Maison Ikkoku Kanashimi yo Konnichiwa", which became one of the most popular anime theme songs ever. Between 1985 and 1995 she released at least fifteen albums.

A recent role in an adult role was in the critically acclaimed "Ah Haru" (English title: "Wait and See"), about a businessman and his neurotic wife (Saito), and what happens when an elderly stranger claims to be the husband's long-lost father. The film was an Official Selection at the 1998 Tokyo International Film Festival and won the FIPRESCI Award for best film in the Panorama Section, at the 1999 Berlin Film Festival. [More.]

For a period of time she made about three movies a year and appeared constantly on various Japanese television shows, gaining a repuation as one of the hardest working Japanese actresses of the 1980s.

As an author, essayist and poet, Saito is the author of many books, including Neko no te mo karitai; Unmei no onna; Shiawase no biburion; Ima dake no hontou; Toumei na mizu; Yuki-teki sekai kanjou ryokou and Soutou no tsuki. She is also the co-author, along with Torey Hayden, of a book for the Japanese market about parenting issues.
---

Colin Low - Canada

Unlike some Canadian celebrities who made their fame and fortune in the United States, Colin Low's career was very Canadian. He did his work in Canada. His films were usually about Canada. In fact, his work celebrates the land and cultures of Canada in ways that few film artists have come close to matching.

From "LDS Film Producer May Retire", Mormon News, 22 December 2000; original source: "Film Producer May Retire", Kim Siever, LDSCaNews:
MONTREAL, QUEBEC -- Colin Low knows a few things about living in Southern Alberta, and his latest work perhaps shows it best of all of them.

"Moving Pictures" is about "art, war and growing up in Southern Alberta," but is partly an autobiography of the last 100 years, even covering his grandparents time. Low's grandparents crossed the Great Plains with other Latter-day Saints and his father homesteaded just south of Cardston. The Great Depression thwarted his farming efforts, and Low's dad became foreman on the Church's Southern Alberta ranch.

Low was born in Cardston in 1926 and at 74, he may end up making his most recent film his last one. And no wonder. He has been a pioneer, like his grandparents in a way, in the film industry.

Since joining the National Film Board in 1945, low has produced over 200 films. His "In The Labyrinth" piece which he made for Expo 67 was a pioneer piece of its own, leading the way for other IMAX films. In 1983, Low helped direct "Transitions" for Vancouver's Expo 86. This film was the very first stereophonic 3D film. And it wasn't his only "first" either. he also directed the first high definition IMAX film, "Seville" in 1992. He also helped work on "2001: A Space Odyssey."

But he doesn't just work hard. He works well. He has been nominated for nine Academy Awards, received the Order of Canada (one of the highest honours given in Canada), and was the first Anglophone to receive the Prix Albert-Tessier.
---

Natacha Rambova - Russia

Born in 1897 in Salt Lake City as Winifred Kimball Shaughnessy, the artist and filmmaker who would become known as "Natacha Rambova" was the great-granddaughter of Heber C. Kimball, an early apostle of the Church of Jesus Christ of Latter-day Saints. She attended school in Europe, where she changed her name and eventually joined the Kosloff's Imperial Russian Ballet. She eventually became a successful set designer and costume designer in Hollywood, where she married Latin leading man Rudolph Valentino. Her credits as costume and art director include: Monsieur Beaucaire; Salome; The Young Rajah; A Doll's House; Camille; Forbidden Fruit; and Billions. She also wrote and starred in a few films. "After Valentino's premature death at the age of thirty-one in 1926, Rambova continued her own remarkable career as a playwright, an actress, a couturiere, a Spiritualist and as a recognized Egyptologist and collector of antiquities." [Sources: IMDB; essay by Dr. Will South, Utah Museum of Fine Arts]

Okay, she wasn't really Russian. But she sure tried to be.
---

Danny Kamekona - Chinese/Japanese/Hawaiian

[Sources: Helen Altonn. "Danny Kamekona, one of Hawaii's top actors, dies in L.A. at the age of 60" in Honolulu Star-Bulletin, 3 May 1996; Karate Kid Movie Website; IMDb.]

In May of 1996 one of the undeniably greatest Hawaiian actors in the history of stage, film, and television passed away. Danny Kamekona was in many ways a very typical resident of islands. His ancestry was mixed: one-half Hawaiian, one-quarter Japanese and one-quarter Chinese. He was a member of the Church of Jesus Christ of Latter-day Saints.

Kamekona was a versatile actor, and during his acting career he played Hawaiian, Chinese and Japanese characters. Perhaps his most popular role was as the villainous (but ultimately redeemed) "Sato" in The Karate Kid II, a film which grossed $115 million at the box office in 1986. This was one of many films he appeared with his long-time friend Pat Morita. Kamekona's subtle performance as "Sato" soared above the stereotypical and one-dimensional portrayals of Asian villains more typical of action films.

Fans of the long-running television show "Hawaii Five-O" will remember Kamekona for not one but two recurring roles on that series. He played "Che Fong" in 1968 nd 1969, and later returned to the show as "Nick Noble" in 1974 and 1975. During other years he played many guest roles as other characters. He typically appeared in 9 or 10 episodes of "Hawaii Five-O" each year. The show's producers asked him to commit to be a regular cast member, but he declined because he preferred having a variety of roles and wanted to avoid being typecast, and he also didn't want to spend too much time away from his successful insurance business.

In addition to many other film and television roles, Kamekona also had was a regular cast member (as Henry) from 1994 to 1995 on "Burke's Law", a revival of the 1960's cop thriller.

Kamekona served for three years as a full-time missionary for the Church. His mission was in Osaka, Japan -- the first time he experienced his ancestral homeland firsthand. He attended Brigham Young University - Hawaii Campus on a football scholarship. At BYU-Hawaii he he was voted "Most Likely to Succeed." He also attended the University of Hawaii. He died May 1 in California. His memorial service was held May 11 at the Church of Jesus Christ of Latter-day Saints on Beretania Street in Honolulu.

Kamekona married a Japanese native and had two children.
---

Ryan Gosling - Canada

Still young, Gosling has already amassed considerable legions of fans for his various film and television roles. From being a regular cast member on "MMC" (the new Mickey Mouse Club) and "Beaker High," Gosling went on to star in the title role of the Disney animated television series "Young Hercules."

Gosling had significant roles in the films "Remember the Titans" (2000) and "Frankenstein and Me" (1996), but his breakout film role was in "The Believer", which won the Grand Jury Prize at the Sundance Film Festival in 2001. Critics couldn't say enough about his complex and shocking portrayal of an Orthodox Jewish teen whose live is turned upside down by his involvement in neo-Nazism.

Although many of his fans from "MMC" and "Hercules" days were already aware of his status as a Latter-day Saint, the subject came up again as he answered interviewers' questions following the success of "The Believer." Some writers were openly stunned that a non-Jewish actor could play the role so convincingly, and that a Latter-day Saint actor could turn in such a commanding performance in such a dark, gritty film. (Obviously those writers had a stereotyped perception of Latter-day Saint actors.)

Upcoming Gosling feature films include "The Slaughter Rule" and "Fool Proof."
---
Heidi Mendez - Spain

From BYU Theatre and Film Department Alumn magazine:
Heidi Mendez (BA '82), Pozuelo, Madrid, Spain, has worked continuously since her graduation as an actress, director and choreographer. She earned a master's equivalent and has taken courses towards her doctorate at the Universidad de Alcala de Henares in Madrid, and has taught in a number of different venues. Her most recent roles have been in a one-woman show, Zelda; in Paginas Ocultas for Television Espanola (that will air in 1998), and as a regular on the TeleMadrid comedy show Inocente Inocente. She also choreographed and performed a cabaret at the residence of the American Ambassador to Spain. She and her husband are the parents of two children, and she adds, "My children were nursed during rehearsals, and played in portable playpens in green rooms. It's not easy filling both roles, but it's possible! This last year has been dedicated to the open house for the Madrid Temple, and we were thrilled to have lunch with the Prophet. My best calling has been as a bishop's wife for the past six years."
---
Joan Patrick - Canada

Joan Patrick had a long career both in front of and behind the camera. Television audiences may remember her best from her role in the 1960s as "Susan Deigh", the receptionist on the series "Dr. Kildare."

As an actress she also had guest roles on such television shows as "It Takes a Thief", "Get Smart", "I Dream of Jeannie" and "Perry Mason."

In film, Patrick's biggest role was as "Janine Norwalk", the 4th-billed part in the 1969 cult horror/science fiction flick Astro-Zombies. She plays the mad scientist's assistant.

Patrick had a smaller part, but in an arguably more prestigious production, in a 1966 television production of Arthur Miller's Death of a Salesman. She also appeared in the 1961 film Lover Come Back, which starred Rock Hudson, Doris Day, and Tony Randall. But no zombies.

From ifilm.com, here is the synopsis for Astro-Zombies:
When a rocket scientist is fired from the Space Agency, he loses his stability and uses his knowledge to revive dead bodies. He creates a league of solar-powered astro-zombies with the organs he's stealing, which eventually attracts the attention of a couple of international spy rings, including the CIA and a group of Mexican spies who want to steal the technology to raise an army of super-zombies! Co-written by Wayne Rogers of the M*A*S*H TV series, ASTRO ZOMBIES is an all-time classic of schlock film.
From LDS Church News Archives, Saturday, February 5, 1994, "Church Begins Series on TV Across Canada":
In a ground-breaking move, the Church has launched a television series that will make LDS programs available prime time in 85 percent of English-speaking homes across Canada.

The series, "For All Seasons," will be shown the last Wednesday of all except two summer months of 1994 on VISION/TV network. The network is part of basic cable service that reaches a far greater proportion of Canadian homes than cable reaches in the United States. (VISION/TV network is not to be confused with Vision Interfaith Satellite Network [VISNT, now known as Faith and Values Channel.)

...Joan Patrick, Toronto Region director of public affairs, produced the series in Toronto, directing preparation of an opening 3-D animation, selecting, rehearsing and filming the series host, and assembling the various elements, including "Home Front" spots in all the programs. A convert to the Church of just over two years, Sister Patrick had a 25-year career as an executive with Canada's major TV network, Canadian Broadcasting Corporation.

"From the time I first became interested in the Church I knew we simply had to have a presence on Canadian television," she said. "The Church is so little-known and so often misunderstood up here. These programs will do a great deal to achieve the first goal of public affairs - awareness that we are a Christ-centered church whose members find joy in service and in such a wholesome lifestyle.
---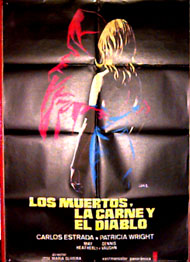 Jose Maria Oliveira Aldamiz - Spain

Maria Oliveira worked in the film industry as the local director of the William Morris Agency. He oversaw the Spanish distribution of films such as "Lawrence of Arabia." He was introduced to the Church through his wife, American actress Patricia Wright.

After joining the Church, Oliveira went on to write, produce and direct at least two major Spanish films: "Los Muertos, la carne y el diablo" (1974) and "Las Flores del miedo" (1973). Both of these were horror films starring Patricia. Interestingly enough, both films incorporated Gospel themes, and one even included Latter-day Saint missionaries. Together these two films grossed nearly 10 million pesetas at the box office.

Church history in Spain website:
Regular Chruch services began in Spain among LDS servicemen after World Ward II when the United States established relations with that country. Two American branches were functioning in 1966, and a district presidency operated under the French Mission. One of the first converts in Spain, José María Oliveira, was baptized in France in March 1966...

Spain's first stake was created in madrid on March 14, 1982, with José Oliveira as president. Additional stakes followed. When the Seville Spain Stake was created in 1988, one area within the stake reported 98 percent activity among Melchizedek Priesthood holders, and noted that 54 members of the stake were serving full-time missions...

in 1967, legislation was passed that made possible the recognition of non-Catholic churches. This led to the call of local missionaries from the Madrid servicemen's branch of the Church. Elders Rodney Dotson and José María Oliveira were two of these early missionaries. (José María Oliveira was later to be called as the first president of the Madrid Stake.) Slowly, the Spanish membership of the Church grew. In 1968, the Madrid Spanish Branch was organized, with José María Oliveira as the first counselor to President David B. Timmins. The first meeting -- a Sacrament meeting -- of the new branch was held on Feb. 4, 1968 in downtown Madrid. Thirty-eight members attended.



"The Church of Jesus Christ of Latter-day Saints in Spain" website:
E deseo de la Iglesia de instaurar ramas autoctonas en Espana no se vio cumplido hasta 1967. La posguerra, y la condena de las democracias occidentales al régimen del general Franco, causo la famosa época de aislamiento o autarquía en Espana, durante la cual, a pesar de la no libertad religiosa, la Iglesia envio algunos donativos de su Plan de Bienestar.

Cuando El Presidente Eisenhower restablecio las relaciones Espana-EEUU, dos ramas extranjeras empezaron a funcionar en nuestro país, compuestas por empleados, diplomaticos y militares mayormente norteamericanos.

En este contexto, en 1966, se bautizo José María Oliveira, el primer pionero de la Iglesia en Espana (se habían bautizado antes otros espanoles residentes en el extranjero). Oliveira había conocido la Iglesia por su esposa, la estadounidense Patricia Wright, y procedía del mundo del cine (era el director de la Agencia William Morris, que representaba en Espana a los actores de Hollywood, y había participado en el reparto de películas rodadas aquí, como "Lawrence de Arabia").

La Ley del 67 reconocía el libre ejercicio de las iglesias ya existentes en Espana, lo cual incluía a La Iglesia de Jesucristo de los Santos de los Ultimos Días.

En 1970 se organizo la primera mision espanola, y en 1974 había 17 ramas, con líderes nativos, y con 619 miembros. En 1975 la hoy Reina de Espana, dona Sofía, asistía al concierto de un coro de la Iglesia en el Auditorio del Centro Superior de Investigaciones Científicas, junto a los presidentes de mision, y al Presidente Oliveira.
---
Mercedes Bustos - Uruguay

From LDS Church News Archives, Saturday, February 27, 1988:
MONTEVIDEO, URUGUAY - Two well-known television personalities here are among recent converts to the Church. The first, Alex Meissner, is known for his commercials. After his baptism, however, he stopped doing liquor ads. The other convert is Mercedes Bustos, an actress in a popular series. Meissner was contacted by missionaries tracting door-to-door, and Sister Bustos was jogging past a meetinghouse when she dropped in to ask about the activities. Missionaries taught her at her studio between filming seesions.