Return to home page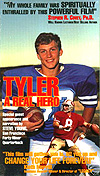 Tyler, A Real Hero (1993)
an inspirational film
written & directed by Eric Hendershot





Review by James McCabe, LDS Video Store (used with permission):
"Tyler, A Real Hero": This movie tells of the life story of a young man called, Tyler Wilkinson who grew up as a healthy young man with the intention of marrying a girl called Jennifer. He was involved in a near-fatal accident and placed in a hospital where he struggled for survival, and ended up handicapped from the accident.

For being so kind, caring and friendly, many people in his community visited in him in the hospital. He was using a wheelchair. One thing that helped him cheer up was his girlfriend Jennifer, who visited him every weekend in the hospital.

This movie tells how one is supposed to care for his/her friends in times of needs. A major lesson of the film is that are sometimes trials and tribulations in life, but you just need to be yourself, be determined and steadfast. This is a good movie to watch.
---
"Tyler, A Real Hero":
Text from the VHS front cover




"MY WHOLE FAMILY WAS SPIRITUALLY
ENTHRALLED BY THIS POWERFUL FILM"

STEPHEN R. COVEY, PH.D.
WELL KNOWN LECTURER/BEST SELLING AUTHOR





TYLER
A REAL HERO

Special guest
appearance and
narration by
STEVE YOUNG,
San Francisco
Forty-Niner
Quarterback




"This film will gather you in, lift you up and
CHANGE YOUR LIFE FOREVER!"

Kieth Merrill
Academy Award© Winner & Director of "LEGACY"




---
"Tyler, A Real Hero":
Text from the VHS back cover




THIS IS A BEAUTIFULLY DONE FILM, FULL OF HUMOR,
TENDERNESS, INSPIRATION AND JOY.
TYLER IS A HERO FOR US ALL."

Lavell Edwards
BYU Football Coach



Tyler had it all - the cutest girl in town, all-state in three sports and a scholarship to play football and baseball at a well known college. Then suddenly, in one brief tragic moment, his life was changed forever. Forty-Niner Quarterback STEVE YOUNG tells the true and remarkable story of Tyler Wilkinson and what it takes to become "A REAL HERO."

"TYLER,
A REAL HERO
is PURE INSPIRATION!"
Steve Young
Pro Quarterback



music by SAM CARDON and KURT BESTOR
"WHO WILL BE THE REAL HERO?"
music and lyrics by MICHAEL McLEAN
executive producers,
RICHARD A. MALOTT and RICHARD MALOTT, jr.
produced by ERIC HENDERSHOT and DICKILYN HENDERSHOT
written and directed by ERIC HENDERSHOT

Running time 62 minutes / color / stereo / Digitally Mastered

Licensed for private home exhibition only. Duplication or public exhibition is prohibited.
Criminal copyright infringement is investigated by the FBI and may constitute a felony
with a maximum penalty of up to 5 years in prison and/or a $250,000 fine.
All rights reserved. Copyright Real Heroes LTD

Distributed by Real Heroes, a Nevada Limited Partnership
---
"Tyler, A Real Hero":
Text from VHS side panel
RH-LTD
HOME VIDEO


TYLER, A REAL HERO


7-9235-10001-3-5
[UPS Code]
---
"Tyler, A Real Hero"
opening credits as they appear on the VHS
"The bird with a broken pinion

never soared so high again,

but its song is sweeter."

-Anonymous



REAL
HEROES


PRESENTS


TYLER
A REAL HERO


Special Appearance
and
Narration by

STEVE YOUNG
---
The following text is not part of opening credits, but is from some of the onscreen captions identifying people interviewed in the film:
Linda Kae Wilkinson
Tyler's Mother


Travis Wilkinson
Tyler's Brother


Troy Wilkinson
Tyler's Brother


Lee Scott
Opposing 9th Grade Coach

[Not inclusive]
---
"Tyler, A Real Hero"
closing credits as they appear on the VHS
Tyler and Jennifer were married
in the St. George Temple
shortly after the completion
of this film.


Executive Producers
Richard A. Malott
Richard A. Malott Jr.


Produced by
Eric Hendershot
Dickilyn Hendershot


written and directed by
Eric Hendershot


director of photography
Mark Allen


production sound
Steve Laneri


lighting
Fred Schuler


grips
Beau Garrett
Brock Charles


best boy
Taylor O


production manager
Hayley Hendershot


makeup
Dawn Johnson


wardrobe
Jacolyn Swan


property master
Stephen Clark


edited by
Bill Leach
Mark Allen


audio sweetening
Palmer Pattison


music by
Sam Cardon
Kurt Bestor


"Who Will Be The Real Hero"
song by
Michael McLean


performed by
John Batdorf


football announcer
Paul James


cast

| | |
| --- | --- |
| Liisa Frei | Linda Wilkinson |
| Jordan Frei | Tylor as a toddler |
| Kade Hendershot | Tyler as a young boy |
| Steve Comer | Tyler as a teenager |
| John A. Giffen | Newspaper editor |
| Elizabeth Gardner | Lady who receives newspaper |
| Gloria Hampton | Lady with hose |
| Brock Jacobson | Travis Wilkinson |
| Casey Wittwer | Troy Wilkinson |
| Grant T. Baird | Therapist |
| Jennifer Orton | Jennifer Orton |
| Paul Rogers | Larry Gardner |
| Bob Hendricks | Voice of Larry Gardner |
| Susan Downs | Nurse |



opening statements
in order of appearance

Steve Young
Marsjon Wilkinson
Bob Wilstead
Randy Wilkinson
Linda Kae Wilkinson
Troy Wilkinson
Randilyn Wilkinson
Tasha Wilkinson
Kieth Barney
Mandy Mathis
Lee Scott
Lon Henderson
Bill Jacobson
Nate Staheli
Chris Brockman
Colby Neilson
Wayne Kittrell
Greg Croshaw
Rob Ward
Ray Odette
Dorothy Orton
Jennifer Orton


special thanks

The Wilkinson Family
Jennifer Orton
Dan C. Watson
Wayne & Gloria Hampton
Max Rose
Richard & Verna Johnson
Lon & Carrie Henderson
Kieth & Dagny Merrill
Kaele Porter
Larry Gardner
Ray & Dorothy Orton
Kerry Johnson
Dixie High School
Dixie Community College
Daily Spectrum
Bicycles Unlimited
Football Community College
Southwest Auto Wrecking
LDS Hospital
Western Rehabilitation Institute
Dixie Center
Smith, Henderson & Associates



© copyright 1993
REAL HEROES LTD.
---
Order "Tyler, A Real Hero" online.

Transcription by James McCabe.

Webpage created 3 August 2004.