The Birthing of Iosepa
a documentary by Daniel M. Skaf
Contents:
Introduction
Our interview with the director
Press Kit
Biography of Daniel Skaf, the director
Closing Credits
LDSFilm.com interviews
Daniel M. Skaf
about his documentary
"The Birthing of Iosepa"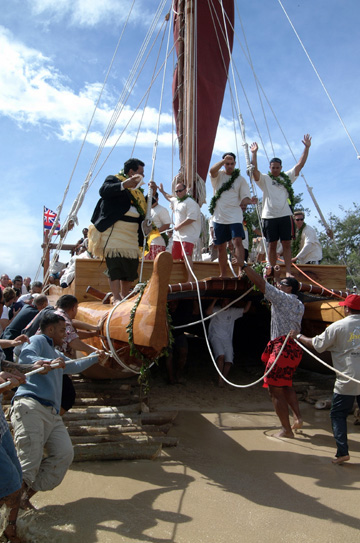 INTRODUCTION
9 October 2002 - Daniel Skaf is such a strikingly handsome young man that he looks like he should be in front of a camera. But this native of Brazil is not an actor. He's a serious young filmmaker, currently studying in the prestigious MFA program in Film and Television Production at Chapman University.

Skaf's first feature-length film is "The Birthing of Iosepa," and if you have a chance to see it while it makes the festival rounds and plays on public television, I'm sure you won't forget it.

As a director, Skaf uses a remarkably light touch in this documentary. You probably won't come away from it with his name at the tip of your tongue or his "style" indelibly printed on your brain. It isn't difficult to see that this is the work of relatively inexperienced filmmaker, working with little or no budget. But "The Birthing of Iosepa" is clearly a labor of love that presents a story so fresh and compelling that it speaks for itself if allowed to, which is exactly what the director has done.

After an incredible amount of time went into collecting raw footage, the most telling moments have been chosen to represent a story of surprising depth and grandeur. "The Birthing of Iosepa" opened up a whole world for me. Through the lens of this focused story -- the creation of a traditional double-hulled Hawaiian voyaging canoe -- the viewer is provided an intimate introduction to a number of Polynesian cultures. Hawaiian culture is given the most time, but Fijians, Maoris, Tongans and others are are seen as well.

Occasionally the camera work is amateurish. The lighting could be improved upon. The introduction is slow and is bogged down by a number of less-than-attractive static visuals. Sometimes the screen was cluttered by an overly large temporary logo graphic and a caption identifying an interviewee and oddly-placed subtitles. But this is nitpicking about what is, over all, an entertaining and thoroughly enjoyable film.

There is so much here that is fascinating, I hardly know where to start. Skaf let the Polynesians speak for themselves, in their own language with subtitles or in English. He doesn't shy away from including lengthy but engrossing shots of prayers, public rituals and blessings, and other steps in the canoe-building process. No preconceived ideology is imposed on this film. What emerges is a surprising blend of Latter-day Saint Christian and traditional Polynesian belief and practice. It's all very uncorrelated. Many moments in the film would probably never have been there had it been produced by the Church itself, and many other moments would never have been there if it had been produced by a person with a purely secular outlook. Skaf was an outsider-insider. A non-Polynesian, but also a Latter-day Saint, as are the people who made the canoe. Skaf was a student at BYU-Hawaii, but also an employee at a Hawaiian public television station. As a result, the documentary is both insightful and authentic. Although the filmmaker clearly admires the Polynesians, the documentary provides a window rather than commentary.

Occasionally, interviewees, speaking naturally and from the heart as well as from their area of expertise, seem to contradict each other as they explain various aspects of Polynesian culture. This was a welcome development, underscoring the fact that these are real people and the story portrayed is real life. Much about the Polynesian cultures in the film seems admirable and wonderful, but nothing is idealized or "touched up" to make it "more native" than it really is.

I loved seeing the eloquent native Hawaiian expert who was never seen without a pair of dark sunglasses perched on the top of his head -- whether he was outdoors or inside. I loved the part when one of the traditional canoe builders, surrounded by beaches and palm trees and centuries-old technology, talks about coming to a difficult step in the process, and searching the Internet for information. The tension between maintaining old ways and being overwhelmed by the modern world is palpable, yet the people in the film give the viewer hope that if anybody can preserve and even revive their culture, they can.

Daniel Skaf is now a full-time film student, but he graciously took time to talk to us about "The Birthing of Iosepa" and other topics.


Q. "The Birthing of Iosepa" is about traditional Polynesian canoe building and navigation. Why did you choose to make a film about this topic?

Skaf: The Hawaiian culture has always fascinated me. The intelligence required to memorize 150 stars, their various positions in different times of the year and use them as a map is amazing. When I saw the huge logs which were just brought to the building site, I could not resist but make a documentary about the building process. As the canoe would take at least a year to be completed, I knew I would be able to learn more about their culture.


Q. You're not Polynesian, but nearly everybody in the documentary is Polynesian. Were you concerned about your ability to portray Polynesian cultures accurately?

Skaf: Yes, I was. That is the reason why I worked very closely with the executive producer [William Kauaiwi'ulaokalani Wallace III], who is the director for the Hawaiian Studies Department at Brigham Young University-Hawaii, and also the main person behind the building of the canoe. I knew I had to tell the story from a Hawaiian point of view. I spent a lot of time researching the history of voyaging canoes and also a lot of time talking to the people involved. For a while, I had to deny my own culture and beliefs, and immerse myself in that new experience. Although I am not a Pacific Islander, I tried to think and act as a Hawaiian. It was a great learning experience which increased my respect for this great people.


Q. In making "The Birthing of Iosepa", what equipment did you use during filming and post-production?

Skaf: I used both mini and regular format digital cameras. The Sony cameras were DSR-300, DXC 327 with DVCAM deck and PD-100. For post, I used Final Cut Pro and Panasonic DVCPRO tapes. For graphics, Compix.


Q. How much did "The Birthing of Iosepa" cost to make?

Skaf: That is a hard question. I didn't receive a budget to make the documentary. It was one of my assignments at the Olelo Community Television station I worked for. BYU-H paid for the tapes and the TV station paid for my time during the filming and post. I spent 400 hours editing and used 60 tapes during a year.


Q. When you had finished "The Birthing of Iosepa," what was the biggest difference in the film from how you originally planned it?

Skaf: During pre-production, I wanted to do a documentary in the style known as verité, which is like the ones made in the sixties. A documentary without much editing, which allows the actions and situations during the construction process tell the story by itself. That is the way that I videotaped, filming almost every action, every conversation. However, during the writing of the script, I decided to change that. I wanted to blend both time periods, during and after the carving. Having the people involved looking back and reflecting upon the carving of Iosepa and also talking about their feelings during the carving period.


Q. Some of the interviewees in the documentary speak Hawaiian, which I'm sure some mainlanders think is an extinct or nearly-dead language. Is Hawaiian the native language of these people, or did they learn it as a second language in the Hawaiian language immersion school?

Skaf: There are people who grew up speaking Hawaiian in their homes and others who learned at school. Since Captain Cook arrived on the Hawaiian Islands in the end of the eighteen century, Hawaiians started to be deprived of their own identity. In the nineteen seventies, they built the voyaging canoe Hokulea, and traveled to Tahiti without modern navigational instruments. That was one of the events that marked the renaissance of the Hawaiian culture. Today, the Hawaiian language is becoming more and more widely spoken.


Q. Have you had a chance to receive feedback from audiences about "The Birthing of Iosepa"? What are some of the things that regular viewers liked?

Skaf: So far, I received many positive feedbacks from both Pacific Islanders and people who don't know anything about Hawaiian culture. Some of the Hawaiian audience came to me and expressed their gratitude through tears. That was the best feedback I could ever receive. The people who don't know much about Hawaiian culture told me they now have more respect for these great people. The goal was accomplished.


Q. The documentary often features a remarkable -- and apparently very authentic -- blending of traditional Polynesian religion and Latter-day Saint practice, sometimes most noticable in the wording of prayers, blessings and chants. In making or showing the documentary, did you receive any resistance or criticism about the religious content?

Skaf: No, I didn't receive any criticism about the religious content. It was great to see how both Polynesian and LDS beliefs blended. As the canoe project was created by the Hawaiian department of BYU-H, the religious beliefs were already mixed. One day a friend told me that the deeper you go into a culture, more universal characteristics you will find.


Q. How can people have a chance to see "The Birthing of Iosepa"?

Skaf: The documentary will be shown at the Hawaii International Film festival during the first week of November, 2002. It will also air on DirecTV, through the BYUTV channel. I don't have the airdates yet but it will probably be shown in December or January. People can email me to get the airdates (skaf100@chapman.edu).


Q. You previously made the documentary "Keepers of Culture." What was that about?

Skaf: It is about the 2000 Culture Night of BYU-H, in which 30 student clubs from various parts of the world present their traditional culture through dance and music. We chose two groups, the Maori (New Zealand) and the African clubs and did a documentary about their preparation for the event. One of the interests was in the people who were not Maori or African, but joined the clubs to learn more about them. We also focused on the ways these two groups of people maintain their culture while studying in an American university.


Q. Imagine you have the opportunity to make a big budget film. It can be a documentary, a narrative feature, anything. (Up to $40 million for production.) What's the topic? Who's in it?

Skaf: I would choose one of the many great stories of the Book of Mormon. This is one of my goals. I would like to do it in Hawaii or Brazil, since both places have tropical forests. I would choose actors who are in the beginning of their careers and make them read the Book of Mormon at least one time. I am amazed by the amount of LDS filmmakers who are sprouting up everywhere. I know in the next 30 years we will see amazing epic LDS movies such as Ben Hur. I want to be a part of it.


Q. What is your next project?

Skaf: For now, I am devoting 100% to my graduate program in Film and Television Production at Chapman University, which is a 3 year program. I am still deciding if I will choose a documentary or a narrative film for my thesis project. But definitely I'll try to make it educational and uplifting.
---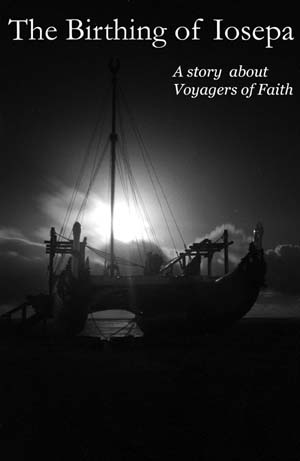 Press Kit provided by
the director of "The Birthing of Iosepa"
Documentary:
The Birthing of Iosepa
Directed, written and edited:
Daniel M. Skaf
(skaf100@chapman.edu)
714-283-0449
Subject:
Documentary's storyline, Production Credits, Director's Biography and Executive Producer's Biography




"The Birthing of Iosepa" storyline
"The Birthing of Iosepa" is a 69-minute Olelo Television, Kahuku Satellite production that documents the carving of a 57-foot double-hulled Hawaiian voyaging canoe. Director, writer and editor, Daniel M. Skaf, seeks to accurately portray Hawaiians' rare skill and provoking inspiration required to bring about the success of the project. The significance of the literal birthing and naming of the voyaging canoe, Iosepa, is explained from the point of view of Hawaiians. The program traces the renaissance of Hawaiian and Polynesian celestial navigation and celebrates the deep Hawaiian symbolism and sacred traditions involved in blessing the voyaging canoe. Brigham Young University's Hawaiian Studies Program trains students to sail Iosepa under the direction of the Makali'i crew. Carvers, boatman, professors, fishermen, and community members express their joy and pride through their words, tears and kokua during the launching of Iosepa at Hukilau Beach, witnessed by 2,000 participants. The documentary also features original musical works by Hawaiian band "Vaihi".



Production Credits
| | |
| --- | --- |
| Directed, written and edited: | Daniel M. Skaf |
| Executive Producer: | William Kauaiwi'ulaokalani Wallace III |
| Script Supervisor: | William Kauaiwi'ulaokalani Wallace III and Kamoa'e Walk |
| Script Editor: | Jacquelyn H. Skaf |
| Narrators: | Jim and Ipolani Thompson |
| Music: | Vaihi |
| Graphics: | Ali J. Burgess |
| Camera: | Yohei Araki, David Bowen, Siana J. Burgess, Kristyn Davidson, Mike Foley, Nathaniel Hansen, Leah Kihara, Bruno Lemos, Maureen Montana, Nathan Petty, Daniel Skaf, Tammy Toma, Gael Weberg. |
| Interviewees: | Elder M. Russell Ballard, Clay Bertelmann, Wright Bowman Sr., Namealoha Curtis, Uncle "Big Boy" Enos, Kehau Enos, Kawika Eskaran, Bula Logan, Keali'i Maielua, Gary Nagy, Chad Paishon, Mau Paiailug, Tuione Pulotu, Jude Sells, Sipa Shimizu, Eric B. Shumway, Ken Steinmetz, Nainoa Thompson,Vaitoti Tupa, Luther Waiwaiole, Kamoa'e Walk, Ka'ano'i Walk, William Kauaiwi'ulaokalani Wallace III, Mikilani Yuen |
| Fijian translation: | Inoke Suguturaga |
| Hawaiian translation: | Kamoa'e Walk, Ka'umealani Walk, William Kauaiwi'ulaokalani Wallace III. |

Documentary filmmaker
Daniel Skaf
Director's Biography
Daniel M. Skaf, native to Sao Paulo, Brazil, traveled and studied in Hawaii for 10 years. In 2001 he graduated Magna Cum Laude from Brigham Young University-Hawaii with a B.A. in International Cultural Studies, communications emphasis, and a minor in Information Systems. In 2000 Skaf was employed by Olelo Community Television at the Kahuku Satellite. He conducted workshops for community members in Production, Field Technician and Editing including Final Cut Pro. Skaf proposed and initiated the BYU-H internship program and was named 2001 Olelo Employee of the Year. Skaf currently resides in Southern California as a graduate student of Chapman University's MFA program in Film and Television Production. Skaf wrote, directed and edited, "Keepers of Culture" and "The Birthing of Iosepa", which were aired through Olelo and DirecTV. Skaf's career goals are to work in the film and television industry and to teach at the university level. Skaf is happily married to Jacquelyn H. Skaf.



Executive Producer's Biography
William Kauaiwi'ulaokalani Tao'a Magele Tuipelehake Wallace III, born at Ho'olehua, Molokai, of Hawaiian, Samoan, Tongan, Tahitian, and Scottish ancestry. Married to Nihipora Tatiana Kereama of Ruatoki, Aotearoa with four children and six grandsons. Wallace is a graduate of Kamehameha Schools, class of 1966. He received his B.A. in History and Secondary Education from Church College of Hawaii. In 1984 he completed his Juris Doctor's Degree at the J. Reuben Clark Law School at Brigham Young University in Utah and served as a Public Defender for the State of Hawaii from 1984-1985. Until 1987 he was Assistant Attorney General for the government of American Samoa. Wallace returned to Hawaii to practice law privately from 1987 through 1991 when he became an Associate Professor of History at Brigham Young University-Hawai'i. In 1998 he was named Director of Ka Halau Nui A Hawai'iloa, the university's Hawaiian Studies Program, renamed in 2000 as the Jonathan Napela Center for Hawaiian Language and Cultural Studies. On November 3, 2001 the program launched their Voyaging Canoe, Iosepa.
---
Closing Credits for "The Birthing of Iosepa"
Produced, Written
and Edited by

Daniel M. Skaf


Executive Producer
William Kauaiwi'ulaokalani Wallace III


Music by
Vaihi

CD: Puko'a Kani 'Aina
Vaihi Entertainments


Songs
Laie
Lilia
Reflections


CD: Can you imagine
Vaihi Entertainments


Songs
Hush
Ku'u Kapena Kele


New Release: Wa'a
Written and composed by
S. Tetuani Ka'onohi

Performed by Vaihi


Narrators
Jim Thompson
Ipolani Thompson

Script Supervisors
William Kauaiwi'ulaokalani Wallace III
Kamoa'e Walk

Script Editor
Jacquelyn H. Skaf

Graphics
Ali J. Burgess

Canoe Drawing
Kawika Eskaran

Camera
Yohei Araki
David Bowen
Siana J. Burgess
Kristyn Davidson
Mike Foley
Nathaniel Hansen
Leah Kihara
Bruno Lemos
Maureen Montana
Nathan Petty
Daniel Skaf
Tammy Toma
Gael Weberg


Paintings

Herb Kawainui Kane
The Petroglyph Maker
Hokule'a II
The Discovery of Hawaii
Preparing Food for the Voyage
In the Canoe Halau
Crossing to Moloka'i
The Tree Cutters
Ka'anapali 200 Years Ago
Consultation at the Heiau
The Launching


Bishop Museum
Outrigger Canone
Native Village Scene
Native Hawaiian
Polynesian Triangle Map
Ancient Adze


Interviews
Elder M. Russell Ballard
Clay Bertelmann
Wright Bowman Sr.
Namealoha Curtis
Uncle "Big Boy" Enos
Kehau Enos
Kawika Eskaran
Bula Logan
Keali'i Maielua
Gary Nagy
Chad Paishon
Mau Piailug
Tuione Pulotu
Jude Sells
Sipa Shimizu
Eric B. Shumway
Keo Steinmetz
Nainoa Thompson
Vaitoti Tupa
Luther Waiwaiole
Kamoa'e Walk
Ka'ano'i Walk
William Kauaiwi'ulaokalani Wallace III
Mikilani Yuen


Translations

Fijian
Inoke Suguturaga

Hawaiian
Kamoa'e Walk
Ka'umealiani Walk
William Kauaiwi'ulaokalani Wallace III


Footage from
"The Making of the Camakau"
The Institute for Polynesian Studies, BYU-H
Jerry K. Loveland, A. LaMoyne Garside,
David Paxman, Sandra Banack,
Lawrence Lau, Vernice Wineera.

Footage from Meleniume
Ma'ake
Tuione Pulotu

Footage from Fiji
Pasifika Communications, Suva, Fiji
Peter Lee


Pictures/Paintings of
Iosepa colony and
Pres. Joseph F. Smith
Brigham Young University-Hawaii


Special Thanks to

W. K. Kellogg Foundation

Olelo Community Television
Kahuku Satellite
Tammy Toma
Siana J. Burgess

Main Office
Thomas Galli
Kit Kawamata
Leah Kihara
Melvin Kouchiyama


Bishop Museum
Tom Cummings

Vaihi
Aaron Ka'onohi

Brigham Young University
Hawaii campus
Greg Gubler
Randy Sasaki
Rob Wakefield

Polynesian Cultural Center

Hawaii Reserves, Inc

The Jonathan Napela Center for
Hawaiian Language and Cultural
Studies of BYU-H

And to all the volunteer hands from
various places of the world who
made the dream of Iosepa
come true.



Facilities provided by
Olelo Community Television
Kahuku Satellite
(808)293-9357


The executive producer is
responsible for the content of this
program. To contact the producer,

skafdaniel@yahoo.com
---
Return to homepage