Return to Director Profiles



Nicholas Peterson
Award-Winning, Cutting-Edge Animation Director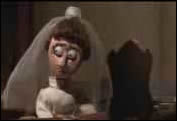 Nicholas Nephi Peterson is a young filmmaker whose truly extraordinary short films have been screened in numerous festivals, including Sundance, and SXSW, and have screened on television both domestically and abroad.

A few of his films can be seen online:

To view "MuM" click:
http://atomfilms.shockwave.com/af/content/atom_162

To view "Cookies for Harry" click:
http://www.ifilm.com/filmdetail?ifilmid=602492

Peterson is currently in development stages on a feature-length film that he wrote with another Latter-day Saint. Check out his films online or write to him if you think you might like to be involved in this upcoming project, which we can't say a lot about right now but it seems like something very exciting and worthwhile. Some of the funding is already in place for the feature, but opportunities are still available for investors and supporters at all levels.
---
Nicholas Peterson's animated short film
MuM
Length: 7 min., 10 seconds.

Synopsis: Doubts simmer as a young bride, already wearing her dress and veil, reflects on who she is and where her life is going. Is she doing the right thing? Can she escape if she isn't?

Background
Director Nicholas Peterson and animator David Candelaria also served as the crew on Mark Osborne's acclaimed stop-motion animation, More. Working on a tiny budget, the duo built sets and miniatures that helped propel the film to a couple of well-deserved honors: Best Short Film at the 1999 Sundance Film Festival and an Academy Award nomination for Best Animated Short.

MuM was created with a cutting-edge blend of stop-motion animation, computer-generated images, and "in-camera" effects. The haunting score was composed by Jasper Randall.

Credits
Writer, Producer and Director: Nicholas Peterson
Animator: David J. Candelaria
Composer: Jasper Randall


Honors
Best Animated Short, YAHOO! Online Film Festival
Best Undergraduate Short Film, Hamptons International Film Festival
Grand Prize, Student Sections, Matita International Animated Film Festival, Italy
2nd Place Animation, Student Emmy Awards
Finalist, Santa Monica Film Fest MOXIE Awards


Festival Screenings
2000 Sundance Film Festival
YAHOO! Online Film Festival
World Animation Celebration
Los Angeles Independent Film Festival
Florida Film Festival
California Sun Animation Festival
South by Southwest Film Festival
International Kurtzfestival Cineart, Hamburg, Germany
Long Island Film Festival, New York
Stony Brook Film Festival
Nashville Independent Film Festival, Tennessee
USA Film Fest, Texas
Atlanta Film and Video Festival
Johns Hopkins Film Festival
Santa Monica Film Festival
Canyonlands Film Festival
California Institute of the Arts Experimental Animation Showcase, Los Angeles
Hamptons International Film Festival
Weekly Alibi Film Festival, Albuquerque
Palm Springs International Film Festival
Matita International Animated Film Festival, Italy
Student Animation Festival of Ottawa
Sensory Perceptions Film Festival, Portland
Animac 99, Spain
Interfilm Berlin Festival
Cinema Jove Festival, Spain
Anima Mundi Fest, Brasil
Da Vinci Film Festival, Portland Oregon
Filmfest Hamburg
Macau Urban Council Celebration
International Kurtz Fest in Hamburg
Bumbershoot One Reel Fest
Rhode Island International Film Festival
Bilbao Film Fest, Spain
---
Web page created 27 September 2003.