Return to Director Profiles




Kels Goodman
Feature Film Director
Links

Biography
20 May 2001 - Virginia-born Kels Goodman, the director of the upcoming historical epic Handcart, may be best known to movie audiences for his $30,000 independent film "Yankee 2 Kilo," a romantic comedy about Y2K paranoia. This low budget film has been screened for audiences in Orem at the SCERA theater, and is available on video. It starred Utah television personality Scott Christopher and was written, directed and produced by Goodman.
Before directing his own full-length feature films, Goodman gained experience working on feature film sets in a variety of positions. He worked in the art or lighting departments on such films as MGM's Species (1994), A Home of Our Own starring Kathy Bates and Sarah Schaub (1993), and CBS' President's Child (1992).
Goodman's camera work on Mundo Milagroso (1995), a documentary about Hispanic religious shrines, garnered artistic awards around the country. Mundo was directed by Monica Delgado and produced by Michael Van Wagenen.
Goodman's documentary Audrey Smilley: The Life of a Struggling Band (1990) has been called "a fascinating, if somewhat depressing, look" at the pre-California period of the alternative rock band Audrey Smilley, which launched the unobtrusive musical career of Craig Moore.
In addition to feature film and documentary work, Goodman has also directed commercials and music videos. He was the producer/director of a "Chris Cannon For Congress" television ad (Cannon won the election, by the way), the "Denim & Diamonds" commercial, and Jeff Jewkes music video. Goodman was also the producer of Missy (1990), Paul Green's low-budget science fiction drama.
In 2001 Goodman was the Director of Photography (cinematographer) for "He Took My Licking." The short film (available now on video) was produced and directed by Michael Mills, based on screenwriter Elizabeth Hansen's adaptation of the popular short story. As Director of Photography, Goodman has also worked on television commercials, such as the Utah Community Credit Union spots which feature BYU football coach Gary Crowton (2001).
The cinematic seeds for Handcart were sewn while Goodman was working as the camera operator for producer Kevin Mitchell, shooting footage for a 13-episode television documentary called "Legacy West", about the 1997 reenactment of the Latter-day Saint pioneer trek. Goodman directed dramatic vignettes of the wagon trains and handcarts, based on actual accounts from pioneer journals.
With his announcement of a full-scale feature film about the Martin handcart company, Goodman has generated both excitement and controversy. With his experience as both a director and a cameraman, along with a historical backdrop dear to many, Goodman has generated considerable anticipation for his newest film project.
In December 2001 Kels Goodman's began his own official website: KelsGoodman.com. The brief biographical sketch posted there notes that Goodman was born in Richmond, Virginia and moved to south Texas (near South Padre Island) at the age of ten. Soon thereafter he saw "Star Wars" and began his own making short films. Goodman graduated from high school in 1985, studied film at Brigham Young University (BYU) and has worked as a freelance filmmaker since 1990. He lives in Orem with his wife and children. His filmmaking influences are listed as Lucas and Spielburg, but also "Rock n Roll... Rush, The Police, The Cars, REO Speedwagon, STYX and others."


Feature Films
Handcart (2002) - story writer; director
Yankee 2 Kilo, A Comedy ("Y2K"; 2000) - screenwriter / producer / director
Missy (2000) - producer

Selected Documentary Filmography
Legacy West (1997; documentary TV series) - cinematographer / segment director
Mundo Milagroso (1995; documentary) - cinematographer
Audrey Smilley: The Life of a Struggling Band (1990; documentary) - writer/director

Selected Short Films
He Took My Licking (2001; video/drama) - cinematographer
---
Newspaper Article:
"Local Films Shown Free at Orem Theater"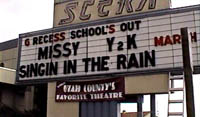 By: Eric D. Snider
Date: 1 March 2001
Newspaper URL: http://www.harktheherald.com/article.php?sid=5249
Other URL: http://www.angelfire.com/indie/shinebox/Page_NewsArtical.html

OREM -- Utahns aren't just well-versed in going to the movies -- some are actuallmaking them.

Two films written and produced by Utah County residents will premiere today at Orem's SCERA theatre. Admission to both films is free.

"Missy" is a science-fiction drama in which two men stuck on a spaceship go stir crazy. "Yankee 2 Kilo" is a comedy about two men fighting over one woman while all three suffer from Y2K paranoia in a bunker.

Kels Goodman, 33, who produces commercials and promotional videos for a living, is behind the double-feature. He produced, wrote and directed "Yankee 2 Kilo," expanding on a short film he made a year ago. He is also executive producer of "Missy," lending equipment and expertise to the teens who made that film.

The connection between the two films came as a result of "Star Wars."

Goodman was editing his short film, "Y2K," when people began lining up at the Wynnsong Theatre for "Stars Wars: Episode I - The Phantom Menace" in April 1999. Bryan Young, co-creator of "Missy," gained local fame for being first in line, camping out for a month in front of the theater.

"I met him and became second in line," Goodman said. "I couldn't stand in line the whole time, so the deal was if he'd watch my tent, I'd help him make his movie."

Young, now 20 wrote, directed and produced the film with high-school friend Elias Pate.

Another acquaintance, Paul Green, came on as cinematographer.

"Missy," which Young describes as "a mix between 'Of Mice and Men' and 'The Outer Limits," takes place entirely on a spaceship. This was for financial reasons as much as artistic ones.

"We knew we wanted to make a movie, and we wanted to make it as economically as possible," Young said. "We decided it would be on one set, and it would be asset we could build."

Young and Pate fleshed out a story Young had written in high school, while also building the spaceship-interior set in Young's back yard in Orem. It took about six months to build the set, as the boys, had to raise funds along the way. (Young estimates they spent around $5,000 on the film, which would have been a lot more if not for Goodman lending them equipment.)

Actors Jaelan Petrie and Junior Case were on hand for two weeks of filing, which took place a year ago. Shooting was finished in the nick of time, as the city of Orem declared the set an "illegal structure," according to Young, and ordered the boys to tear it down.

"Yankee 2 Kilo," meanwhile, stars KJZZ-TV personality Scott Christopher, Lisa D. Deml and James Claflin and was shot in Eureka.

The shorter version had a video release that "didn't fare too well," Goodman said. "I shot another 30 minutes and re-edited the whole film. I'm glad it didn't do very well, because now I have a chance to resurrect it and try to improve it."

Goodman's next project is called "Handcart," about the ill-fated Martin Handcart Company. While "Yankee 2 Kilo" had a budget of $30,000, he's aiming for $300,000 for "Handcart" - the same amount Richard Dutcher used to make "God's Army," which Goodman is looking to as a business model. He is currently seeking investors for the film, which he hopes to release in theaters on July 24, 2002.

Young and Pate are also looking for backers for their next project, called "Infidelity."
---
Photo of Goodman by Dan Lund, The Daily Herald.
Photo of marquee stolen from Shinebox Motion Pictures.
Web page created 10 September 2001. Last modified 10 June 2002.