Return to Director Profiles



Glenn Kau
Writer/Producer/Director at BYU-Hawaii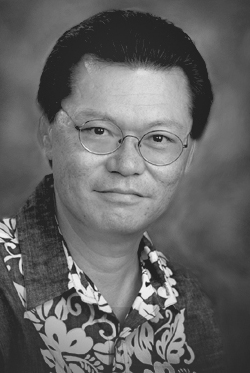 LDSFilm.com - Glenn Kau has made a slew of feature-length films that you've probably never seen, and probably never even heard of. Thrillers. Romance. Action. Martial arts. Horror. Mystery. More genres that you can shake a stick at. Who is this guy?
Glenn Kau works in the sound and lighting department as the lighting and movie manager and advisor of the BYU-Hawaii's student film club. The club was previously called the Focus Film Club, and is currently called Focus 2000. Kau has been at BYU-Hawaii -- and has been the faculty advisor for the film club -- since 1979.
Kau's listing in the faculty directory simply reads "lighting." This doesn't begin to describe what he does. Every semester Kau writes, produces and directs a film with a cast and crew made up entirely of BYU-Hawaii students.
Kau's films are funded entirely by the sales of tickets sold when the shows are shown on campus. So, no, they're not big budget, and because they are cast entirely with students, they feature relatively young, inexperienced actors. But the screenings are a popular event at the campus. The movies are even seriously reviewed in student newspaper.
Kau films are typically about an hour long -- technically feature-length, but not so long as to be tedious. "After Twilight, Before Dawn" was an X-Files like thriller about vampires -- set (naturally) in Hawaii. "A Dangerous Game" is "a cross between 'The Matrix' and 'Groundhog's Day.'" A film featuring two stories, "iloveyou.com," is a romantic comedy for the Internet age. "Access Denied" is a spoof of spy films. "The Waking Hour" is a Hitchcockian ghost thriller filmed in black and white. "Reflections of Eve" is a Hitchcockian thriller about a young woman with recurring dreams about living another life. The "The Uninvited" is a Hitchcockian thriller with a plot similar to... Well, you get the idea.
You can see some trailers for Glenn Kau films on the film club's website at:
http://www.byuh.edu/studentlife/clubs/focusfilm
>From the trailers and clips one can tell these were films made by college students... But they look pretty good. Kau has cast some clearly talented actors in lead roles. I'd buy a "Glenn Kau DVD collection" if such a thing was available. I might even watch it.
BYU-Hawaii's sister campus in Provo has a full-fledged film school that funds and produces a lot of good films. Serious, earnest stuff. Access to top-quality professional equipment. But Provo students might feel some pangs of jealousy if they saw some of Glenn Kau's films. "BYU-Provo" has nothing on BYU-Hawaii in the "pure fun" department. Kau films feature a surprising level of hand-to-hand combat, all-out parodies, and genre-embracing homage.
And then there's the beach. Utah County might have been able to make "Footloose." But "Blue Crush" (2002; starring Michelle Rodriguez) was filmed near BYU-Hawaii. BYU-Hawaii students even participated in the making of "Surf Girls" as crew members and extras. (While it was being filmed, its title was "Surf Girls.")
This has nothing to do with Glenn Kau, really. Except that he films his movies on the same beaches.
---
Focus Films releases thriller:
'After Twilight, Before Dawn'
By: Leslie Blodgett
Date: 18 April 2001
Source: Ke Alaka'i - The Leader (BYU-Hawaii)
URL: http://www.byuh.edu/kealakai/archives/spring01/April18/film.html

After several months of hard work, Glenn Kau and his cast have another movie to show off to the rest of the campus. According to Kau, the director of the new campus movie "After Twilight, Before Dawn," "We wanted to do something completely different from 'Dear Jane,' which we did last semester."

Kau works in the sound and lighting department as the lighting and movie manager and advisor of the Focus Film club. He has been at BYU-Hawaii since 1979.

The new movie was indeed opposite from their most recent feature. "After Twilight, Before Dawn" is a thriller about vampires that takes place in Hawaii.

It is about two FBI agents on the trail of a serial killer. Max Cooper, played by junior TESOL major Paul Morley from Utah, is the prime suspect.

This is Morley's first movie. He has previously been involved in campus plays, and said "Movie-making is a lot different from plays. I liked it a lot and had fun, and learned a lot about making movies."

The movie relied a lot on special effects. It was shot in black and white, and used a lot of creative photography.

The musical score added a lot to the suspense. Different angles were used to make the film artsy and unique. Much of the film is done in flashback form, requiring the audience to piece the story together.

Todd Chenn, a junior business major from Hong Kong, enjoyed the movie.

"It has everything from the X-files, plus a little bit of comedy," he said.

Jonas Mohican and Cody Easterbrook provided comic relief as the local police duo Jarvis and Kaminsky.

Ryan Adcox, a senior social work major from California, is the assistant director of the movie and the president of the club. Both he and Kau made appearances in the movie.

"It took a lot of patience," he said. "Making a movie like this requires a lot of work from a lot of different people. Everyone was very cooperative."

This is Adcox's sixth movie, and his second thriller.

"I just have fun," he says. "That's why I do it. It's a break from the regular school routine."
---
REVIEW: Latest Kau movie is dangerous by design
By: Jesse Palmer
Date: 16 January 2002
Source: Ke Alaka'i - The Leader (BYU-Hawaii)
URL: http://www.byuh.edu/kealakai/archives/Winter%202002/Jan%2016/kau%20movie.html

The most recent Glenn Kau movie, "A Dangerous Game" is in a long and familiar cinematic tradition. In what turns out to be a cross between "The Matrix" and "Groundhog's Day," insomniac accountant James Norton (Paul Morley) meets a voluptuous vixen, Andrea (Sandra Clawson) on his midnight rambles. Andrea introduces him to a CD entitled, "A Dangerous Game," which she promises will help him sleep at night. James tries it out the next night and wakes up to find himself in an action movie. Special agent Ling (Jennifer Sum) gives him instructions and bails him out of tight spots.

Some of the finest moments of the movie come when James, a normal, boring guy, learns the ropes of his new high-adventure job. His hesitant bravado towards the new game is infectious. The reason why these scenes work so well and are so believable is that this is exactly the same role all BYU-Hawaii students in Kau's movies find themselves in -- normal people playing glamorous, sexy and dangerous characters. Thus what might have been a shortcoming of other Kau films, is worked into the plot in this movie and becomes its major strength. The games are quick moving and action packed with all the kung fu fighting you could ask for.

Chris Lowe, who has been in five Kau films, said that "A Dangerous Game" is "well filmed" and "probably the best action movie" so far. Kau describes it as "lighter" with "only one actual killing" on screen. The movie meets every expectation of the genre: cheesy fight scenes, ample suspense, slow-motion shots of the hot girl in your history class, hilarious outtakes, and an amusing way to spend some time on the weekend (not to mention the tight leather clothes).

As the movie progresses, James becomes increasingly confident and familiar with his role and really starts to kick some butt -- a transformation that is fun to observe. However, as characters from James' normal life appear in the movie, the line between the game and reality becomes blurred until in the end it is no longer clear where one begins and the other ends.

Incidentally, although Morley insists he was coerced into wearing the tight leather pants (which Kau verifies), by the end it looks like he kind of enjoys it. The same is probably true for all the actors. Although they probably approached their roles with some trepidation and embarrassment, by the end it is obvious they are really enjoying the acting, camaraderie, and fun of the whole process. They are also letting everyone else have some fun at their expense, a noble gesture. If you missed the movie, you missed out. Go see the next one, or better yet, audition. After all, you might get to wear the leather pants. This movie gets an: A
---
Encore!
Division of Fine Arts all set to razzle and dazzle Fall Semester
By: Keri Gunter
Date: 24 September 1997
Source: Ke Alaka'i - The Leader (BYU-Hawaii)
URL: http://www.byuh.edu/kealakai/archives/fall97/sept24/encore.html

[EXCERPT]

With a play, a student film and 12 musical performances in the making, the Division of Fine Arts is preparing for a whirlwind of a semester. The addition of a piano pedagogy (piano teaching) degree last year has attracted many talented pianists to the school, piano pedagogy major Sheri Hansen said...

Focus Filmmakers begins shooting "iloveyou.com" this week. This film, similar to "Just Kiss Me" from last Fall, was written by Glenn Kau and features two separate romantic comedies, "Love Bytes" and "Love Online."

"I'm really excited," said Shannon Hansen, who plays the lead role Annie in "Love Online," "I've never been on film before and I'm kind of nervous. I'm hoping people will like it."

The plot is about people who look for love on the internet and contains "some really funny parts," Hansen said.
---
Access to action
BYUH actors show their stuff
By: Pamela Hall
Date: 6 September 2000
Source: Ke Alaka'i - The Leader (BYU-Hawaii)
URL: http://www.byuh.edu/kealakai/archives/fall%2000/Sept6/actors.html

The new Glenn Kau film, made by BYU-Hawaii students during spring and summer, will be playing on campus Friday at 9:30 p.m. in the Little Theater and on Saturday at 7:30 and 9:30 p.m. in the Cannon Activities Center. Tickets are available at the Aloha Center for $1, or at the door for $1.50.

A spoof on the typical espionage genre, "Access Denied" is about a trap that the CIA sets to catch a mole in the department. BYUH Focus Film Club director and writer/director of the film, Glenn Kau, said, as with most comedies, this film was fun to make.

Darren Burnett, one of the main characters, said it was "really cool" getting a chance to work on "Access Denied." There are a lot of different characters throughout the film and though some of their appearances are brief, many are quite memorable.

Kau said one of the unique things about this comedy/action movie is that it was filmed all over the island. From the BYUH campus to Waikiki, and even to ASBYUH Director Sandra Sagisi's home. The many different cultural backgrounds of the actors, including New Zealand, Hawaii and the U.S. Mainland, made the filming process more interesting.

There will be tryouts for the upcoming campus movie "Dear Jane" on September 6, 13 and 14. Students can sign up in the Sound and Lighting office in the CAC's "W" section.
---
'Night Falls on Eden'
BYUH Focus Film to premiere new movie
By: Ha'aheo Terukina
Date: 14 April 1999
Source: Ke Alaka'i - The Leader (BYU-Hawaii)
URL: http://www.byuh.edu/kealakai/archives/winter99/apr14/night.html

This semester's campus film is "Night Falls on Eden," a romantic love story designed to keep the audience in suspense.

The story was written by adviser and director, Glenn Kau, at the end of fall semester after the fall production of "Uninvited." After a month of working on the story, it was ready for production.

Kau said tryouts and auditions were in January. With a cast of 17, filming started in January. Kau said they will be finished shooting a few weeks prior to the premiere.

"I had no previous acting experience," said Sina Tafua, a freshman from Washington, acting as Detective Brown in the film. "At tryouts, Kau said to just act natural. Tryouts was nerve-racking. I went back. I made it because Kau thought I looked real."

"Night Falls on Eden" is about a businessman, played by BYUH student Neil Annandale, who plans to get married to Eden, played by BYUH student Emily Adams. Eden mysteriously disappears before the wedding. To find out what happens, check out the movie on April 16 at 9:45 p.m. and April 17 at 6:30 and 9:45 p.m. in the auditorium.

Tafua said they filmed for three hours a day, two days a week. "The actors are fun to work with. They're crazy people. It's funny because the cast is funny so it may be seen as a comedy, instead of what it was intended to be," Tafua said.

Admission prices are $1 for tickets purchased in advance or $1.50 at the door. Kau said the only finances for this production were from donations. Each of the tickets sold will be used for the next production.

"Everyone is doing good with pretty busy schedules. We have a big cast with a lot of good actors," Kau said.

The students in the film are part of the Focus Film Club. Directed by Kau, students make a production every semester.

According to Kau, the club is the only one that makes an activity to show to the rest of the campus. Because of the short spring and summer terms, the club will record a film during both terms and show it in Fall 1999. It will be an action and spy film.
---
Wide awake
Focus 2000 latest production is "The Waking Hour"
By: Loren Crisler
Date: 12 April 2000
Source: Ke Alaka'i - The Leader (BYU-Hawaii)
URL: http://www.byuh.edu/kealakai/archives/winter00/april12/wide.html

On April 14 and 15, Focus 2000 (formerly the Focus Film club) will show its new film, a ghost thriller called "The Waking Hour." Three months in production and directed by Glenn Kau, the film stars Kristen Woodworth as defense attorney Nichole Walker. Also starring are Christina Ramos and Richard Lee Fale, who appear along with an extensive supporting cast.

The film's story revolves around the fictitious Woodland Theater Ghost urban legend. In response to the deaths of four friends at the infamous theater, character Josh (Fale) is arrested and charged with murder. The ensuing plot deals with the investigation by Walker and Catherine (Ramos) of Josh's alleged involvement in the deaths. In order to determine Josh's guilt or innocence, the ominous Woodland Theater itself is explored. The rest of the story remains an anticipated secret until the screening.

"The Waking Hour" is a marked departure from Focus 2000's last movie, "Dreaming of You." The film will be a dark, high paced suspense thriller in the Hitchcock tradition of implied menace and gore.

"The filming was done in old fashioned style black and white, enhanced with modern and experimental filming techniques and angles," said Kau. "We're doing things movies would never do with our photography. I'm really excited about the it." Kau supervised all areas of production, assisted by Ryan Adcox and Jill Jackson.

The actors are all volunteer and have donated a large portion of their semesters to the movie's filming. Woodworth said, "It was fun, a great experience, something I'd do again. I got a chance to really become closer to the other actors, especially Christina."

By producing original films, Focus 2000 offers interested students the chance to encounter and explore film acting. Supporting cast member Emily Jensen said, "It was a good experience if you want to do any more acting. [The film] offered a chance to learn to work with a director and deadlines."

This spring and summer, Focus 2000 will begin work on their next feature, a techno-action movie tentatively entitled "Access Denied." Auditions will be in early spring and those interested should contact Kau at the Sound and Lighting office.
---
'Dear Jane'
A randomly romantic tale
By: Megan Gooch
Date: 17 January 2001
Source: Ke Alaka'i - The Leader (BYU-Hawaii)
URL: http://www.byuh.edu/kealakai/archives/winter%2001/Jan17/DearJane.html

The Focus 2000 winter movie, "Dear Jane," was released Friday and played through Saturday.

The movie, directed by Glenn Kau, starred Brandy Bush, Caroline Schmidt, Jonathon Young and Isaac Neff in a self-proclaimed, "bewitching production." The plot centers around a young college student whose life has deteriorated following the receipt of a "Dear Jane" letter from her boyfriend ending their relationship. In the classic female reaction to the letter, she blames herself, goes ballistic and tries new methods to change her life. In addition to her breakup with the boyfriend, the rest of her world seems to crumble beneath her. Her situation is magnified by the "witches" at school who seem to only want to destroy her life. She is having the classic hard time (as seen in most films of this genre). She then gets a chance to change her life. After taking this chance, she learns the cliche lesson of not taking what you have for granted, the grass is not always greener on the other side, you're special because you're you, etc.

Some students appreciated the story line because they were able to draw a positive lesson from the material. Student Leilani Szekel said, "The story kind of reflects real life because some people want to be other people, but hopefully they realize that it's okay to be themselves and that people like them for who they are."

The cinematography was probably one of the best things about the movie. The camera angles added to the mood of the scene, which was good because something was definitely needed to create the mood in most of the scenes.

The movie was entertaining and brought in big crowds during its showing. This may have been because many students came to see their friends in action. Student Laura Calkins said, "It's funnier because you know all the people in the movie." Only students who attended BYUH last semester participated in the making of the film. The film was produced and directed primarily by students, and only BYUH students starred in the film.
---
Welcome 'The Uninvited'
Fall Focus Film to bring thrills and chills
By: Rebecca Tucci
Date: 2 September 1998
Source: Ke Alaka'i - The Leader (BYU-Hawaii)
URL: http://www.byuh.edu/kealakai/archives/fall98/sept2/welcome.html

The Focus Film Club's new movie, "The Uninvited," is set to be a very welcome edition this fall to their list of campus films.

The film will be in the tradition of "Scream" and "I Know What You Did Last Summer," according to Glenn Kau, the producer and director of the film and head of sound and lighting at BYU-Hawaii.

"I thought we would go with the current trend of films," Kau said. The film club's president, Patria Lee, star of last year's film, "Control," came up with the idea for the film.

"I think this semester's film is going to be exciting and more complex than last year's film - more scary," Lee said.

"It will be a thriller in the tradition of a Hitchcock film," Kau said.

Taking a slice out of the plot from "Scream," the film will take a look at a group of friends in their teens who get into some danger when a game turns against them.

Opportunities for budding actors will be in abundance when auditions come around as more leading parts will be available this year. There will be three female and two male leads to make up the group of five friends. Kau said he is fairly open to new ideas when looking for actors.

"I don't just choose actors who major in theater or drama, which you can see in my past films," Kau said.

However, he, like the big Hollywood producers, will generally stick with an actor that students like to see. Kau's willingness to explore other avenues of actors has been problematic. "Sometimes you cast someone and they end up flaking out on you," he said. When this happens, Kau said he tends to alter the script to revolve more around the stronger actors.

Filming will begin in October and will go through November, when "screaming will begin," Kau said. Auditions for parts will begin next week.

Take it from the Focus Film Club president: "It's going to be a good film," Lee said.
---
BYUH student shares talent through screen and service
Ryan Adcox just wants to play his part well
By: Nathan Wada
Date: 21 November 2001
Source: Ke Alaka'i - The Leader (BYU-Hawaii)
URL: http://www.byuh.edu/kealakai/archives/fall01/Dec5/play.html

While Ryan Adcox may be best known for his role in the production of campus films, his true passion is studying his major of social work.

"I'm a people person; I love helping people," Adcox said. "My dream is to make the world a better place for everyone, to help as many people that need help to help themselves."

"I think I'm going into child welfare, because childhood is where people start to shape their lives," he said.

Adcox has been a member of the Focus Films Club for 2 1/2 years and is now the president of the club and assistant to director/producer Glenn Kau. He's participated in the making of the films, "Escape," "Dreaming of You," "The Waking Hour," "Access Denied," "Dear Jane," "After Twilight, Before Dawn," "Reflections of Eve," and is currently working on the production of "A Dangerous Game."

"I've been interested in acting ever since I was a kid," Adcox said. "I've always wanted to be in movies, plays, etc."

He was in five plays at University High School in Los Angeles, then helped out for a year and a half in the theatre department at Crafton Hills College in Yucaipa, Calif.

However, Adcox's heart is still into social work more than the dramatic arts. "If opportunity arises in the future I'll probably help out in filmmaking or theatrical productions, but I'm more interested in pursuing my major," he said.

Adcox enjoys playing the harmonica and writing and reading poetry. He will read a poem he wrote at the BYU-Hawaii 1st Stake fireside on Sunday at 7:30 p.m. in the Cannon Activities Center. He served his mission in the South Africa, Capetown Mission.

"My time here has been made worthwhile by the people that I've associated with, namely Glenn Kau, Dr. Vakalahi, Derrik Tollefson and Debbie Hippolite Wright," Adcox said.
---
Student films
Students try their luck at becoming the next Spielberg
By: Laurel Schroeder
Date: 15 September 1999
Source: Ke Alaka'i - The Leader (BYU-Hawaii)
URL: http://www.byuh.edu/kealakai/archives/fall99/sept15/films.html

It's a calm mid-semester Friday night and you find yourself bored here in the booming metropolis of Laie.

You grab a handful of change from your dresser and head over to the auditorium. You fork over your $1 and take a seat in the squeaky auditorium seats among fellow students. The lights dim (OK, so they just plain turn off) and some freshman from the back makes a loud whimper for all to laugh at. "Oh how clever I am," he thinks, "I pretended to be scared when the lights turned out. I'm so funny!"

The screen suddenly lights up with dancing graphics and catchy music. You hunker down into your seat and begin the viewing process, excited to see the twisted tales of woe and triumph that are sure to unfold as the plot thickens.

You notice soon, however, that the stars look a lot less like Tom Cruise and a lot more like those two guys from your math class. And wait, isn't that busy New York City police station really GCB 185? The clues start to come together and you suddenly realize that this is yet another student film.

1999 is the 20-year anniversary of the Focus Film Club here on campus. Glenn Kau &emdash; who has spearheaded the club since since it started &emdash; said that this semester's auditions for the next student film had the highest turnout ever. "We showed a movie at the beginning of the semester. I think that interested people," he said.

"Dream Girl" is the next feat for Kau and he will begin filming in October. The romantic comedy should be ready for its very own Friday-night auditorium-premier in January.

Eager for a part in a movie? Perhaps you too dream of the high-profile lifestyle of a campus film star. (OK, so you'd settle for someone in your biology class pointing at you and saying, "Hey, weren't you that one guy ... You know, in that one movie?")

Kau said that the club is full now and the cast list for "Dream Girl" was finalized late last week. The next student film, however, will have open-to-all auditions just like the previous films.

And why are student films so fun to make? "Some people are too nervous to do the live play thing. Films are fun because they're not as serious. It's a social thing; everyone gets together and has fun," said Kau.

Fun and a sense of accomplishment are about all students can expect to get out of student film participation: all roles are voluntary, not paid. "We're doing it all out of love. There's no class credit, there are no scholarships," Kau said.

The films that Kau and Focus Film Club makes are funded only by the ticket sales here on campus. "We just make back what we spend. We're not after making money, just making movies," Kau said. "I would charge $10 a ticket because it's a lot of work. But then no one would come."

It seems the hardest part of making student films here at BYUH is the problem of funding and access to good equipment. Joe Curdy, a junior majoring in English, has also been involved with student films. He's been involved with various projects with Kau and the Focus Film Club, but has also enjoyed doing independent films. "The Painted Devil" awed audiences earlier this semester and was a good example of an independently-made student film. "It's great to see different styles of movies," Kau said of films made outside of his club's realm. "It's much more fun to watch another's film that to always watch your own," Kau said.

"I'd like to see a film program here. I know it costs a lot of money but we've got a film studio," Curdy said.

That's right folks, BYUH does have quite the studio here on campus. It is complete with editing equipment and stocked with the sweet cameras we all see hard at work during the devotionals. That's about all it is used for these days.

"We're fascinated by movies. I can't believe we don't offer it here," Curdy said. Kau echoed the same sentiment about how the campus could benefit from a film program. While we may not have the resources for a major, an introductory class would at least be something, Curdy says. "It would be a great curriculum to start a film class with the studio that we have. We could really do it at like no cost," Curdy said.

Even a film-criticism class using the auditorium screen to show classic movies would be better than nothing, Curdy said. "It's sad: there's really no place for students to go. If they want to do something they have to do it on their own," said Curdy.

On his own is exactly how Curdy has gone about most of his filmmaking here on campus. Mike Winget, also a BYUH student, and Curdy have started a webpage for their new multimedia production company, "Auma Kua." Students can visit it at www.aumakua.8m.com and see what a little experience and a lot of creativity in the film world can do.

Student films will hopefully always been a part of life here at BYUH. Both Curdy and Kau would love to see more student involvement altogether. Future interest growth may be just what this campus needs to get a film program in place. In the meantime, look forward to those calm Friday nights in Laie when a little time and a buck go a long way.
---
'Reflections of Eve'
A combination of Hitchcock and 'Parent Trap'
By: Rachel Cone
Date: 12 September 2001
Source: Ke Alaka'i - The Leader (BYU-Hawaii)
URL: http://www.byuh.edu/kealakai/archives/fall01/Sept%2019/eve.html

The campus movie "Reflections of Eve" had its debut Friday and Saturday night. Although the new McKay auditorium wasn't crowded, the movie provided for an entertaining weekend activity.

A Hitchcock-type thriller with "Parent Trap" camera effects, the hour-long production held the attention of the audience. Main character Eve Lake, played by Hanim Christensen Sappington, is a young photographer living in Hawaii. She keeps having flashbacks and recurring dreams where she sees herself leading another life or she envisions someone who looks exactly like her. She confides in her best friend Bridget, played by Jennifer Sum, who suggests that she go see a psychiatrist. Reluctantly, Eve finally consents and agrees to visit Dr. Mcguire, played by Jonas Sappington, about her dreams and explains her feelings. She also tells him that strangers she meets sometimes mistake her for a girl named Elizabeth. Shortly after her visit with the psychiatrist she dreams that Dr. McGuire and Elizabeth are conspiring against her. In order to make some sense of it all, Eve and Bridget go search for the records of her mother and find she does have a twin, who of course is the infamous Elisabeth.

FBI agents approach Dr. McGuire and interrogate him about "The Black Widow," aka Elizabeth. "The Black Widow" is known to marry rich men then murder them shortly after their union. Dr. McGuire refuses to give them any information on account that he cannot divulge any information about his patients.

Meanwhile, after getting a strange feeling and pounding headache during a photo shoot on the beach, Eve takes a break and wanders into this house where she finds picture frames of her twin with the man that has appeared in some of Eve's dreams. After a close call of getting caught by Elizabeth, Eve drags Bridget back to this house to show her the discovery. They sneak back in only to find the man in the pictures dead on the floor lying next to a bottle of spilled pills. Too panicked to call the police, they run to a hotel room to decide what to do. As Eve is pacing the floor Bridget suspiciously suggests that she take some medicine to ease her stress and Eve falls to the ground from the effects of the drug.

Here's where the action picks up. Eve is taken to a house where McGuire and Elizabeth are discussing their plans to frame Eve as the Black Widow. Using excellent "Parent Trap" doubling skills and pretty believable camera work, the story is resolved in a thrilling twist.

If you didn't get a chance to make the flick it will be aired again on the BYUH channel near the end of October.

For a good laugh be sure to view the outtakes at the end that give you an inside view to the making of the film.

Writer and director Glenn Kau said of the production, "It's a lot of fun, but it takes a lot of work too."
---
Dangerous Game 2:
The Maze
Source: Focus Film Club website, BYU-Hawaii
URL: http://www.byuh.edu/studentlife/clubs/focusfilm/themaze/maze-1.html

Dangerous Game 2:
The Maze

Starring TESA WRATHALL and PAUL MORLEY

The action and adventure continues as James Norton enters the last phase of the Game. He discovers that there is more to it than just a game!!

He then turns the game over to a new player... Allison Ryder. She than enters the world of Danger and intrigue.
---
Abracadabra
Source: Focus Film Club website, BYU-Hawaii
URL: http://byuh.edu/studentlife/clubs/focusfilm/Abracadabra/Abracadabra.html

Abracadabra
A Magical Comedy

Richard Nicoles was a poor homeless guy.. he was going nowhere until one strange night! He recieved a lamp with unusual powers.

Now his life will never be the same!

Starring:

PAUL MORLEY

ALEXIS ANG

CA CE HARDY

BRITTANNY MEAD

AMBERLYNN STROHMEYER

MELISSA MOURITSEN

HEIDI PERKINS

The adventure starts in September! [2002]

more info....

[Extensive photos from the film are featured on further pages, starting with: http://www.byuh.edu/studentlife/clubs/focusfilm/Abracadabra/photpage.html]
---
---
Web page created 26 March 2002. Last modified 18 December 2002.