Return to Director Profiles



Gary Christensen
animation director

Filmography: Director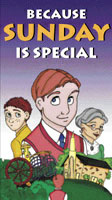 Source: UVSC Students Release their First Animated Video, Covenant Communications official website:
AMERICAN FORK, UTAH (November 28, 2001) - Armed with only an idea, four students from the Utah Valley State College Multimedia department gathered in a basement and began to visualize the story of a seven-year-old boy presented with a conflict about what to do on Sunday.

The 20-minute video, Because Sunday is Special, is the fulfillment of a dream for Gary Christensen, Producer/Director; Mark Harper, Audio Specialist; Evan Ehat, Animator; and Kevin Harris, Screenplay Writer/Animator. "Everyone in every responsibility-from voice talent to audio editing, score composing to digital painting had never done their job professionally," said Christensen. "This production is the story of beginners, stretching their wings and taking their first flight."

After gathering a local cast of four children ages 4 through 9, the three-month process of animation began. "We used a technique called 'Flat 3D' where still drawings of characters, objects, and backgrounds are drawn, colored digitally and then brought into a computer program," said Ehat.

Despite several obstacles along the way, the students are proud of their efforts. "There were people who said what we were trying to do could never be done, but we kept going because we believed in the project," said Christensen.

Their persistence paid off, as they were able to see the impact their video has on children during a special screening at the Scera Theater in November. "We wanted to teach children about the importance of keeping the Sabbath holy even when it is difficult," said Harris. "When we saw that kids seemed to get the message, we knew we had hit our mark."
---
New book, video tell why Sunday is special
By: Laurie Willims Sowby
Source: Utah County Journal
Date: 11 January 2002
URL: http://www.ucjournal.com/ucjournal/pagespeed/url/News/story/455008

(Jan. 11) -- What's so special about Sunday? That's the question Covenant Communications, Inc., has set out to answer with two new products by different authors.

In the cardboard book "Sunday is a Special Day," Tamara Beckstrand explains how "Sunday is like no other day of the week," alluding to the Creation and how Heavenly Father and Jesus rested on the seventh day.

While ordinary, everyday activities may not be appropriate for Sunday, she explains, there are many things that are, such as fasting, visiting the lonely or sick, attending church, and spending time with family. The emphasis is on the positive here.

Val Chadwick Bagley's whimsical, colorful drawings illustrate each page of this small and sturdy 30-page book ($9.95).

Similar ideas about how to spend the Sabbath are found in the video "Because Sunday is Special." The 20-minute color animation tells the story of a boy who must decide between what he WANTS to do and what he knows he SHOULD do on Sunday.

The video ($12.95) features a nicely orchestrated original score by Marshall McDonald. The video is appropriate as a visual aid for children's lessons about the Sabbath Day or as a discussion-starter in a family setting.

Web page created 17 December 2001. Last modified 11 January 2002.