- Go to: Male Actors page -


Actresses
Photos and Brief Biographical Info
A.J. Cook


Birth name: Andrea Joy Cook
Date of birth: 22 July 1978
Born: Oshawa, Ontario, Canada

Cook's best-known film role was "Mary Lisbon", in "Virgin Suicides" (1999), a film which grossed less than $5 million domestically at the box office, but which received some buzz because it was directed by Sofia Coppola, the daughter of the legendary Francis Ford Coppola.

Cook is also well known for playing "Shelby Merrick" in the 2000 TV series "Higher Ground". Cook was mentioned in newspapers worldwide for being the first cast member on the series to find out the BIG news that her fellow castmember Hayden Christensen had been cast as Anakin Skywalker in George Lucas' 5th and 6th (or 2nd and 3rd) "Star Wars" films.

Cook played "Lisa" in the made-for-television movie "In His Father's Shoes" (1997), which received 2 Emmy awards and a total of 5 Emmy nominations. Cook has also had the lead role in a string of B horror pics: The House Next Door; Out Cold; Wishmaster 3; Ripper: Letter from Hell and Teen Sorcery, as well as smaller roles in various TV movies and guest roles on TV series.

In a January 2000 interview with Mark Snyder, "Higher Ground" exective producer Joe Lando said of Cook:
I think Shelby who is nothing like A.J., or A.J. is nothing like Shelby in real life is a very straight girl. She's a Mormon. This was a real challenge for her to take this part and she had to talk to her parents about it too because she didn't want them to be upset by the character she's playing, she's very particular about what she picks but I'm glad she did and I think she's a real find too. She's wonderful.
Photo: IMDb
---
Erin Chambers


Date of birth: 24 September 1979
Born: Portland, Oregon
Education: Brigham Young University (Music-Dance-Theatre)

Source: Article by Ariel Cassady, Daily Universe (BYU), 3 June 1999 [URL: http://newsnet.byu.edu/noframes/show_story.cfm?number=10964].
Summarized by Rosemary Pollock for Mormon News [URL: http://www.mormonstoday.com/990606/L2Chambers01.shtml]:
Brigham Young University sophomore, Erin Chambers, has landed the lead role in an upcoming Disney movie, "Don't Look Under the Bed." The Halloween movie will premier in October on the Disney Channel and will have Erin playing an older sister who will help her younger brother deal with a prank-playing boogey man.

Chambers, 19, was chosen for the part through an agent from Eastman Agency of Salt Lake City. Carole Turcotte of Toronto, Ontario negotiated the deal with Disney's freelance casting director. "Erin is just a real person," Turcotte said. "Even if an actor is amazing on camera, directors really appreciate when actors are easy-going when the camera stops rolling."

"One of Chambers' best qualities is her youthful appearance," Turcotte commented. "She is l9, but she can play l5 or l6-year-old parts realistically." Managing school and an acting career has been challenging for Chambers who understands that this is a once-in-a-life-time opportunity. "There have been times when Erin will have to miss class because she has an audition, but she will also miss adutions because she feels she has missed too much school," Turcotte said.

Explaining why Johnson, a freelance casting director hired by Disney, picked her over a Los Angeles actress for the part, Turcott said, "She has a great look, red hair, a great smile." "We hit it off right away. I knew I had to have her, and casting people love her."

"Filming has lasted six weeks and will wrap-up in the next week," Johnson said. "The film will then go into post-production so it will be ready for its October release." "Don't Look Under the Bed" will air in October on the Disney Channel.
In 2002 Erin Chambers landed a role in one of the most high-profile films in Latter-day Saint film history: Richard Dutcher's epic Joseph Smith biopic, "The Prophet." Chambers played the part of Emily, a friend of Joseph and Emma Smith. Chambers has had smaller roles in other films, including "Blast" (2000), "Ricochet River" (1998), "Free Willy 2" (1995) and "The Substitute 3" (1999). She has also done extensive stage work and appeared on the Disney Channel as a presenter.

See also: BYU Student, Erin Chambers, Storms Show Business World, April 2002, by Anne Bradshaw.
---
Laraine Day


Birth name: Laraine Johnson
Date of birth: 13 October 1917
Born: Roosevelt, Utah

Laraine Day is one of just 250 actresses included in the nomination list for the American Film Institute's "100 Years ... 100 Stars" list, and she is one of only four Latter-day Saints on the list.

She had female lead roles opposite dozens of Hollywood's most popular leading men, including Lionel Barrymore, Ronald Reagan, Robert Young, Cary Grant, Gary Cooper, John Wayne, and Kirk Douglas. She received top-billing in many of her nearly 50 films.

During the 1950s she was a host on four different TV series: "Double Play", "I've Got a Secret", "The Laraine Day Show" and "Daydreaming with Laraine".

Acclaimed writer Ray Bradbury wrote his first plays while working for a Latter-day Saint theatre that Laraine Day directed. Bradbury recalls having artistic disagreements with the straight-laced actress, but he has alluded fondly of that period of time in multiple short stories and novels.

Mini-biography from Internet Movie Database:
Born into a prominent Mormon family in Utah, Laraine Day's acting career began after her parents moved to Long Beach, California, where she joined the Long Beach Players. She appeared in her first film in 1937 in a bit part, then did leads in several George O'Brien westerns. Signing a contract with MGM, she achieved popularity playing the part of Nurse Lamont in that studio's "Dr. Kildare" series. An atractive, engaging performer, she had leads in several medium-budget films for various studios, but never achieved major stardom. She was married for 13 years to baseball manager Leo Durocher, and took such an active interest in his career and the sport of baseball in general that she became known as "The First Lady of Baseball."
Photo: Cary Grant's Leading Ladies
---
Rhonda Fleming

Birth name: Marilyn Louis
Date of birth: 10 August 1923
Born: Hollywood, California

The unforgettable Queen of Technicolor, Rhonda Fleming was renowned for her stunning beauty. She was also a talented and trained singer, although few film roles show off this talent. One of her best known films features her singing prominently, opposite co-star Bing Crosby: "A Connecticut Yankee in King Arthur's Court" (1949). As a leading lady she also co-starred with Ronald Reagan, Charlton Heston, Gregory Peck, Kirk Douglas, Burt Lancaster, Dick Powell, Mark Stevens, John Payne, Ricardo Montalban, and Joseph Cotten. She received top-billing in such films as "The Golden Hawk" (1952) and "Those Redheads from Seattle" (1954). She made over fifty films, mostly during the 1940's and 1950's. She also starred in Broadway productions and made guest appearances on television.

From 1977 until his death in 2001, Rhonda Fleming was married to Ted Mann, the founder of Mann Theaters and the owner of the famous Mann's Chinese Theater where the Hollywood "Walk of Stars" is found.

Ms. Fleming became a philanthropist and was busy with a variety of causes after retiring from film roles. In 1991 she and her husband established the Rhonda Fleming Mann Clinic for Comprehensive Care at the UCLA Medical Center. In 1992 she established Rhonda Fleming Mann Resource Center for Women for Cancer. She received the Women's International Center Living Legacy Award in 1995.

Rhonda Fleming is one of just 250 actresses included in the nomination list for the American Film Institute's "100 Years ... 100 Stars" list, and she is one of only four Latter-day Saints on the list.
---
Terry Moore


Birth name: Helen Koford
Date of birth: 7 January 1929
Born: Los Angeles, California

Well. What can one say in a few words to capture the incredible (and often bizarre) life and career of movie star Terry Moore?

She appeared in over 50 Hollywood films, including "Come Back, Little Sheba", for which she received an Academy Award nomination, and the very popular "The Mighty Joe Young", which broke new ground in special effects and was recently remade by Disney. Some of her other well-remembered roles are in "Peyton Place" (1957), "The Return of October" (1948) and "The Great Rupert" (1950).

Moore may be remembered as much for her off-screen life as for her film roles. Her romance and unusual marriage to billionaire industrialist Howard Hughes has been described in books, newspapers, and documentaries, but is best appreciated through her own autobiographical book The Beauty and the Billionaire. This may be one of the most riotously funny, unusual, and genuinely moving books ever written by a Latter-day Saint. It describes the inevitable clash that occurs when Moore (who describes herself throughout as a "devout Mormon") is courted by one of the world's most flamboyant playboys.

Moore also became one of the world's first female jet pilots. She wrote and produced the feature film "Beverly Hills Brats." At one time she rivaled Marilyn Monroe in popularity. Someday Terry Moore herself will no doubt be the subject of a movie. And what a movie it will be!
---
Yuki Saito


Date of Birth: 10 September 1966
Born: Yokohama, Kanagawa, Japan

Yuki Saito (her name is also transliterated frequently as "Saitou Yuki" or "Yuki Saitoh") is one of Japan's most popular actresses, and one of the nation's best known Latter-day Saints. Saito's own life has had its own rather "dramatic" ups and downs, but her Christian commitment is well known. She was even featured in a Church-produced video used by missionaries to introduce people to the Church. In it she discusses her life and simply invites people to listen to the gospel message, to see if it is something that can help them as it helped her.

One of Saito's most memorable acting roles was in "Sukeban Deka", a 1985 live-action television series featuring her in the title role. (In English, the title translates as "High School Superheroine".) With her high-tech yo-yo, Saito went up against mobsters and various villains for 25 episodes. There have been two other series (featuring other stars) and an animated film in the franchise, which was based on a popular manga (comic book) series.

Saito went on to star in other television series including "Dousoukai", "Matta nashi!" and "Tachibana Keiko: Onna jiken kisha."

Saito is also a popular singer. The sang "Shiroi Honno", the theme song to "Sukeban Deka." She also had a top 10 hit with her version of "Yume no Naka e". Saito also sang "Kanashimi yo Konnichiwa" ("Hello Sadness"), the theme song for "Maison Ikkoku Kanashimi yo Konnichiwa", which became one of the most popular anime theme songs ever. Between 1985 and 1995 she released at least fifteen albums.

A recent role in an adult role was in the critically acclaimed "Ah Haru" (English title: "Wait and See"), about a businessman and his neurotic wife (Saito), and what happens when an elderly stranger claims to be the husband's long-lost father. The film was an Official Selection at the 1998 Tokyo International Film Festival and won the FIPRESCI Award for best film in the Panorama Section, at the 1999 Berlin Film Festival. [More.]

For a period of time she made about three movies a year and appeared constantly on various Japanese television shows, gaining a repuation as one of the hardest working Japanese actresses of the 1980s.

As an author, essayist and poet, Saito is the author of many books, including Neko no te mo karitai; Unmei no onna; Shiawase no biburion; Ima dake no hontou; Toumei na mizu; Yuki-teki sekai kanjou ryokou and Soutou no tsuki. She is also the co-author, along with Torey Hayden, of a book for the Japanese market about parenting issues.
---
Sarah Schaub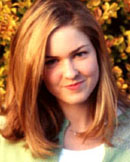 Date of birth: 13 June 1983
Born: Salt Lake City, UT

Sarah Schaub is best known for her role as "Dinah Greene" on the TV series "Promised Land" (1996-1999), which was a spin-off of "Touched by an Angel."

Sarah's first major film role was co-starring as "Katie Andrews" (the little sister) in "In Your Wildest Dreams" (1991), the Feature Films for Families video which was Bruce Neibaur's feature length directorial debut.

Other major film roles include co-starring with Yasmine Bleeth in "Heaven or Vegas" (1997) and with Kathy Bates in "A Home of Our Own" (1993). She has also appeared in various TV movies and miniseries, including Stephen King's "The Stand" (1994).

Photo: TeenHollywood.com
---
Katie Stuart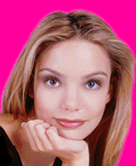 Date of birth: 22 August 1984
Born: Sonora, California

Katie Stuart is an up-and-coming actress from Sonora, California. She began entering beauty pageants and performing at a young age. She has had principal roles in numerous television commercials, including Old Navy, Fox Kids Club, Home and Garden Network, Petsmart and Levi's. She sang with Barbra Streisand at the Clinton Presidential Gala. Her stage work includes the title role in "Annie" and the starring role of Mary Lennox in "The Secret Garden."

Ms. Stuart eventually grabbed the title role in a feature film by the age of 15. That film, "Frog and Wombat", premiered on the HBO Family Channel in 1999, with Ms. Stuart in the role of Allison 'Frog' Parker. She co-starred with Ronny Cox, Lindsay Wagner and Emily Lipoma. The role earned Ms. Stuart a Best Actress nomination in the Young Artist Awards. She was also chosen as the Newcomer of the Year in the Temecula International Film Festival.

Katie Stuart was also a series regular on the national PBS show "Adventures With Kanga Roddy." Her television guest appearances include eight episodes of the NBC/Aaron Spelling series "Titans," as well as guest spots on "City Guys", "7th Heaven" and "Xena."

Katie Stuart recently graduated from high school and released her first album of pop music with 2KSounds (an EMI label). She is an accomplished ballet dancer.

Photo: KatieStuart.com
---
Katherine Willis


Date of birth: 2 May 1971
Born: Kolo-fuo, Tonga
Full-time Mission: Portugal
Education: B.A. Theater, Brigham Young University

Although American, Katherine Willis was born in Tonga, where her father was working for the Church Educational System as a teacher at Liahona High School (LDS).

Willis' first starring role was in Craig Clyde's TV movie "Little Heroes" (1992). She then played "Cassie Anders" on the TV series "Miracles & Other Wonders". She was the female lead in the Rocco DeVilliers film "Pure Race" (1995), in which she played the daughter of a neo-Nazi, played by Marvin Payne. She had a small role in the Hollywood pic "The Faculty" (1998), and she had the female lead role in the independent film "The Right Girl" (2001).

Photo: Official Katherine Willis Home Page
---
Marie Windsor


Birth name: Emily Marie Bertelsen
Date of birth: 11 December 1919
Born: Marysvale, Utah
Education: B.A. Theater, Brigham Young University
Date of death: 10 December 2000
Place of death: Beverly Hills, California

Biography from Leonard Maltin's Movie Encyclopedia (from IMDb):
One of the best "bad girls" in movie history, this busty beauty often played cold-blooded temptresses who could drive a man crazy with passion, then cut out his heart and hand it back to him. A former Miss Utah, she broke into films as a bit player in Hal Roach's AllAmerican Co-Ed (1941), and knocked around Hollywood before coming into her own as a leading lady in 1949's Hellfire an above-average Republic Western. She appeared in other B-plus horse operas, including Dakota Lil, Frenchie (both 1950), and Little Big Horn (1951), before taking her best-remembered role, as the recalcitrant gangster's widow being transported to court by tough cop Charles McGraw in The Narrow Margin (1952). Had this taut thriller not been a lowly B (albeit one of the best ever), Windsor might have gotten more of a boost from its success. She continued working steadily, frequently playing tart-tongued trollops--as in Stanley Kubrick's The Killing (1956), memorably cast as Elisha Cook, Jr.'s avaricious, unfaithful wife.
Offscreen, Windsor served on the Board of Directors of the Screen Actors Guild for 25 years and founded the Screen Actors Guild Film Society. Obits.com: "Off stage, Ms. Windsor was the antithesis of her tough-customer leading roles, married to Beverly Hills businessman Jack Hupp (1954) for over 45 years and the mother of one. While she remained active in film and television work... much of Ms. Windsor's time and energy was devoted to charities and to the work of The Screen Actors Guild... Ms. Windsor made over 75 feature films, appeared in 130 television shows and projects, and more than two dozen stage shows on and off Broadway."
Marie Windsor is one of just 250 actresses included in the nomination list for the American Film Institute's "100 Years ... 100 Stars" list, and she is one of only four Latter-day Saints on the list.
Photo: Obits.com
---
Heather Young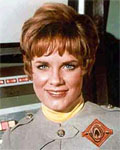 Birth name: Patricia York
Date of birth: 1 April 1945
Born: Bremerton, Washington

Heather Young had a relatively brief (but memorable) career as an actress. She is best remembered for her starring role as "Betty Hamilton" in the science fiction series "Land of Giants" (1968 to 1970).

In 1969 she starred in the telepic "In Name Only." She had guest roles on TV series, including "Batman", "Galactica 1980", "Felony Squad" and "The Time Tunnel".

According to the Actor Database, Ms. Young "moved to Utah a few years after 'Land of the Giants' finished. She has continued to sing under the name Patricia York, and has written a number of children's stories and a successful musical version of 'Jane Eyre'."

At the Voyage '94 Convention, Paul Zastupnevich relayed a humorous anecdote from the filming of "Land of Giants":
When the weather was very cold on the set; sometimes we had air conditioning; we had a slight problem... All of a sudden... the costume was very revealing. Heather Young especially. She was a Mormon girl and she always wrapped herself with yards and yards of linen. Why I've never been able to figure out. Maybe it's some part of her religion.
Photo: Land of Giants website
---
LDS actresses webpage last modified 19 August 2004.