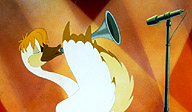 An animated feature directed by Richard Rich:
"The Trumpet of the Swan"
TRUMPET OF THE SWAN, The animated film, "The Trumpet of the Swan", is produced by Columbia TriStar. It is based on the classic children's book written by E.B. White. E. B. White only wrote three children's books in his lifetime, "Charlotte's Web", "Stuart Little", and "The Trumpet of the Swan". All are classics and have been richly honored by literary and library associations. "Trumpet of the Swan" produced by Columbia TriStar and directed by renowned animated director Richard Rich, features the voices of Jason Alexander, Mary Steenburgen, Reese Witherspoon, Seth Green, Joe Mantegna and Carol Burnett. "Trumpet of the Swan" was released theatrically on 11 May 2001.


---
The Trumpet of the Swan:
OPENING credits as they appear in the film
TRISTAR

a SONY PICTURES ENTERTAINMENT company


TriStar Pictures
presents


A
RichCrest Animation
production


A
Lin Oliver
production


A
Richard Rich
Terry L. Noss
film


The
Trumpet
of the Swan
---
The Trumpet of the Swan
CLOSING credits as they appear in the film
Directed by
Richard Rich
Terry L. Noss

Produced by
Lin Oliver

Executive Producer
Seldon O. Young

Co-Producers
Richard Rich
Thomas J. Tobin
Terry L. Noss

Screenplay by
Judy Rothman Rofé

Based on the Book by
E.B. White

Music
by
Marcus Miller

Casting
by
Katy Wallin-Sandalis, C.S.A.
and
Bernie Van De Yacht

Supervising Editor
James D. Koford

Editor
Joseph L. Campana


With the Voice Talents of

Jason Alexander
Father

Mary Steenburgen
Mother

Reese Witherspoon
Serena

Seth Green
Boyd

with
Carol Burnett
as
Mrs. Hammerbotham

and
Joe Mantegna
as
Monty
| | |
| --- | --- |
| Sam Beaver | Sam Gifaldi |
| Louie | Dee Baker |
| Billie | Melissa Disney |
| Serena (cygnet) | Kath Soucie |
| Ella | E.G. Daily |
| A.G. Skinner | Pamela Segall Adlon |
| Maurice/Ranger | Steve Vinovich |
| Sweets | Gary Anthony Williams |
| Senator | Corey Burton |
| Chief | Michael Winslow |
| Squirrel/Hawk | David Jeremiah |
| Felicity | Julie Nathanson |
| Apathy | Dana Daurey |
| Waiter | Michael Kostroff |
| Clerk | Lee Magnuson |
| Bud | Steve Franken |
| Policeman | Norman Parker |
| Justice of the Geese | Jack Angel |
| Paramedic/Newscaster | Kath Soucie |
Director's Assistant
Helena Collins-Liuag
Production Manager
Brett Hayden
Character Design
Elena Kravets
Bronwen Barry
Storyboard Artists
Steven E. Gordon
Floro Dery
Larry Scholl
Mark Sonntag
Layout Design
Mike Hodgson
Layout Supervisor
Dennis Richards
Layout Artist
Robert Orona Jr.
Layout Assistant
Kimberly Bowles
Animators
Steven E. Gordon
John Celestri
Bronwen Barry
Elena Kravets
Patrick Gleeson
Background Supervisor
Jeff Richards
Background Artists
Donald Towns
Eric Reese
Anette Ahlholm
Mannix Bennett
Kim Spink
Junn Roca
Nadia Vurbenova
Diane Best
Effects & Computer
Animation Supervisor
Brian McSweeney
Effects Animation
Actarus Aksas
Additional Computer Animation
Timothy Yoo
Chris Cho
Digital Supervisor
Timothy Yoo
Color Model Stylist
Jeanette Nouribekian
Scene Planning
Bob Richards
Compositing
Chris Cho
Animation Checking
Patricia Blackburn
Executive Assistant to Richard Rich
Kimberlee Johnson
Executive Assistant to Lin Oliver
Mercedes Coats
ADR Voices
Melissa Disney
Taylor Gifaldi
Eddy Karr
Anne Marie Lee
Katie Leigh
Tessa Ludwick
Chris Marquette
Olivia Marsico
Tony Pope
Jason Spisak
Bernie van de Yacht
Lalaine Vergara Paras
Choreography
Anne Fletcher
Dancer
Erik Hyler
Foley Walkers
Dominique Decaudain
Jerry Trent
Foley Mixer
Dean St. John
Re-Recording Mixers
Rick Alexander
Rick Hart
Recordist
Robbie Bartholomew
Ryan Davis
Dolby Sound Consultant
Bryan Pennington
Enterprise Post Executive
Brian B. Murray
Digital Mixing
Enterprise Post
Associate Music Producer
David Ward
Music Coordinator
Bibi Green
Music Editor
Douglas Lackey
Music Mixer
Tommy Vicari
Orchestrator
Charles Harrison
Hannibal Studios Technician
Khaliq Glover



Solo Trumpet by
Michael "Patches" Stewart


"Louie, Louie, Louie"
Written by Marcus Miller and Randy Rogel
Performed by Little Richard
Additional Vocals by Melissa Disney,
Ann Marie Lee, Tony Pope and Johnny Solomon

"Spittin' Image"
Written by Pamela Phillips Oland, Marcus Miller,
Steve Rucker, Lin Oliver and Randy Rogel
Performed by Jason Alexander and Mary Steenburgen

"Touch the Sky"
Written by Marcus Miller and Randy Rogel
Performed by Kenya Hathaway

"Hey, Hey"
Written by Marcus Miller and Randy Rogel
Performed Melissa Disney, E.G. Daily and Ann Marie Lee

"Here Me Serena"
Written by Marcus Miller
Performed by Tim Carmon

"Louie's Lullaby"
Written by Marcus Miller

"Learning to Fly"
Written by Charles Harrison



Production Coordinator
Susan Gelb
Production Coordinator
Jim Haas
Production Assistants
Karen Noss Crudge
Gregory Daven
Susan A. Kelley



Overseas Production
Hanho Heung-Up, Co., Ltd.
Seoul, Korea

Overseas Coordinator
Denis Deegan


[Credits listed for overseas production and animation, including about 125 Korean names.]
Color by
CFI
Completion Bond
Film Finances, Inc.
Production Legal Counsel
Robert A. Darwell
Troop Steuber Pasich
Reddick & Tobey, LLC
RichCrest Counsel
Donna Bascom
[Standard film, sound system symbols, followed by standard legal notices about copyright, the story being fictitious, etc.]
Copyright © 2000 Tiny Tot Productions, Inc.
All Rights Reserved
---
Dallas Morning News Review
By: Nancy Churnin
Source: Dallas Morning News
Date: 11 May 2001
URL: http://dfw.citysearch.com/E/M/DALTX/0000/26/78/cs1.html

E.B. White had a way of creating animal characters that stir the soul: the spider who saves a pig in Charlotte's Web, the mouse who becomes a vital part of a human family in Stuart Little and the mute swan searching for his voice in The Trumpet of the Swan. But while Charlotte's Web and Stuart Little have enjoyed numerous theatrical incarnations, The Trumpet of the Swan has resisted the Hollywood touch.

Until now.

The animated version of Mr. White's classic, directed with lush, hand-drawn exuberance by Disney vet Richard Rich and co-director Terry L. Noss, tackles this poignant story with mixed success. The film alludes to the pain of growing up different. It shows how a child's "disability" can sometimes lead to something wonderful.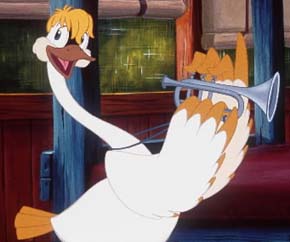 But the directors don't trust the kids enough to let them feel the pain for long. Instead, they anesthetize the narration with a cuteness (and a few easy-to-hate bad guys) that leaves the film with a neatly packaged, made-for-video feel.
Jason Alexander (fine on the comedy, but lacking in the drama department) and the always appealing Mary Steenburgen voice the swan parents of silent swan Louie (Dee Baker) and his two sisters. Louie falls in love with a beautiful swan named Serena (Reese Witherspoon), which makes him even more unhappy about not being able to express himself.
With the help of a friendly boy, Sam (Sam Gifaldi), Louie goes to school to learn to read and write. But it's not until his father steals him a trumpet that Louie (named for Louis "Satchmo" Armstrong) learns to express himself through sound.
The music, an eclectic blend of jazz and contemporary music, is one of the film's strongest calling cards.
And it doesn't hurt to have such a fetching way to introduce kids to a remarkable book. After all, whatever has been lost in the translation can be more than made up for by the increased numbers of kids inspired to go back to the original.
Grade: B-
Director: Richard Rich and Terry L. Noss
---
Columbia TriStar to Sneak Animated Film Into Theaters on May 11
Source: Digital Media FX News
URL: http://www.digitalmediafx.com/News2001/March/032201.html#1
Date: 22 March 2001

In a surprise announcement, Columbia TriStar says that it will release an animated feature titled The Trumpet of the Swan into theaters on May 11, 2001 for a short engagement. The movie is based on E.B. White's The Trumpet of the Swan book, one of only three books ever written by E.B. White (Stuart Little and Charlotte's Web are the other two).

The rights to turn the book into an animated movie were acquired by Columbia Tristar in 1998. The company announced at the time that the movie would be a direct to video release in 2000 and even received a G rating by the Motion Picture Association of America last summer.

According to sources associated with the project, the release was delayed when it was learned that the Motion Picture Association of America was adding a "Best Animated Film" category to its award lineup. The film was readapted for the wide screen to play in theaters long enough to qualify for a possible nomination.

The Trumpet of the Swan is directed by Richard Rich, who also directed The Swan Princess and Warner Bros. animated The King and I. The movie stars the voices of Jason Alexander, Mary Steenburgen, Reese Witherspoon, Joe Mantegna, and Seth Green. The Trumpet of the Swan is the story of Louis, a voiceless trumpeter swan and his adventure in learning new ways to communicate.

The May 11 release date will put The Trumpet of the Swan into theaters one week before DreamWorks release of Shrek. Both are targeting separate audiences, however. The animation was done by Rich Animation Studios, located in Burbank, CA. Rich Animation Studios was acquired last year by Crest Communication of India.
---
The Trumpet of the Swan (2001)
directed by Richard Rich
Numerical average of these graded scores: 39.3 (out of 100)
Average score is 1.5 stars out of 4, or a "C-"

RottenTomatoes.com freshness score: 10%
39 reviews counted: 4 positive; 35 negative

[In the table below, the column labeled "RT.c" shows a plus or minus sign, indicating whether the RottenTomatoes.com website rated the review mainly positive (+) or negative (-).]
Source
Review Author
RT.c
Grade
Grade
as #
Dallas Morning News
Nancy Churnin
+
B-
67
Boxoffice Magazine (DVD review)
Wade Major
3/5
56
iF Magazine
Abbie Bernstein
+
B-
67
Film Threat
Heather Wadowski
+
3.5/5
67
digitallyOBSESSED.com
Rich Rosell
Style: B-
Substance: C+
63
Apollo Guide
Brian Webster
-
61/100
61
Christian Spotlight on the Movies
Douglas Downs
3/5
56
Movie Mom
Nell Minow
+
3/5
56
DVD Verdict
Nicholas Sylvain
55/100
55
CinemaZone.dk
-
3/6
50
Boston Globe
Jay Carr
-
2/4
50
Globe and Mail
Rick Groen
-
2/4
50
filmcritic.com
Christopher Null
-
2.5/5
45
DVD Authority.com
Fusion3600
2.5/5
45
E! Online
-
C-
42
Reeling Reviews
Laura Clifford
-
C-
42
rec.arts.movies.reviews
Robin Clifford
-
C-
42
Seattle Times
Pam Sitt
-
1.5/4
38
Amazing Colossal Website
David Cornelius
-
1.5/4
38
Chicago Sun-Times
Roger Ebert
-
1.5/4
38
Chicago Tribune
Loren King
-
1.5/4
38
St. Paul Pioneer Press
Chris Hewitt
-
1.5/4
38
Deseret News
Jeff Vice
-
1.5/4
38
Snack Bar
Adam J. Hakari
-
1.5/4
38
New York Times
Stephen Holden
-
2/5
34
Toronto Sun / Jam! Movies
Liz Braun
-
2/5
34
Boxoffice Magazine
Luisa F. Ribeiro
-
2/5
34
DVDTalk.com
Holly E. Ordway
-
2/5
34
DVD Angle
Charles Aliaga
1.75/5
29
Seattle Post-Intelligencer
Sean Axmaker
-
D
25
Entertainment Weekly
Ty Burr
-
D
25
Utah County Daily Herald / Land of Eric
Eric D. Snider
-
D
25
Detroit News
Susan Stark
-
1/4
25
eye WEEKLY
Catharine Tunnacliffe
1/4
25
Reel.com
Mary Kalin-Casey
-
1/4
25
Los Angeles Times
Jan Stuart
-
1.5/5
23
Haro Online
Haro
Pretty Bad
17
Film Freak Central
Walter Chaw
-
0.5/4
13
TV Guide's Movie Guide
Frank Lovece
-
1/5
12
IFilm
Dave White
-
1/5
12
The following reviews were tabulated by RottenTomatoes.com (positive/negative), but did not include a "grade":
| Source | Reviewer | RT.c |
| --- | --- | --- |
| Spirituality and Health | Frederic and Mary Ann Brussat | + |
| Film Journal International | Daniel Eagan | - |
| Hollywood Reporter | Kirk Honeycutt | - |
| Film.com | Tom Keogh | - |
| Detroit Free Press | Terry Lawson | - |
| New York Post | Lou Lumenick | - |
| Greenwich Village Gazette | Eric Lurio | - |
| Associated Press | Malcolm Ritter | - |
| Philadelphia Inquirer | Desmond Ryan | - |
| Newsday | Jan Stuart | - |
| New Times Los Angeles | Gregory Weinkauf | - |
| South Florida Sun-Sentinel | Sherri Winston | - |



More reviews, with neither a RottenTomatoes.com Fresh/Rotten designation, nor a grade, shown on the RottenTomatoes.com website:
Source
Reviewer
Sacramento Bee
Joe Baltake
Denver Rocky Mountain News
Robert Denerstein
FILMtabs
Gunter H. Jekubzik
Providence Journal
eFilmCritic.com