A Small Sampling of Articles and Links
Related to MTV's Real World 2000 in New Orleans
Links
---
Unlikely path: BYU to MTV

Source: Deseret News, 2 June 2000
URL: http://deseretnews.com/dn/view/0,1249,175008736,00.html?)
By: Scott D. Pierce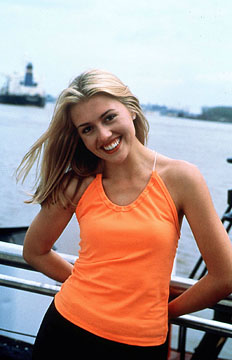 Julie, a 20-year-old student at Brigham Young University, didn't exactly grow up dreaming of appearing on MTV's "The Real World." The cable channel was off-limits at her LDS home in Wisconsin.
PHOTO CAPTION: Julie says her experiences on MTV's "The Real World" have opened her eyes to a lot of things.
And that didn't change a whole lot when she got to BYU.
"I don't have much exposure to MTV at all. I'd seen a couple episodes of 'Real World' at a friend's house, but that was it," she said in a telephone interview with the Deseret News. "I mean, I really didn't know what I was getting into."
What Julie (they only use first names on "The Real World" to provide some tiny privacy protection) got herself into was MTV's most popular program — the story of seven strangers picked to live in a house and have their lives videotaped for six months. In this case, the house — a Greek revival mansion decked out in IKEA's best — was in New Orleans, which (not surprisingly) turned out to be a far cry from her student apartment in Provo.
If the thought of a BYU student on MTV comes as a surprise, well, Julie shares the feeling. She said she never really thought that, of the 35,000 hopefuls who auditioned, she'd be picked. What she was really after was a free trip to Los Angeles for the audition finals.
"And when I went to L.A., it was just life-changing. I got out there, and I saw a whole new world that I've never seen before," she said. "I met some really cool people, and I realized, if this experience could be this cool in a couple of days, imagine four months in a new place with new people. I just wanted to meet new people, see new things, see what I wasn't seeing in Provo."
She didn't have to look far. Her roommates included four men and two women. Two were members of minorities, one was a gay man, most had a considerably different set of moral standards. (Most, but not all. One young man, a staunch Catholic, proudly proclaims in the first episode his intention to remain a virgin until he's married.)
Not surprisingly, Julie's religion is a major playing point in this year's "Real World." And some of the reactions to it are laughable.
"I've gotten hit with so many Mormon myths, you don't even know," she said. "I've been dispelling a lot of them."
In the first hour, one roommate actually asks her if she's married — he's under the illusion that all Mormons marry at the age of 15 or 16. The question of whether she can drink Coke comes up. Later on, people assume Mormons have prohibitions against dating, dancing and even makeup. Julie didn't hesitate to answer questions, but she's at least a little bit uncomfortable with the thought of representing the Church of Jesus Christ of Latter-day Saints.
"I went into this saying that I was not going to represent Mormonism," she said. "I recognize, though, that it being my religion, that I am a representative of it. And I think I have handled that responsibility in a good way because I've been true to myself throughout. I haven't tried to be a bad representative, I've just been myself."
And being herself includes not only a commitment to her set of values but a sense of humor. In that first episode, she teases her parents about how she's sharing a room with a guy (she doesn't) but that it's OK because they share a large bed. You've got to wonder, however, if viewers are going to understand that her father is joking when he talks about coming down to New Orleans and building a "wall of Jericho," or if they'll see him as a religious zealot.
PHOTO CAPTION: MTV's "The Real World" cast (clockwise from bottom left): Julie, Matt, Jamie, Danny, David, Kelly and Melissa. Some 35,000 auditioned for the show.
And she didn't exactly get a lot of support from her family or friends. Her parents were decidedly unenthusiastic about her taking part in "The Real World," and there are hints that her father comes to New Orleans to try to talk her into leaving. (She can't comment as per MTV's prohibitions against giving away "plot" points.)
Growing up in smalltown Wisconsin, Julie was used to being in the minority as a Mormon. But living in New Orleans — which she described as "a bit of a sin bin" — was indeed the culture shock she was expecting.
"It was just basically mainstream Wisconsin culture I was living in. And then I go to BYU for three years, and I'm living this mainstream Mormon culture. And so then to be thrown in a situation where there's so much diversity," she said. "But it was great. It opened my eyes. I saw so much. I learned so much in four months that I've never even known about.
"I'm grateful for that because it opened my eyes. Life is not always beautiful. Life is not always Zion. And if you live thinking that it is that way and just saying, 'Yeah, I know about bad places,' but you never have actually seen what it's about, I just think that's dangerous.
"I've made it clear to these people that not all BYU students are the way that they seem. And I think I'm a shining example of that." Julie said. "But I will not deny the fact that there is an overwhelming stigma about our university of these sheltered, they-don't-think-they're-closed-minded-but-they-are kind of people. And I think I was more that way before I came here, and this place has opened up my eyes to a lot of things."
In the end, Julie said she both influenced her roommates and was influenced by them.
"Obviously, the way I live shocked my roommates," she said. "This whole experience has made me re-evaluate my beliefs and just the way I think about things. But it's been in a very positive way, because I walk away from it no longer just believing everything written on paper or everything told to me. I have strong convictions in what I believe and in what I don't believe. I can say that I have learned a lot of things from myself, and I think that's the most important thing. And I wish more people at BYU — and more people in general — would just open their eyes and get away from what they've always known, and figure out who they are and what they believe.
"Don't get me wrong. There are so many open-minded people. There are so many people at BYU that are not sheltered like I was. But at the same time, there are a lot of people who are."
She's not exactly sure what she wants to do with her life post-"Real World," although she's not angling for a regular TV gig. "I'm not here for fame. I'm not into the whole ego-driven, MTV thing so much. I'm not trying to be a veejay," she said with a laugh.
She'd like to go back to BYU, but she hasn't heard yet whether she'll be accepted back. She's a bit worried, given that her living arrangements in New Orleans weren't quite up to what the school's honor code requires. (Sharing the mansion with men.)
"It will be interesting to see if BYU lets me back into school. I think it will be all right," Julie said.
According to BYU spokeswoman Carrie Jenkins, officials at the school — who, not surprisingly, weren't particularly familiar with the show — will be watching to see what it's all about and what happened to Julie while she was in New Orleans. No decision has been made on whether Julie will be re-admitted.
Julie didn't tell school officials what she was doing until just a few weeks ago. They tried to return her call, but when told that they had to agree to have their phone conversation taped for "The Real World," they declined.
Whatever happens, Julie said she has no regrets.
"I think that this is the best experience. I wish that everyone was afforded this kind of an opportunity," she said. "I really am so thankful. I really think this is a blessing in my life. And it is going to afford me the opportunity to touch a lot of people, and I'm thankful for that."
---
Mormon's faith put to test in 'Real World'

Source: Milwaukee Journal Sentinel, 6 June 2000
URL: http://www.jsonline.com/enter/tvradio/cuprisin/jun00/real06060500.asp)
By: Tim Cuprisin

Faith isn't the easiest subject for MTV to deal with, especially for its "The Real World" series, where seven telegenic youngsters live in telegenic digs in a telegenic locale for five months while their every move is videotaped.

Over the nine seasons of this pioneer in reality TV, succeeding generations of young men and women have been doing what young men and women frequently do - and it rarely involves church.

There have been churchgoers in the crowd, like a young woman named Elka a few seasons back when the show was based in Boston. A prominent feature of that season was other cast members bashing her beliefs.

But the latest installment of "The Real World" - which premieres June 13 after tonight's special on how the cast was chosen - dives headlong into the issue with two cast members: 20-year-old Julie, a Mormon from Delafield, and 21-year-old Matt, a devout... Catholic who lives in Atlanta.

Julie, who like the other cast members doesn't reveal her last name, didn't really know anything about MTV or "The Real World" when she went to an audition with a friend from Brigham Young University, where she was a business major. Her goal wasn't to get on the show but to move on to the next round of auditions in Los Angeles.

"I was, like, 'Free trip to L.A., yes!' " she said. "That trip, in itself, changed my life."

But that was just the first step on a journey that led her to the Belfort Mansion in New Orleans' Garden District, the site of this season's "The Real World." It was from Belfort that Julie and her fellow cast members recently spoke by telephone, after taping ended for the season.

In meeting her roommates, as the first episode will spell out, Julie's Mormonism becomes the subject of discussion. And there are hints that her faith will be tested throughout the 22 episodes detailing her time in one of America's most hedonistic cities.

"I would tell you that my religion is very important to me," she said. "There are some things about the Mormon culture that I don't love, but I love the actual religion, and I stand very true to my convictions."

Among those things she questions are a ban on caffeine and a traditional view of women in society.

One of the seven housemates, Jamie, was raised a Catholic in the Chicago suburb of Wilmette.

"Julie, if you want to have a cup of coffee, have a cup of coffee," was his reaction to the traditional Mormon code of conduct. But you hear a respect for her beliefs from the 22-year-old graduate of Cornell University.

"My initial reaction to Julie was that she's very sheltered, that she was ignorant to a lot of things that to a lot of other people was just common knowledge," Jamie said. "Everybody knows who the Grateful Dead are, everyone knew who Nelson Mandela was, I thought.

"What I sort of realized was that the bank of knowledge that I have, she sort of holds a very different bank of knowledge, a spiritual connectedness. She's very deep and very cerebral on that front. That's powerful. That's where the marrow of life exists."

But Jamie's acceptance wasn't unquestioning.

"Throughout this whole process I haven't come completely to terms with her community," he said. "I think in some cases, it doesn't let her shine."

Based on a preview of the first hour of this season, however, Julie does shine. The show starts off with sparks between her and Matt, who looks like a punky little skateboarder but turns out to be more serious than he appears. Active with a... Catholic youth group, he's as devout in his Catholicism as Julie is in her Mormonism.

"You would probably expect Julie and I to bond on that," said Matt. "A lot of times we really antagonized each other."

But antagonism is the lifeblood of "The Real World."

Often, it's about who left the door unlocked or who forgot to put the milk back in the fridge. And this season will have its share of those minor squabbles, said producer Andrew Hoegel - along with all the other things that have come to define the show.

"These kids are all really witty and funny," Hoegel said. "I laughed my head off a lot of times when we were filming, and there's a lot of romance going on."

But based on the first episode, there may be something weightier going on this year amid the angst of seven young adults trying to live together without killing each other. And it looks like that weight will come from the real drama of Julie testing her limits - and her relationship with her parents.

One preview of a future show shows her father - who owns Wholly Cow Frozen Custard in downtown Delafield - arriving in New Orleans in an apparent attempt to get his daughter to move out of "The Real World" house.

Julie wouldn't go into details, saying only, "My parents are very good people, and I think our relationship has developed through this."

She did, however, speak about her rebelliousness as well as trying to live her religion in the sultry surroundings of the Big Easy.

"I haven't tried to convert anybody, but I believe I've been a good example to people," she said.

Hoegel, the show's producer, made it clear that Julie emerges as one of the stars of this season's cast.

"Literally from the moment I met Julie, I knew that there was something about her. She just has a really, really likable charm and is just naturally inquisitive. From the very first moment, we knew she was someone who would really grow through the experience.

"She doesn't change as a person, but you see her grow tremendously through the season."
---
BYU student gets 'Real World' experience

Source: Daily Universe; NewsNet@BYU, 5 June 2000
URL: http://newsnet.byu.edu/noframes/show_story.cfm?number=9833&year=current)
By: Angelique Thomas

MTV's 'The Real World' casting special, June 6 at 8 p.m., will reveal that one of its stars is a BYU student.

Julie Stoffer, 20, a junior from Delafield Wis., spent her winter semester as one of the seven cast members for the new season.

The Real World is MTV's popular and long-running real-life drama. It documents the lives of college-age strangers sent to live together for a few months somewhere in the world. Every moment of their lives is videotaped and broadcast in episodes on the network music channel.

The taping lasted four months with six strangers sharing a home, the Belfort Mansion, in New Orleans.

Stoffer said that when MTV came to Provo fall semester she and her friend went to tryouts at the Wrapsody on a whim.

MTV called her back and she went through seven or eight rounds of interviews to make it to the semi-finals round in Los Angeles, Calif.

The interviews were all different such as a video tape, a 40 page application, phone interviews, and a series of recorded phone interviews with a camcorder recording herself then she would mail in the tapes.

'The interviews asked questions to get to know every angle and every facet that is Julie,' Stoffer said.

She said originally she was not planning on doing the show because she lived at King Henry Apartments and they don't have MTV.

'I was on the attitude that MTV is evil because it is all blocked off, but I learned better,' Stoffer said.

She said the trip to Los Angeles for the semi final interview was an amazing trip.

'I thought if three days in L.A. can be this awesome, four months might be even better,' Stoffer said. 'After that I decided that I might as well do the show if I get accepted and they picked me.'

The show itself does not include any directing or writing. The story of each cast member is told through the interactions with each other.

Stoffer said being a member of The Church of Jesus Christ of Latter-day Saints is part of her character on the show.

'In the first episode, June 13th, they have me going into a Church of Jesus Christ of Latter-day Saint building, right there on MTV,' Stoffer said. 'I talk about Mormonism, and I have my apartment at King Henry on the first episode because it shows my TV screen not getting MTV.'

Stoffer said that all of her Real World roommates had to deal with some kind of stereotype and being a naive Mormon was hers.

She said the frustrating thing about being LDS was that it was compared to being sheltered.

'MTV was not trying to portray LDS people as naive or sheltered, it is just that 'Julie the Mormon' came out as that when my roommates found out different things about me,' she said.

'For example when my roommates found out that I didn't have MTV at my apartment, that was all it took for them to say this girl is so sheltered that she can't even get MTV at her complex,' Stoffer said.

She said her Real World roommates had a lot of preconceived notions about the LDS faith and she had to spend time dispelling a lot of myths about the LDS religion.

She said that for the most part her Real World roommates respected her religion.

She said her roommate Jamie from Chicago lived five minutes from the temple, but he knew nothing about the LDS faith and had the hardest time with it.

'I didn't go to convert anyone to Mormonism. I went to hopefully open people's eyes,' Stoffer said.

She said her favorite thing was talking to her Real World roommates.

'We would get in heated arguments about stuff but we would talk it out. I would learn so much from them and they would learn so much from me,' Stoffer said.

She said the whole experience has strengthened her testimony to be more firm in the things that she believes.

It has helped her make a better distinction between Mormon culture and Mormon religion, she said.

'Overall I walked away from it very confident in what I believe and what I know to be true,' she said.

'I am thankful for the whole experience because I have been able to make awesome friendships with people that I never would have been friends with before,' Stoffer said.

Stoffer said her most memorable experience was a vacation to South Africa with the Real World cast.

'It was amazing because first I got out of Provo, then I get out of the country,' Stoffer said.

'I thought, 'Wow' there is a big world out here that I have never seen.'

She has not seen all the episodes yet but she said there would be things BYU students might be shocked by.

Drinking Mountain Dew or developing a relationship with one of her Real World roommates might make some BYU students think she is a bad representative for the LDS religion, Stoffer said.

She said she welcomes this because she hopes students will realize that there is nothing wrong with appreciating or loving someone who is of a different religion.

She said the worst thing about the experience happened before she even left to do The Real World.

Stoffer said in the beginning, her parents were not very accepting of her being a part of The Real World.

But after seeing the process, they are now supper supportive, she said.

'The most adversity I faced was from people in Provo that were closed minded to the whole idea of MTV because for some reason in our culture MTV represents this big evil,' Stoffer said.

She said she thinks it is ridiculous the way people will develop a prejudice about things they know nothing about.

'I live with a gay man and with some people with very different values and morals than I do, but who cares, I still love them,' Stoffer said. 'They have different lifestyles but it doesn't make them evil, they are people just like me.'

Cathy Exon, 21, a junior from San Diego, majoring in Public Relations, was Stoffer's neighbor at King Henry apartments and said, 'I personally wouldn't do it as a Mormon but it is her life and she can make her own decisions.'

Stoffer said she does not see a problem with having the LDS religion portrayed in movies.

'I think that by protecting our religion from media we are only feeding into the cult like stereotype,' Stoffer said.

Stoffer said that by being open minded and informed protects from ignorance and stereotypes that come along with it.

With her life constantly being caught on camera, many would wonder if she encountered problems or was bothered by the constant attention.

Stoffer said she forgot the cameras were there because she got wrapped up in the life she was living until she started getting free food at restaurants.

'I didn't get insecure when I woke up in the morning looking all nasty because I knew they were not going to use that useless footage,' Stoffer said.

She said now she has pre-made 'scrap book' home videos all done.

'I look at them and think did I really look like that, and why didn't I brush my hair that day, but big deal it's a TV show,' Stoffer said.

Stoffer said she does not know why she was chosen, other than one time they told her she was a vocal person and wore her emotions on her sleeve.

To BYU students Stoffer said, 'open your minds, be accepting, stay strong to what you believe, and watch a little MTV.'

Stoffer said she will be launching a Web site, planetjulie.com, with information about herself and her experiences.

'I called it that because my roommates would sometimes tell me I was off in my own little world, in my own little planet.'

As for the future, Stoffer has a full plate to keep her busy.

She thinks she will do the Real World/Road Rage Challenge July through September so she will return to BYU on the Fall 2000, second block semester.

Carri Jenkins, assistant to the president, university communications said that BYU students are asked to live the residential living standards if they are a continuing BYU student.

'We do not have very much information but if issues come up they will be reviewed,' Jenkins said."
---
Did MTV Stint Break BYU's Honor Code?

Source: Associated Press, 7 June 2000
URL: http://www.sltrib.com:80/06072000/utah/55813.htm
By: AP

PHOTO CAPTION: BYU student and MTV Real World cast member Julie

PROVO -- After spending five months being filmed by MTV's "Real World" while living in New Orleans with four men and two other women, Julie doesn't know whether she will be allowed back at Brigham Young University.

Julie, 20, a BYU business major from Delafield, Wis., shipped out to New Orleans in January.

The Mormon church-owned school prohibits single students from living with members of the opposite sex. But Julie says BYU officials should go by the spirit of the law, not the letter of the law.

"I didn't have sex, and they have that on tape," Julie said. "If I did have sex it would be on tape. It would be like: 'Mormon girl loses her virginity on TV.' "

Now Julie -- the show does not divulge last names -- is back home with her family in Wisconsin, wondering what is next.

Julie contacted BYU while she was in Louisiana, but all conversations into the house are taped and BYU officials weren't keen on being recorded.

BYU officials told Julie to contact the university as soon as she was done taping -- which was just a few days ago. Julie said she has put in some calls to the school, but hasn't heard back yet.

Nothing has been decided because the university has limited information on Julie's situation, said Carri Jenkins, assistant to the president, BYU communications.

"This is something the university really needs to sit down with Julie and review," Jenkins said.

Julie says if BYU won't take her back, she might go live in Los Angeles and attend school there.
---
S Online: 'Real World' father says daughter's behavior on show was moral

Source: The Kansas City Star, 30 July 2000
URL: http://www.jsonline.com:80/news/ozwash/jul00/real31073000a.asp
By: Tim Engle
---
Charting a new 'Real World'

Source: Milwaukee Journal Sentinel, 12 June 2000
URL: http://www.kcstar.com:80/item/pages/fyi.pat?file=fyi/3774866d.609
By: Amy Rabideau Silvers

A few months ago, James Stoffer of Delafield probably would have considered himself the last person to defend a show on MTV and to question the decisions of his alma mater, Brigham Young University.

That was before his daughter, Julie Stoffer, a 21-year-old junior at Brigham Young University in Provo, Utah, became a resident on the reality show "Real World." She's been suspended for the fall semester, accused by the school of "sexual misconduct" while living in the "Real World" house.

But nothing, said her father, could be further from the truth.

"She didn't do anything wrong," James Stoffer said in an interview Sunday. "In fact, she was a standard for moral values to millions of young people."

Officials at the Mormon university cast the issue differently, in the wake of media calls regarding the suspension.

"This is not a decision if she was a good or bad person. But it is about her commitment to the honor code," BYU spokeswoman Carri P. Jenkins said.

The Stoffer family suspects that the suspension was ultimately the result of MTV's reputation in the church community. James Stoffer also questioned the extent to which his daughter was expected to account for her actions to university officials.

A little background might be in order for those hopelessly over 30.

Julie Stoffer was picked as one of three women and four men to live in a New Orleans mansion for five months on the MTV show. The cameras went everywhere except the bathrooms - separate for men and women. Bedroom doors were removed and doorways hung with curtains but, always, the cameras had access at any time.

"She was living in a TV studio," said her father. "She was always on camera. She was always with people. In fact, she didn't sleep in her pajamas because there were boys around. She slept in her clothes."

Ironically, the whole situation began when his daughter read an item in the BYU college newspaper, The Daily Universe.

"Julie was one of something like 1,200 students, young people, who went to this casting call," Stoffer said. "I think the 'Real World' people came for the purpose of getting someone from the church. I'm sure they wanted to contrast that against some other cast member."

Because students at BYU are held to the school's honor code - including no cohabitation with the opposite sex - Julie Stoffer contacted the university's Honor Code Office.

She was given information, including additional material for high-profile students. She left with the impression that, as long as she behaved herself, she would not get in any trouble with the university, he said.

Once the project was over, and with episodes beginning to air, she was contacted by the Honor Code Office.

"They said something like, 'We need a written statement from you regarding your conduct during this show,' " James Stoffer said. "They wanted to know what boys were in her room at any time of the day or night, what boys kissed her or hugged her . . . were they under the blankets . . ."

Stoffer acknowledged that his daughter did not respond with a written statement. That prompted a staff member with the Honor Code Office to call her at home.

"She, of course, was totally embarrassed," he said. "She kept saying, 'I didn't do anything I'm ashamed of.' She asked him, 'What do you think was going on?' "

In the open environment of the "Real World" house, his daughter's most serious misconduct apparently involved falling asleep, on a bed or sofa, during late-night conversations with male housemates.

The university's final letter saw things differently:

"The reason for this action is your violation of the Honor Code, specifically your relationships with the opposite sex, including sleeping together with them on multiple occasions."

"The way it's worded makes it sound like she's a tramp," her father said. "This wording hurt my daughter very much. My daughter is a very moral person. They're wrong, they're just wrong to word it this way."

The letter also laid out a five-step program before she could be readmitted to Brigham Young University: developing a plan with a bishop for changing her life, reporting monthly on her progress and any further violations, completing assignments on specific topics, an acknowledgment of her honor code violation, and an assurance that she will lead an appropriate life. She may not reapply while suspended, meaning she cannot return until spring 2001.

In a written press statement, Julie Stoffer said she could have accepted suspension for the "technicality" of living with men, even though her situation was very different than any true cohabitation.

"But to suspend me, and to insinuate in the letter that I was sleeping with a guy, or having sex, is totally false and slanderous," she wrote. "I can have no respect for the Honor Code Office after this. For them to suggest that I need to meet with church leaders and go through a repentance process in order to return to BYU is totally uncalled for.

"I cannot respect an organization that would assume that I was guilty of immoral conduct when I have continually told them I did nothing of the sort and the TV footage supports this," she wrote.

Julie Stoffer could not be reached for additional comment. She is in Montreal working on another MTV project, according to Francois Hubert, a publicist who spoke on her behalf.

"It's another reality-based TV show," Hubert said. "She's not allowed to discuss it . . . It involves a lot of travel around the world, and she's doing a lot of extreme athletic competitions, tests of courage, tests of skill."

Stoffer, a business major with a near straight-A average, is searching for another university. She has received inquiries from the University of Utah and Tulane University in New Orleans.

"It put us in an awkward situation," James Stoffer said. "It's the church we love. Our friends, many of them, won't even watch the show, but those who do come back and congratulate her.

"We think that BYU is a very great school - my wife and I both graduated from there," James Stoffer said, adding that their son, Alan, will enter as a freshmen this fall. "The Honor Code sets BYU apart. . . . But she got a bum rap from the Honor Code Office. I think the church benefited by her conduct. She served a mission for our church."
---
Letter to BYU newspaper by Julie's parents
Source URL: http://newsnet.byu.edu/noframes/show_story.cfm?number=10515&year=current
Date: 1 August 2000

We are writing this letter on behalf of our daughter Julie, who is currently out of the country. We regret the decision by BYU to suspend her, as we feel that a warning or probation would have been a more appropriate disciplinary response.

In Julie's behalf, we want to clarify what we feel is a poor choice of words in the suspension letter Julie received from BYU. The letter, which somehow made it to the press, states the reason for the suspension as "specifically your relationship with members of the opposite sex". Continued wording in the letter could be interpreted to mean that Julie is guilty of sexual misconduct, which is absolutely false. In reality, Julie can be commended for moral behavior that is exactly opposite what is implied in the letter.

I spoke with Dean Nolan Reed at BYU, and he agreed to issue a statement clarifying that there has been no indication that Julie was involved in any sort of sexual misconduct. We appreciate BYU's concession in this, as we felt that the original wording in the letter violated Julie's personal integrity. Like all of us, Julie has her share of shortcomings, but moral indiscretion is not one of them.

Julie's wholesome nature and high moral standards (as contrasted against the behavior of others on the show) is being applauded by millions of people every week. The flood of letters and e-mails she receives bears this out. Although this was not her intent, Julie served a mission for the Church of Jesus Christ of Latter-day Saints in New Orleans. She reached a segment of the populace that is not often exposed to noble virtues. The environment she lived in is not too different from what college students face every day at universities throughout the country. She had the strength of character to withstand the show's secular slant, yet portray the church to millions of non-LDS viewers in a palatable way.

Should members of the Church of Jesus Christ of Latter-day Saints be encouraged to watch MTV? Probably not. Since "The Real World" is going to be on TV, does it make sense to counterbalance the objectionable behavior with a character of high moral standards? We think so. If none of us ventured out into the real world, we would have to cancel the entire missionary program of the church.

Jan and I are both alumni of BYU, and we know it is a great university. The Honor Code sets BYU apart as an institution dedicated to serious educational pursuits. This is why binge drinking, drugs and immorality are not rampant at BYU like at so many other colleges. We understand that in a high profile case like Julie's, BYU felt the need to strictly enforce the code to maintain its image. It's unfortunate that it ended in Julie's suspension rather than a lesser disciplinary measure.

We are very proud of Julie and do not want this experience to adversely affect her testimony or love of the gospel. We hope that students and faculty will not hold ill feelings toward our daughter.

Viewpoint by Jim and Janet Stoffer
---
Letter to Editor: Bravo Julie!
Source: BYU Daily Universe
Date: 20 June 2000
URL: http://www.newsnet.byu.edu/noframes/show_story.cfm?number=10025&year=current

Dear Editor,

The June 13 premiere of MTV's "Real World: New Orleans" didn't disappoint. And neither did Julie Stoffer. In fact, she was the star of the show.

To put it simply, Julie gave 60 minutes of positive publicity for BYU, the Church of Jesus Christ of Latter-day Saints and high standards. She bravely faced the scrutiny of her non-LDS co-stars, and she openly confronted one of them about his promiscuous lifestyle. Her morals, rather than her naiveté, were the peculiarities that MTV seemed to be championing. She appeared both likable and righteous, a combination of traits viewed by today's youth (many Church members included) as an oxymoron.

As a longtime fan of "The Real World," I can say that never before has a positive image for goodness been so central of a focus on the show. And never have I seen a cast member wake up early on a Sunday morning and make the solo trek to a church meeting, as Julie did. How many million people watched this?

If the amount of "Julie" airtime continues over future episodes, she might become the most well known, positive LDS icon in pop culture history. And if she continues to represent well, we should applaud, not expel.

Seth Packham
Provo
---
Ex-MTV Cast Member Nearly Took Flight
Source: Associated Press
Date: 17 September 2001
URL: http://www.washingtonpost.com/wp-srv/aponline/20010917/aponline023640_000.htm

DELAFIELD, Wis. –– A former cast member of MTV's "The Real World" canceled plans to visit her on-again, off-again boyfriend, and the decision saved her life.

Julie Stoffer had planned to take United Airlines Flight 11 from Boston to Los Angeles on Tuesday but changed her mind early that morning – just hours before the plane was hijacked and crashed into the World Trade Center in New York.

A couple of hours passed before Stoffer's parents found out their daughter was safe.

"I was just so, so glad to hear she was fine," Stoffer's mother, Jan Stoffer, said Wednesday. "How do you describe that kind of an emotion?"

Julie Stoffer, 21, had an argument with her boyfriend Monday night and considered canceling her trip, Jan Stoffer said. But she woke up at 6 the next morning and called a friend to take her to the airport.

The friend persuaded her not to go, saying the boyfriend wasn't treating her well, Jan Stoffer said. Julie went back to sleep, awakening later to discover the flight's fate.

Jan Stoffer found out about the attacks at about 9 a.m., but didn't know whether her daughter had taken the flight until her husband got a call from Julie two hours later.

Julie Stoffer was a particularly well-known "Real World" cast member, in part because she was a practicing Mormon, a faith that is arguably at odds with the racy program. She was on the show when it was in New Orleans.
---
MTV's WWF Reality Show: Seriously.
Source: Spin Daily News
Date: 17 May 2001
URL: http://www.spin.com/new/daily/news/20010517-10.html

All I can say is MTV better not even try to top VH1's Bands on the Run, cause it's just not going to happen. Nothing on this planet right now makes me happier than Flickerstick, and the film-like vision of that Josh Dodes guy with panties on his head. But sadly, this story has nothing to do with underwear or Fletcher from Flickerstick. No. This is about MTV taking another journey into the lucrative realm of reality-based programming with WWF Tough Enough, a half-hour show focusing on 13 hopeful WWF wrestlers (eight men and five women), who live together for 13 months in a house, training and living and stuff, according to the Associated Press. The drama goes until there are only two people remaining-one man and one female-who will then win a contract with the WWF. You can watch WWF Tough Enough when it premieres on MTV June 21. The 13 contestants were chosen from a pool of 200 semi-finalists that got together this past winter at the WWF New York in Times Square to look scary and beat on one another. But the question remains: will there be a Mormon?