Return to FFFF main page.


The Ghosts of Dickens' Past (1998)
directed by Bruce Neibaur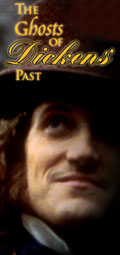 The Ghosts of Dickens' Past is a feature length film released as a direct-to-video product. It was a joint production between Utah-based Feature Films For Families and Quebec-based CINAR, in a collaboration named "Quill Pen Productions." It was directed by Bruce Neibaur, who had previously directed "Friendship's Field" (1995), "The ButterCream Gang" (1992), and "In Your Wildest Dreams" (1991) for Feature Films For Families. "The Ghosts of Dickens' Past" was produced and written by Patricia Lavoie, previously the producer of a short-lived "Lassie" TV series in 1997, and the co-producer of "The Whole of the Moon" (1996) and "Bonjour Timothy" (1995). The co-producer (representing Feature Films For Families) was Rick B. Larsen.
"The Ghosts of Dickens' Past" was filmed in Canada, using a primarily Canadian cast. Christopher Heyerdahl, one of Canada's leading actors, starred in the title role as Charles Dickens.
"The Ghosts of Dickens' Past" won both the Best Feature Film Award and the Best Cinematographer Award at the Santa Clarita International Film Festival in 2000.
---
Source: Feature Films For Families
URL: http://www.familytv.com/dickensghostpage.asp?

Movie description from official website of the distributor: "Getting beyond our own needs," a good friend tells Charles Dickens, "takes thought and effort and, above all, an unselfish heart." The timely advice is given as the author struggles to write -- only for profit. Unfortunately, his desire for financial security only fuels his own fears and self-pity. When his soul-searching leads him into peril, he receives unexpected help from a young girl. Hauntingly, her life mirrors his own childhood. Through the strange events she reveals to Dickens, she reawakens in him a desire to refocus his priorities. But he runs into a wall built upon his own painful memories of a childhood marred by debtors prison. He wants desperately to solve the plight of child labor but doesn't know how. Unless he can discover the healing power of a simple act of charity, his dream of truly making a difference is as dead as a doornail.
---
Review by: D.K. Latta.
Source: The Great Canadian Guide to the Movies & TV
URL: http://www.pulpanddagger.com/movies/g.html

THE GHOSTS OF DICKENS' PAST
* * * [3 stars out of 4]
setting: other [i.e., other than Canada]
Christopher Heyerdahl, Jennifer Bertram, Cary Lawrence, Sheena Larkin, Seann Gallagher, James Bradford.

A troubled Charles Dickens (Heyerdahl) is led to writing "A Christmas Carol" after encountering a mysterious, enigmatic girl (Bertram). Odd but effective movie is part biography (though there's more fancy than fact), part treatise on poverty and charity, and partly an attempt to re-imagine "A Christmas Carol" by asking what if Scrooge (here Dickens) had his intervention before he became bad, rather than after. As such, its strength is its weakness. In spots it's too blatantly a cloying rip-off of "A Christmas Carol"... on the other hand, it effectively injects new life into that oft-told tale for a pleasing addition to the canon. Atmospheric, nicely evoking the time and place (even though it was filmed in Canada!) and benefitting considerably from Heyerdahl's commanding performance. Worth keeping an eye out for. sc: Patricia Lavoie. dir: Bruce Neibaur. 89 min.
---
Description by: Marjorie Baumgarten
Date written: 19 February 1999
Source: Austin Chronicle
URL: http://www.austinchronicle.com/film/pages/movies/8888.html

The Ghosts of Dickens' Past (1998)
Director: Bruce Neibaur
Starring: Christopher Heyerdahl, Jennifer Bertram, Cary Lawrence
(Rated G)

Not reviewed at press time. This family drama/fantasy film is a co-production of Canada's CINAR television production studio and Feature Films for Families, a U.S. company that shoots straight-to-video family films. The story is a fictionalized account of the process Charles Dickens underwent in order to write his enduring classic, A Christmas Carol. Told through flashbacks, the character of Dickens recalls a young street urchin who saved him from being robbed and then, years later, returns as an apparition to show him the deplorable living conditions caused by child labor laws and poverty. Sounds like a perfect film for mid-February.
---
Source: E! Online: Movie Facts
URL: http://www.eonline.com/Facts/Movies/0,60,74209,00.html

The Ghosts of Dickens' Past


Category: Drama
Director: Bruce Neibaur
Cast: Christopher Heyerdahl

Running Time: 1 hr 36 mins
Rating: G
Country: Canada

Summary: Author Charles Dickens recalls an incident from long ago that inspired him to write "A Christmas Carol."
---
Web page created 5 September 2002.